Exclusive: Diamond Company Cecil Rhodes Founded Has Lots to Answer For, Campaigners Say
Following the announcement that a college at the University of Oxford wants to remove a statue of imperialist Cecil Rhodes, campaigners also say that a London based diamond conglomerate he founded also has a lot to answer for.
De Beers, which has a history that some have said is at least as controversial if not more so than Rhodes himself, was the company through which the 19th-century imperialist consolidated his monopoly on the diamond industry.
By the time of Rhodes's death in 1902, his De Beers company controlled around 90% of the production of the world's rough diamonds and their distribution.
The company profited from apartheid in South Africa and been accused of historically being involved in the trade of "blood diamonds", diamonds which are mined in a war-zone, the sales of which are used to finance an insurgency.
Dr. Adam Elliot-Cooper a research associate at the University of Greenwich and who sits on the board of the Monitoring Group, an anti-racist organization challenging state racisms and racial violence, said the De Beers diamond company had "generated huge wealth by seizing the lands from people in Southern Africa, exploiting them through regimes which included apartheid."
He told Newsweek: "While taking Rhodes off his pedestal, and relegating him to a museum with other historical relics is welcomed, his legacies are complex, and are yet to be confronted."
Students and racial equality campaigners at the University of Oxford had been demanding Rhodes' statue be removed from Oriel College four years ago as part of the Rhodes Must Fall campaign.
Following the death of George Floyd in the U.S. at the hands of a white Minneapolis police officer and a renewed focus on issues of race, protests against Rhodes' statue had increased over the past two weeks.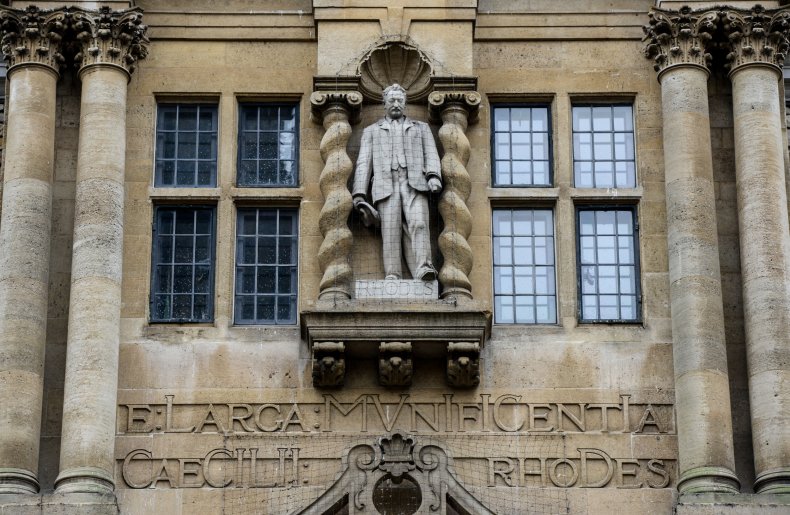 Oriel College has now announced that it backs the removal of the statue.
In a statement posted on the college's website, the governing body said: "The Governing Body of Oriel College has today (Wednesday 17th June) voted to launch an independent Commission of Inquiry into the key issues surrounding the Rhodes statue.
"They also expressed their wish to remove the statue of Cecil Rhodes and the King Edward Street Plaque. This is what they intend to convey to the Independent Commission of Inquiry."
The college added that it the "Commission will deal with the issue of the Rhodes legacy and how to improve access and attendance of BAME undergraduate, graduate students and faculty, together with a review of how the college's 21st century commitment to diversity can sit more easily with its past."
Campaigners have vowed to continue their protests outside Oriel College until the statue is removed.
Sizwe Mpofu-Walsh, a founder of the Rhodes Must Fall campaign, told BBC Radio Four's Today programme that campaigners felt vindicated by the news that the college backed the removal of the statue.
"Oriel College has acted in bad faith before and even though it has identified a wish to decontextualize the statue it's crucially important even at this moment of celebration to ensure that it follows through on that wish," he said.
De Beers has said that Cecil Rhodes does not represent what the company stands for.
In a statement, the company said: "Symbols matter, and we will not achieve equality, social justice and healing unless those bearing symbols of inequality, injustice and pain take them down.
"Cecil Rhodes was one of our founders in 1888, but does not symbolize what our people stand for. While we can't rewrite history, we can bear the responsibility of history to build a better legacy.
"The men and women of De Beers, the majority of whom are citizen-owners of the company across southern Africa, have worked for decades to build a positive legacy that has tangible and lasting benefits for the communities in which we live and work, and our operating approach directly ties our commercial success to our ability to create sustained positive change for the people and communities that depend on us."
The company also said it "abhorred racism and discrimination in all its forms".
"We recognize that this requires constant focus, and in recent years we have established a range of programs to ensure inclusion and diversity are hardwired into our approach, including implementing company-wide unconscious bias training, developing policies to support diversity in our hiring practices, and establishing inclusive marketing guidelines", the company said.
"Cecil Rhodes would not recognize the De Beers of today – and we're very proud of that."