Oxford University to Launch COVID-19 Vaccine trial for Children
Children aged between six and 17 will be given the Oxford/AstraZeneca vaccine in a clinical trial to see if the shot can spur a strong immune response among the young.
The trial at England's Oxford University that starts this month comes amid concerns about how effective the Oxford/AstraZeneca vaccine is against new variants, one of which has appeared in three U.S. states this week.
The Oxford shot is one three to have been approved for use in adults in the U.K.—along with those from Pfizer/BioNTech and Moderna—and will be administered to 300 volunteers in the cities of Oxford, Bristol, Southampton and London.
It will be the first trial examining the Oxford shot's efficacy in children aged six to 17. Other trials have only measured their effects on those aged 16 and 17.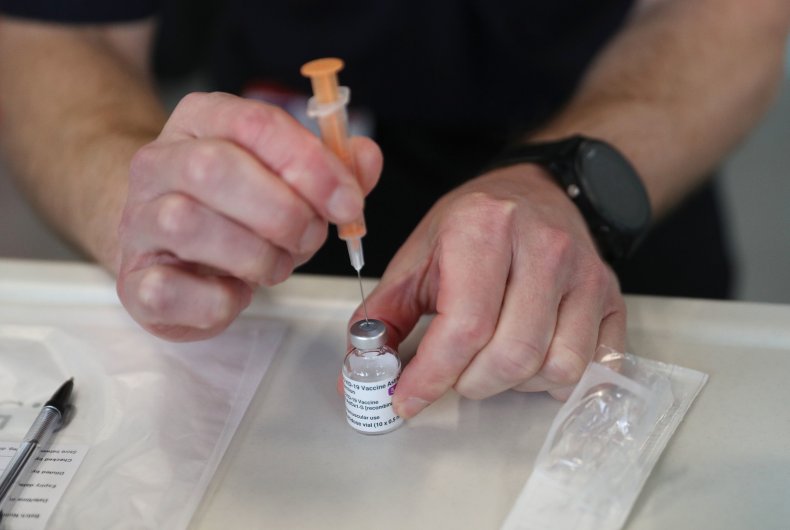 Professor Andrew Pollard, chief investigator on the Oxford vaccine trial said that while death and illness are rare among children, "it is important to establish the safety and immune response to the vaccine in children and young people as some children may benefit from vaccination."
England's deputy chief medical officer Professor Jonathan Van-Tam has said that licensed children's COVID vaccines might be available by the end of the year.
Because it is cost effective and able to be stored in a fridge, Pollard has dubbed the Oxford/AstraZeneca vaccine as a "vaccine for the world."
However, early data from trials have raised concerns over its impact on some new forms of the virus. A study this month showed that Oxford/AstraZeneca's vaccine offered limited protection against mild disease from the South Africa variant, also known as 501Y.V2 or B.1.351.
The South African variant has been identified in Illinois, North Carolina and California this week.
It adds to evidence from trials of other vaccines such as the Janssen and Novavax vaccines, whose efficacy against the South African variant was only 60 percent, or much lower than against the original virus.
Sarah Gilbert, a professor of vaccinology at the University of Oxford said the task ahead was to research new vaccines to better target the South African variant.
"Efforts are under way to develop a new generation of vaccines that will allow protection to be redirected to emerging variants as booster shots, if it turns out that it is necessary to do so," she said last week, The Guardian reported.
Meanwhile, the World Health Organization (WHO) has said that the South African study was inconclusive and Oxford scientists say their vaccine can still help prevent the variant causing serious illness.
"There is no reason not to recommend its use even in countries that have circulation of the variant," said Alejandro Cravioto, the chairman of WHO's strategic advisory group of experts (SAGE), said in a briefing this week.
Over 14 million people have been vaccinated in the U.K, close to the British government's target of 15 million by Monday.
The graphic below provided by Statista shows vaccination rates across the world.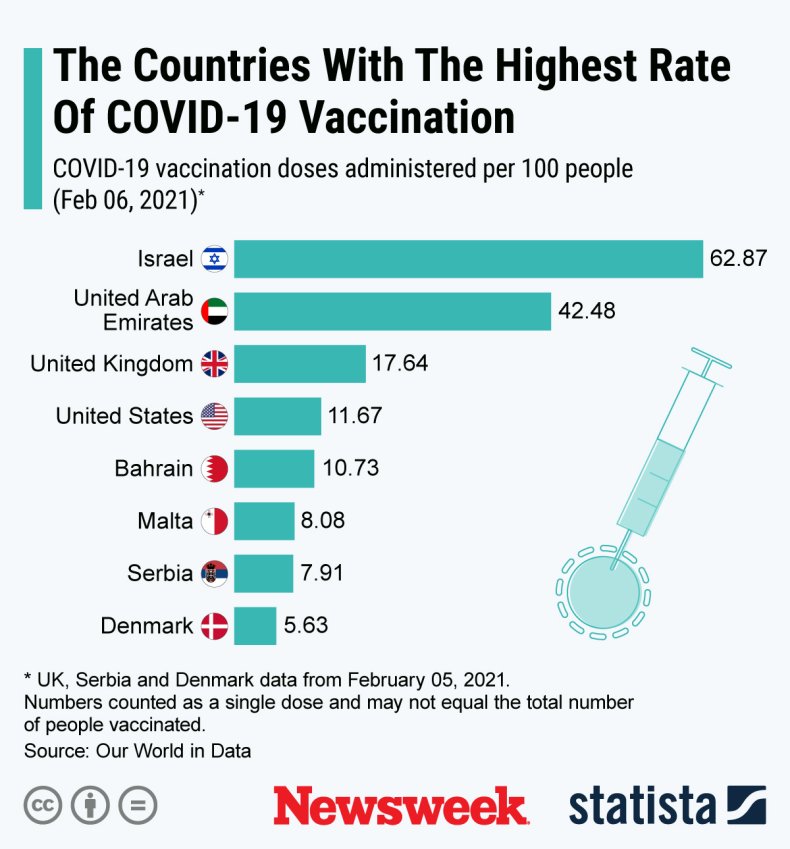 Newsweek, in partnership with NewsGuard, is dedicated to providing accurate and verifiable vaccine and health information. With NewsGuard's HealthGuard browser extension, users can verify if a website is a trustworthy source of health information. Visit the Newsweek VaxFacts website to learn more and to download the HealthGuard browser extension.