P. J. Harvey Declines to Bring Sexy Back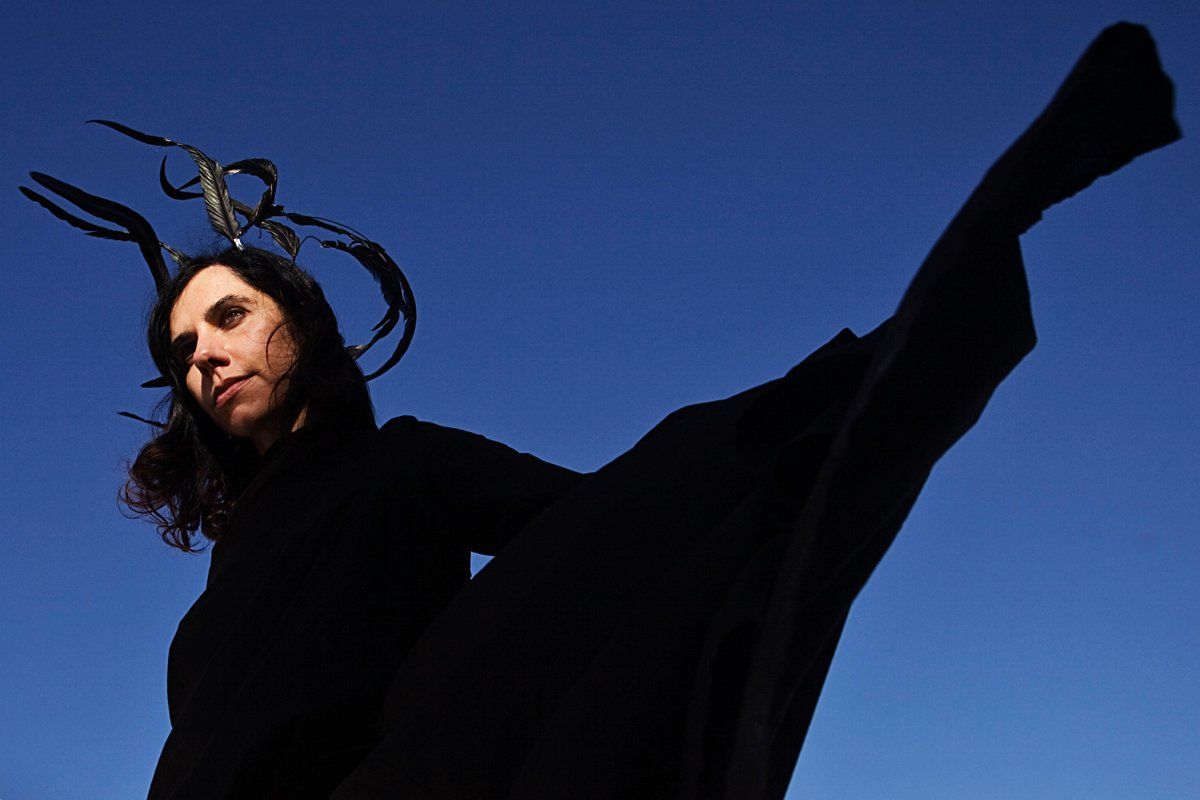 The first-person characters in P. J. Harvey's early songs never thought twice about oversharing. "I wanna bathe in milk, eat grapes," she declared in the fuzzed-out opening of 1993's "Reeling," before howling: "Robert De Niro, sit on my face." That tune was an outtake from Rid of Me, an album with songs titled "Rub 'Til It Bleeds," "Man-Size," and "50 Ft. Queenie." Rid of Me's cover also showed Harvey topless in the shower; the outtakes collection that followed displayed her freshly toweled off, though still damp and clad in a midriff-baring halter top. The dark-haired singer's lissome look—with a face that starts delicately at the chin before broadening and toughening around her deep-set eyes—provided the perfect contrast to the violence of her vocals, which promised listeners a "force 10 hurricane."
She is less confrontational now. "When I was writing Dry and Rid of Me, I was 17 or 18 years old. Now I'm 41," she tells NEWSWEEK from her home in Dorset, England. "Of course I'm not going to be writing about the same things!" And yet Harvey's arresting new record, Let England Shake, doesn't just reveal a fresh emphasis on subject matter—it also betrays a new approach to building songs from the bottom up. Whereas she once wrote lyrics to fit a song's rhythm, Harvey now runs her program in reverse, composing music to fit—or run counter to—her imagery. In many of England's grim songs, which are preoccupied with injured soldiers and empires past their prime, that fog is cut with the sunlight of Harvey's new chamber-suite impulses: a marching-band saxophone here, a sarcastically bright trumpet reveille there. And unlike 2007's White Chalk, which was dominated by Harvey's cautious piano playing, England brings the guitars and beats back, too—making this her most unified-sounding album in years.
Still, Harvey hasn't put out a come-hither come-on in nearly a decade—and that's something the male-dominated world of rock criticism (present company included) can't help but notice. (In a review of England weeks before its release, The New Yorker dismissed much of Harvey's recent material, while recalling that she once delivered "blunt force and sex like nobody else.") It's reminiscent of what happened to Liz Phair, another alt-rock heroine whose pivot from writing great songs about casual sex to writing (mostly) great songs about motherhood prompted a critical revolt. If our similar fascination with her ribald beginnings gets to Harvey, she's not showing it. "The reaction feels completely separate from me," she says. "Either the work survives or it doesn't."
Harvey hasn't evolved so far as to be unrecognizable, though. Anyone who listens to the druggy second half of 1998's Is This Desire? will appreciate the abstract reggae touches of the new song "Written on the Forehead," or Harvey's own amateur saxophone playing on several songs. "I still have an enormous passion to experiment with words and music," she says. That hungry search for new sounds doesn't seem so different from the way she describes having written about sex as a teen. As long as Harvey never becomes modest about that venturesome impulse, Eros won't be a stranger.