P. J. O'Rourke Reflects on Toledo, His Hometown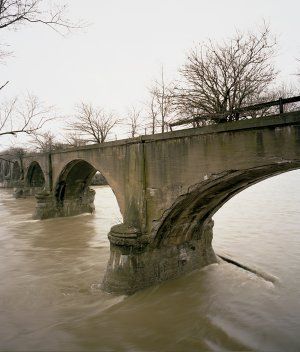 My hometown, Toledo, Ohio, is one of those junkyards of American capitalism, a deindustrialized old industrial city. The population has declined from 383,818 in 1970 to 316,851 today. The unemployment rate is 10.4 percent. Jeeps are still made there, but most Toledo factories are gone—Auto-Lite, Willys-Overland, Champion Spark Plug, the glass plants of Owens-Illinois and Libbey-Owens-Ford. Toledo Scales aren't made in Toledo anymore.
Downtown, the department stores are closed, as are most of the shops, theaters, restaurants, and bars. The city's center looks plucked. Half the buildings have been razed. Toledo is a failure.
Actually, Toledo always was a failure. Incorporated in 1837, with a fancy name for what had been called the Great Black Swamp, Toledo was a land scam. A canal joining the Ohio River to Lake Erie was supposed to have its terminus there. The scam collapsed that very year, in the Panic of 1837, when Andrew Jackson ended easy land-buying credit. The canal did open, but not until 1845, by which time railroads had taken over shipping.
Toledo tried to be a rail hub. In 1860 it had six railroads. They were all short-line operations, each with a different track gauge and none connected to long-haul routes. Toledo's Erie and Kalamazoo Rail Road never reached Kalamazoo.
During the 1880s natural gas was discovered in Toledo. The gas was thought to be self-generating, its supply end-less. Large investments were made in wells and pipelines. The gas ran out in 1895.
Toledo was America's bicycle capital, with 22 bicycle manufacturers in 1898. Then came the automobile.
And so on. I'm being harsh, of course. Toledo had its moments. It was the center of the auto-parts industry in the 1920s. Toledo excelled during World War II, producing not only 300,000 jeeps but 4 million artillery shells and a billion bullets. Yet the postwar economic surge was felt only mildly in Toledo.
Willys quit making cars there. An ultramodern train station was built the year after the Ohio Turnpike opened. Municipal taxes were high, and the city had been a byword for labor troubles since a violent 1934 strike at Auto-Lite.
When the '70s downturn came, Toledo's public schools were briefly closed for lack of funds. A teachers' strike followed. Teachers who kept working were assaulted. Unionized police did not intervene. In 1979 police and firemen went on strike. Looting and rioting ensued. Fifteen buildings were burned in a single block. Toledo's reaction was to have a party. In 1980 various civic booster organizations put on Toledofest.
It was a sensation. Because Toledoeans love Toledo. Over the past 174 years tens of thousands of people have immigrated there—from Germany, Ireland, Poland, Lebanon (and from Appalachia and the segregated South). Maybe their greatest expectations weren't fulfilled, but somehow Toledo, with all its busts and flops, managed to provide ordinary people with an ordinary good life.
And it still does. At the peak of Toledo's prosperity in 1970, per capita income in the city was $12,274 in inflation-adjusted dollars. After 40 years of economic decline, it's $17,816 (versus about $4,500 back in Poland).
Toledo's median house price is $127,852. Lots are large. Above-ground pools abound. Toledo is on a beautiful river, the Maumee, and Lake Erie is clean again. There are 17 marinas and 42 public golf courses nearby. The art museum has one good example of every great kind of art. The WPA-crafted, 51-acre zoo has the only Kihansi spray toad in captivity. The empty downtown has been used for a posh minor-league ballpark. The Mud Hens, if not always first in the league standings, are first on the list of great T shirts. There's a symphony orchestra, opera, and ballet. And the people of Toledo are the friendliest on earth. Or so I'd say if my experience of Dayton, Youngstown, Terre Haute, and Kalamazoo hadn't shown me that friendliness is universal in the junkyards of American capitalism.
America's exceptionalism lies not in its successes but its failures. The people of failed Toledo can say to the people of the rest of the world, "Our junkyards are more splendid than your palaces."
O'Rourke is the author, most recently, of Don't Vote: It Just Encourages the Bastards.