Pac-12 Returning to College Football in November With Modified Schedule
On the dawn of a weekend that will see one major conference return to playing football this fall, the final Power 5 conference announced it, too, will join the party.
The Pac-12 announced Thursday evening that it will begin playing college football on the weekend of Nov. 6. This comes as the Southeastern Conference finally kicks off its season this Saturday, and exactly one month before the Big Ten starts play.
The Pac-12 stated it will hold a seven-game schedule, which is one fewer than the Big Ten. The SEC, which also delayed its season because of the COVID-19 pandemic, will play a 10-game, conference-only schedule—starting this Saturday with a full slate of games.
The Pac-12 has not released any schedules of games, but ESPN reported the league CEOs hope to hold their conference championship games on December 18. The College Football Playoff pairings are expected to be announced on December 20.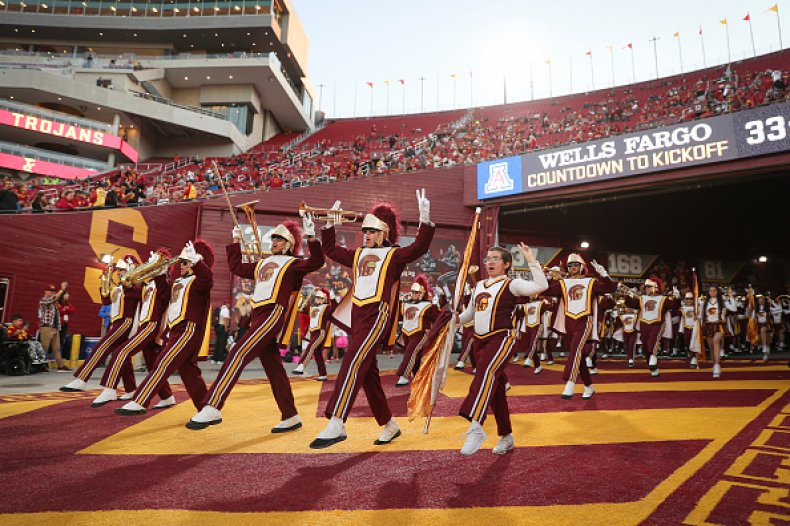 There are five leagues that make up the Power 5 conferences—ACC, Big 12, Big Ten, Pac-12 and SEC. The Big Ten announced on Aug. 11 it would postpone all Fall sports because of coronavirus. The Pac-12 followed suit that same day. However, the other three major football conferences stood pat, and the ACC even added Notre Dame as a temporary conference member this season.
The other conferences, referred to as the Group of Five, have been mixed on playing this season. Whereas the Mid-American (MAC) Conference and Mountain West Conference decided to postpone, other conferences like the American Athletic, Conference USA and the Sun Belt decided to move forward with games.
The Pac-12 has not been guaranteed that one of its teams will be eligible for the College Football Playoff with a reduced schedule. Not only will the Pac-12 play with fewer games than other conferences, there are more hurdles for teams to face.
Recent wildfires and air pollution could possibly affect teams in California, Oregon and Washington. Then there are still coronavirus issues. Then are county- and state-ordered mandates that prohibit large gatherings. The University of Colorado can't allow gatherings in large groups of 18- to 22-year-olds until further notice. If that law is not extended, then the Buffaloes would have about four days to get ready for a season opening game, likely in a chilly environment.
College football enters its fourth weekend of the regular season, with the ACC having already started its conference schedule (the game of the week is Florida State at Miami this Saturday). The Big 12 has already played a non-conference game for most teams, and it begins conference play this weekend.
The SEC starts its full schedule this weekend, with no non-conference tune-up games.