'Pac-Man 99' Release Time: When You Can Download Latest Battle Royale Game
Following the success of Tetris 99 and Super Mario 35, Nintendo is releasing a brand new battle royale game based on an iconic video game. This time, players will duke it out in one giant game of Pac-Man until one player is left.
Players will go up against 98 other players as they eat pellets, avoid ghosts, and rack up the points. However, it wouldn't be a battle royale game if there weren't ways to take out your opponents.
Before we get into the details, check out the trailer for Pac-Man 99 below.
According to the official Nintendo listing, there are a few ways to make it difficult for your opponent as well as make an incredible comeback.
Eat a Power Pellet to turn the ghosts blue and make them vulnerable. Eat them to send Jammer Pac-Man to your opponents. Bumping into a Jammer Pac-Man will decrease your movement speed, allowing for ghosts to catch up faster.
The more ghosts you eat, the more Jammers you'll send. This will definitely put a damper on whatever your opponents are trying to do.
Players can eat a Ghost Train to make a huge comeback. Activating the Ghost Train will place small ghosts behind the normal ghosts you are trying to avoid. If you eat a Power Pellet, you can eat all of the ghosts including the train to send even more Jammers to your opponents.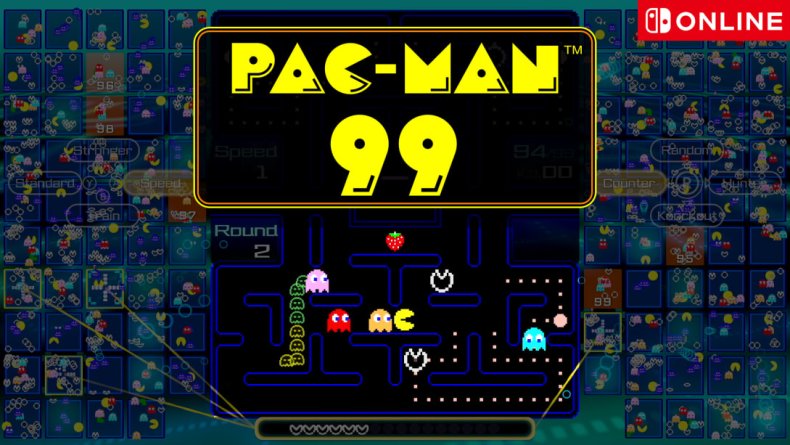 WHEN CAN YOU PLAY PAC-MAN 99
Pac-Man 99 can be downloaded from the Nintendo eShop starting Wednesday, April 7 at 9 p.m. EDT.
However, players will need to be a Nintendo Switch Online subscriber to gain access to the game. By signing up for the subscription service, players will be able to play games online and download Pac-Man 99 for free.
There are some in-game purchases in Pac-Man 99 that will customize your theme based on other classic Bandai games like Xevious, GALAGA, Dig Dug, and more to change the look of the game.
HOW TO SIGN UP FOR NINTENDO SWITCH ONLINE
To sign up for Nintendo Switch Online, gamers will need to go to the official Nintendo site and log in using your account.
Select "sign up" and you'll be asked to choose your membership options: $3.99/month, $7.99/three months, or $19.99/year. Nintendo offers a free seven-day trial, but will need you to input a payment method as this service has an auto-renewal feature.
After you've done that, you'll be signed up for Nintendo Switch Online. You'll also want to download the official app in the Nintendo eShop to gain access to NES/SNES games as well as other goodies.
Are you excited for Pac-Man 99? Let us know in the comments section.