A Pack of Wolves Has Been Spotted in Colorado for the First Time in Over 70 Years, Park Officials Say
There have been reports that a pack of gray wolves (Canis lupus) have been sighted in Moffat County, Colorado—but conservationists warn that without proper protections, the animals could be in danger.
Colorado Parks and Wildlife released a statement on Thursday, saying there is now strong evidence to suggest "a pack of gray wolves may now be residing in Colorado."
According to JT Romatzke, CPW's Northwest Regional Manager, "The sighting marks the first time in recent history CPW has received a report of multiple wolves traveling together."
There is currently an ongoing investigation by CPW to confirm the presence of the wolves. "As wolves move into the state on their own, we will work with our federal partners to manage the species," said Romatzke.
The news follows an eyewitness account of "six large canids" in the northwest corner of Colorado in October 2019, and remains of a "thoroughly scavenged" elk carcass discovered close to Irish Canyon near the state's border with Wyoming and Utah last week.
CPW-associated wildlife managers say tracks near the carcass are consistent with imprints made by wolves, while the state of the elk is consistent with marks of wolf predation.
The reports are yet to be confirmed but Romatzke says it is "inevitable" that wolves would travel to Colorado from states with more established populations.
"We have no doubt that they are here, and the most recent sighting of what appears to be wolves traveling together in what can be best described as a pack is further evidence of the presence of wolves in Colorado," said Romatzke.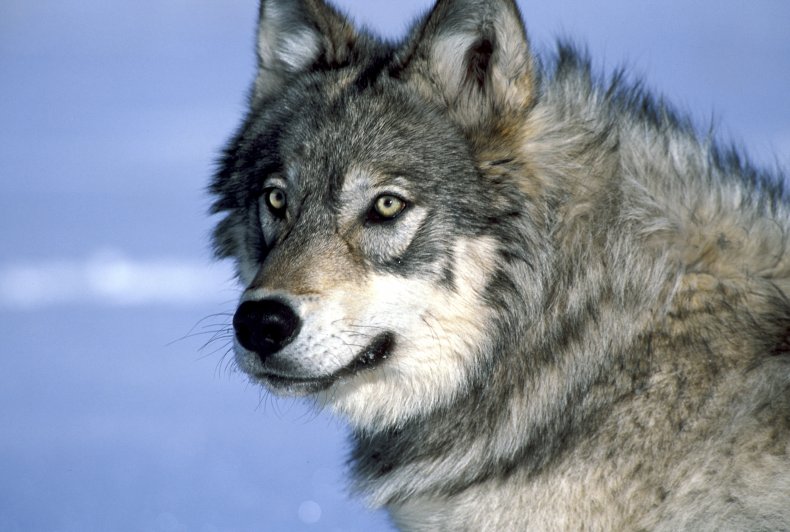 Gray wolves used to be widespread across much of the country, Colorado included. But the species has been absent from the state since the 1940s following systematic efforts to eradicate predators attacking livestock.
Following the news that wolves may be returning to Colorado of their own accord, conservationists warn that even if the reports are confirmed, there are not enough animals to establish a permanent presence in the state. What's more, they say the pack may be vulnerable to attacks from outside the state.
"Other wolves reported in Colorado have not survived. They were accidentally or deliberately killed, or fates unknown," Diana F. Tomback, a professor of conservation biology at the University of Colorado Denver, told Newsweek.
"Wolves are legally endangered species in Colorado, and protected by law. However, this pack ranges near the border of two states that do not have legal protections for wolves."
These are not the first reports of out-of-state visitors setting foot in Colorado. There have been periodic incidents of individual wolves venturing into the Centennial State over the last two decades. But none were able to establish a presence in the area for long.
While gray wolves are considered an endangered species in Colorado and penalties can be imposed on anyone caught killing or harming an animal, conservationists say more needs to be done to secure their future.
"Nothing aside from passage of Initiative 107 will ensure that Colorado will have a wolf population to keep the natural balance for our children and grandchildren," Michael Robinson of the Center for Biological Diversity said in a statement, referencing a state-wide restoration plan due to appear on the state's 2020 ballot.
If passed, CWP will be required to "initiate a science-based wolf restoration plan, to include public input into the process, and to ultimately begin reintroducing wolves to designated lands west of the Continental Divide in Colorado no later than 2023."
The initiative takes inspiration from the reintroduction of wolves in the Yellowstone and Central Idaho in 1995, when eight Canadian pups became the first wolves in Yellowstone since the twenties.
Since 2009, wolf numbers have hovered somewhere between 83 and 108. Others have been spotted in nearby states, including Washington, Oregon and Northern California.
Robinson told Newsweek he is "optimistic" that voters will see through "special-interest scare tactics" attempting to demonize the animal, pointing to polls that overwhelmingly support the initiative. One found two-thirds supported the motion.
"If Initiative 107 passes, it will represent a citizen-driven conservation victory that might lead to similar endeavors elsewhere," he said.
Robinson added "it is hard to think of where else there would be a similar opportunity—a state with millions of acres of public lands and abundant prey for an extirpated animal that inspires volunteers among a conservationist electorate to forego their weekends to collect signatures. Possibly, Initiative 107 is one-of-a-kind.