Strange Vapor From Package at Kentucky Amazon Fulfillment Center Leads to Hazmat Response, Hospitalization
Vapors from a returned package at an Amazon fulfillment center in Kentucky led to the evacuation of some 500 workers on Friday, with some needing medical treatment.
The fumes at the warehouse, located in Lexington, were reported to authorities around 9 am, The Lexington Herald Leader reports. By 10:50am a hazmat team had arrive and put the package in a sealed container.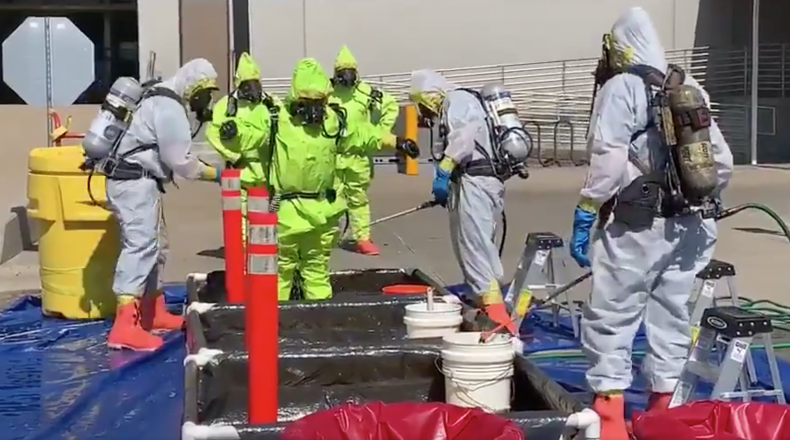 Authorities are still investigating what was in the box, reports WTVQ, but have discovered it contained a dry powder that got mixed with an "incompatible liquid" producing the toxic fumes.
Four city buses were dispatched to take hundreds of employees away from the warehouse.
Six reported experiencing burning eyes and irritation in their throats, with one needing to be taken to a local hospital. But officials say the injuries were not life-threatening.
The incident comes as Amazon faces significant scrutiny over working conditions in its warehouses: According to the National Council for Occupational Safety and Health, 13 Amazon workers have died on the job since 2013. Ten of those deaths took place at fulfillment centers.
On Thursday, a dead body was discovered behind a fulfillment center in Dallas, though its not clear if the victim was employed by Amazon.
The e-commerce giant is no stranger to chemical accidents: At least twice Amazon warehouse workers have had to be treated because a robot punctured a can of bear repellant, unleashing toxic fumes.
The incidents even drew the attention of Last Week Tonight host John Oliver in a segment about warehouse safety.
In 2011, temperatures in a Amazon warehouse in Lehigh, Pennsylvania, reached 102 degrees as workers trying to keep up with orders began fainting.
Last month, Amazon workers at a fulfillment center in Shakopee, Minnesota, went on strike for improved working conditions during Amazon Prime Day, the busy two-day event when the company offers major discounts on many products.
After the protest, lawmakers—including Sen. Bernie Sanders (D-VT), Rep. Alexandria Ocasio-Cortez, (D-NY) and Rep. Ilhan Omar (D-MN) sent a letter to OSHA urging the agency to investigate workplace safety at Amazon.
"In the year 2019, working conditions in the United States of America should be the best and the safest in the world," the letter read in part. "Unfortunately... that is not the case at Amazon."
Dallas police are investigating after a body was found Thursday morning behind the Amazon Fulfillment Center.
Dallas Fire-Rescue crews were called out to the scene off J.J. Lemon Road near the LBJ Freeway and Interstate 45 just before 11 a.m.
They were asked to bring a rescue boat because the body was reportedly found in a nearby pond. But police said there was not actually enough water to justify a boat.