Packers' Aaron Rodgers Mocked Over Darkness Retreat—'Me When I'm Hungover'
Aaron Rodgers has been mocked on social media after revealing he was going on an isolation retreat for four days of complete darkness and silence to contemplate his future in the NFL.
Rodgers, 39, is considering his career after the Green Bay Packers failed to reach the playoffs this year, and is looking for some inspiration to guide him on his big decision.
The quarterback was speaking to The Pat McAfee Show when he revealed his plans.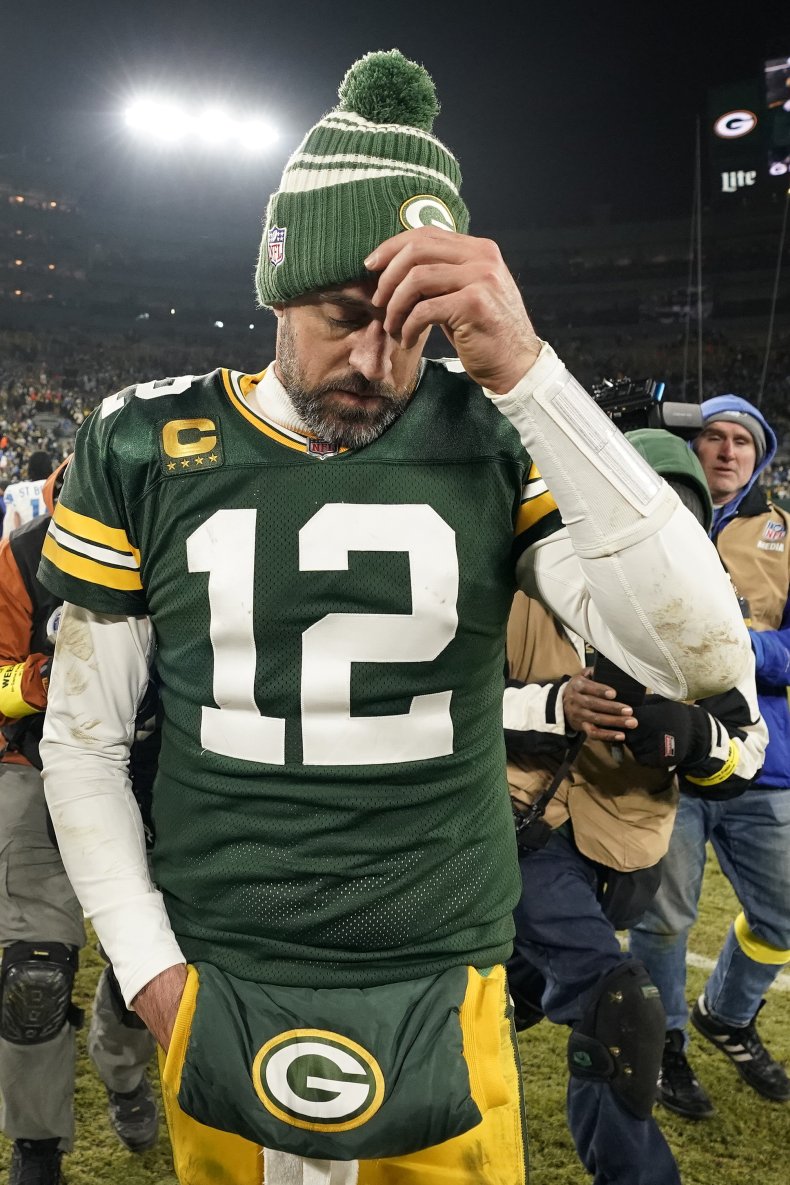 He said: "It's four nights of complete darkness. You're not locked in, you can leave if you can't do it, you can just walk out the door.
"I felt it would be awesome to do regardless of where I have been leaning after this season. So it has been on the calendar months and months and months and it is coming up in a couple of weeks."
Explaining the situation he would be in, Rodgers said: "It's a room, it's a little house. There's a two-way, like a little slot where they will drop in some food for you. But it is isolation and darkness, no music, no nothing. Just myself, isolation.
"I'm still in the art of contemplation about my future. After my isolation retreat I'll be ready to make a decision."
Rodgers was jokingly asked about the bathroom arrangements at the retreat and the Packers star replied: "I think you can wear adult diapers if you want but there is actually a bathroom, yeah."
He continued: "I think there's a lot of sleeping involved, for sure. I'm not taking anything in there with me. Nothing in there. If it's too much, I will just walk out. The door is unlocked—if you want to leave, leave."
Rodgers has admitted that it has been difficult making a decision about his future after the Packers missed out on the playoffs thanks to a final-day defeat by the Detroit Lions. The team has admitted it would be willing to trade him if he wanted to continue playing in the NFL, with the New York Jets being a destination mooted by some.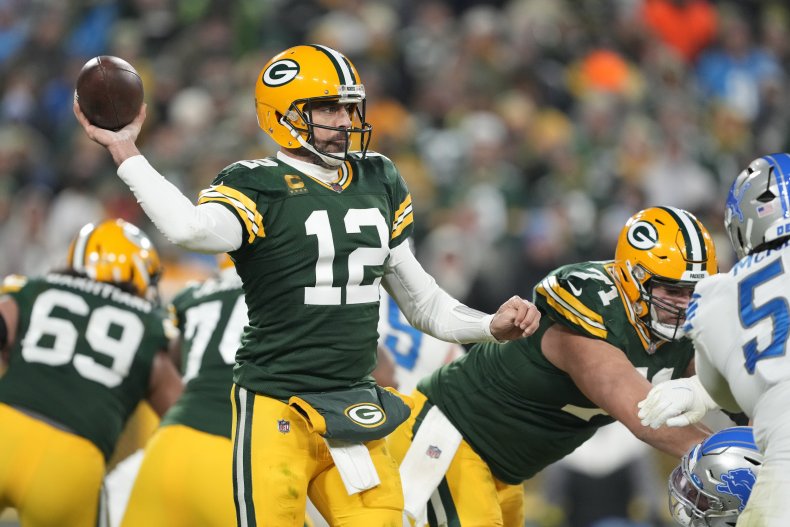 Speaking about the troubles he is having in deciding his future, Rodgers said: "It's a real thing. That's why it is going to be important to get through this week, take my isolation retreat and just be able to contemplate all things on my future and make a decision that is best for me moving forward, in the highest interest of my happiness."
Unfortunately for Rodgers, he has been mercilessly mocked on social media after revealing his postseason break, with one posting a pic of him looking through a hole in the wall, waiting for his food.
Another made reference to Simon and Garfunkel's "Sound of Silence" lyrics, while a third said that the experience was: "Me when I'm hungover."
Rumors abound that Rodgers would be swapping the Packers for a turn at the New York Jets got a hilarious response from NFL Network host and Jets fan Rich Eisen, who joked: "I couldn't imagine a better way for @AaronRodgers12 to prepare himself for joining the Jets than to sit in isolated darkness."
Rodgers answered those who were querying his decision to head to a "darkness retreat" with a message on Twitter where he urged people to embrace situations that might feel alien to them.
He tweeted: "Be curious. Not judgmental. We are all on our own path, and doing things like this helps me find a greater sense of peace and love for life. Love and respect to you."
Do you have a tip on a sports story that Newsweek should be covering? Do you have a question about the NFL? Let us know via entertainment@newsweek.com.