Packers RB Aaron Jones Scores 4 TDs, Loses Chain That Had His Father's Ashes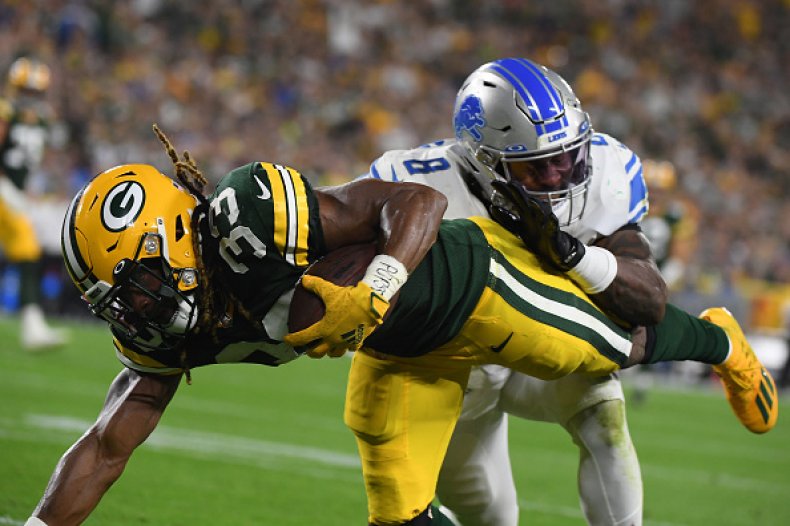 Aaron Jones had a night to remember Monday, scoring four touchdowns in the Green Bay Packers' 35-17 win over the Detroit Lions. At some point in the game, Jones lost a chain he was wearing that contained the ashes of his late father who lost a battle with COVID earlier this year.
After the game was over, stadium personnel at Lambeau Field in Green Bay, Wisconsin were on a mass search for the lost chain.
Alvin Jones Sr., who was the father of Aaron, died from COVID complications on April 6, according to the El Paso Times.
Aaron Jones, who has been Green Bay's starting running back for several years, wore a chain that contained his late father's ashes. During Monday night's win, Jones had one rushing touchdown and three receiving touchdowns.
After one of those scores, the chain fell off, according to Jones during a post-game broadcast Monday night.
"If I was gonna lose it anywhere, he'd want it to be in the end zone," Jones said.
Jones had 67 rushing yards and one touchdown on 17 attempts, and he added six receptions for 48 yards and three more scores as the Packers overcame last week's embarrassing loss against New orleans to even their record to 1-1.
Jones wrote a tribute to his father last summer in the Player's Tribune.
"My dad is the greatest man I've ever encountered," Jones. "The things he's done for me in my life — he's been there every step of the way. He taught me everything. He showed me how a man's supposed to be a man."
Others offered condolences at the time.
"Alvin Jones, Sr was a wonderful man who I will miss very much," agent Drew Rosenhouse said. "He was the ultimate father and husband. I enjoyed the time I spent with him and I learned a lot from him. My condolences go out to the Jones family and everyone who was impacted by this great man."
The chain containing the late father's ashes hadn't been found at time of publication.
Jones was born in Savannah, Ga., as the son of Army parents, and he eventually graduated high school in El Paso, Texas. He played collegiately at UTEP before getting selected in the fifth round of the 2017 NFL Draft.
Alvin Jones Sr. retired from the Army while Aaron and his twin brother were in high school.
Aaron Jones had 3,364 career rushing yards and 37 touchdowns entering the 2021 season, and he tacked on even more Monday.