Man Paddles 2,900 Miles from California to Hawaii to Raise Awareness of Ocean Pollution
A man successfully paddled more than 2,900 miles from California to Hawaii on Saturday, raising awareness about plastic pollution in the ocean.
It took Antonio de la Rosa 76 days to complete the 2,951-mile journey from San Francisco to Honolulu on his stand-up paddleboard, which was outfitted with food, water desalinator and solar panels to power his GPS and communications equipment.
The craft also had a sleeping area, but De la Rosa told CNN he rarely used it.
The fully-loaded rig, which resembled a tiny submarine, weighed more than 1,500 pounds and had no motor. "My arms and my legs are my motor," said De la Rosa, who runs an adventure tourism company in Spain.
He documented his journey over Facebook Live, paddling for eight to ten hours a day. On good days, he said, he covered 40 to 50 miles—sometimes he barely made it ten.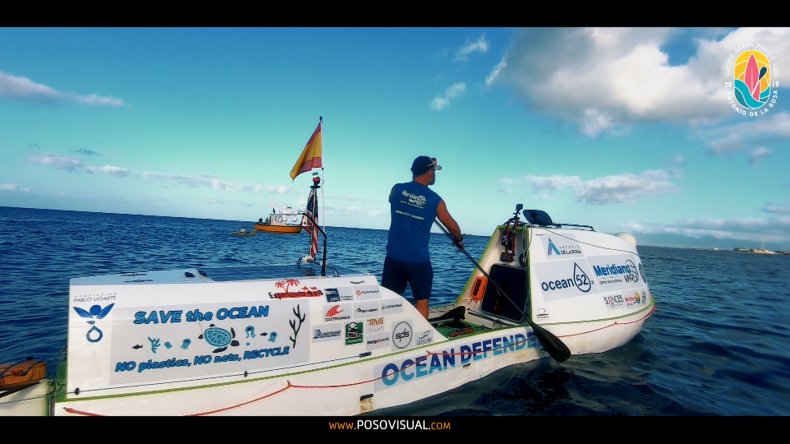 Though he occasionally fished, he survived mostly on a diet of dehydrated food and says he lost about 25 pounds over the course of the trip. He celebrated his 50th birthday with a small cookie.
This isn't De la Rosa's first extreme ocean adventure: In 2014, he crossed the Atlantic by himself in a rowboat and, in 2016, paddled through the Arctic Circle.
He claims he is the first person to complete this particular journey but insists his goal was more to raise awareness of marine plastic pollution than setting any record.
Every day of his trip, De la Rosa says, he saw plastic debris float by—including nets and fishing line, major components of the Great Pacific garbage patch, two massive collections of floating debris that stretch across more than half a million square miles of the Pacific Rim.
Much of the patch is comprised of microscopic particles, but more than 79,000 pounds of plastic fishing gear, discarded by commercial fishers, has ended up caught up in its vortex, according to National Geographic. Plastics, in particular, are pulled into the patch because they break down so slowly.
Long-distance swimmer Bren Lecomte is currently 76 days into a 80-day swim through the patch, documenting what he's finds along the way.