Is Paddling Legal? Arkansas Students Paddled for Taking Part in National School Walkout Against Violence
Students who walked out of their high school in Arkansas to join a nationwide protest by children against gun violence in schools were allegedly beaten with a wooden paddle by their teacher as punishment.
Posting to Twitter, Jerusalem Greer said her child and two others walked out of their "rural, very conservative, public school" in Greenbrier, about 40 miles north of Little Rock, to take part in the national walkout.
"They were given two punishment options. They chose corporal punishment. This generation is not playing around," Greer tweeted.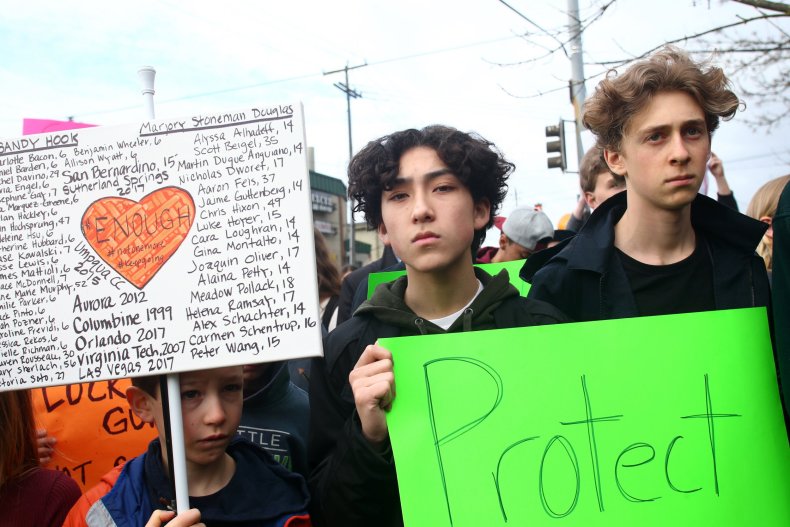 Students across the U.S. walked out of school for 17 minutes on Wednesday, a minute for every victim of the recent shooting in Parkland, Florida. They are calling on politicians to bring an end to the school shootings that plague America.
According to Arkansas Matters, the school superintendent in Greenbrier said the three students who walked out had not asked for permission to take part in the protest. They were punished for breaking school rules around leaving class and given the option of two days' suspension or paddling.
In some school districts of Arkansas, corporal punishment of schoolchildren by teachers is legal and still takes place, though only with the express permission of parents. Often, a wooden paddle is used to beat the legs or backsides of rule-breaking students.
"It's barbaric and ineffective," wrote Kay Cox on Facebook, responding to the Greenbrier news. "The worst kids, and by that I mean the kids who need it the most, are so proud of themselves that being paddled doesn't mean a thing to them. I thought it was awful 60 years ago when I was going to school there and I haven't changed my opinion. Parents can opt out."
However, Debbie Rook wrote: "As an educator of almost 30 years, I have given several paddlings. Most of the time it only took one time. If one of those students acted up again, all I had to say was 'do we need to go back to the office?' And the majority of the time they straightened up. My students knew I loved them but I meant business when we went to the office. Not that I enjoyed paddling but it sure made a difference in my classroom behavior."