'Today' Regular Padma Lakshmi Describes 'Somber' 30 Rock Atmosphere When Matt Lauer Was Fired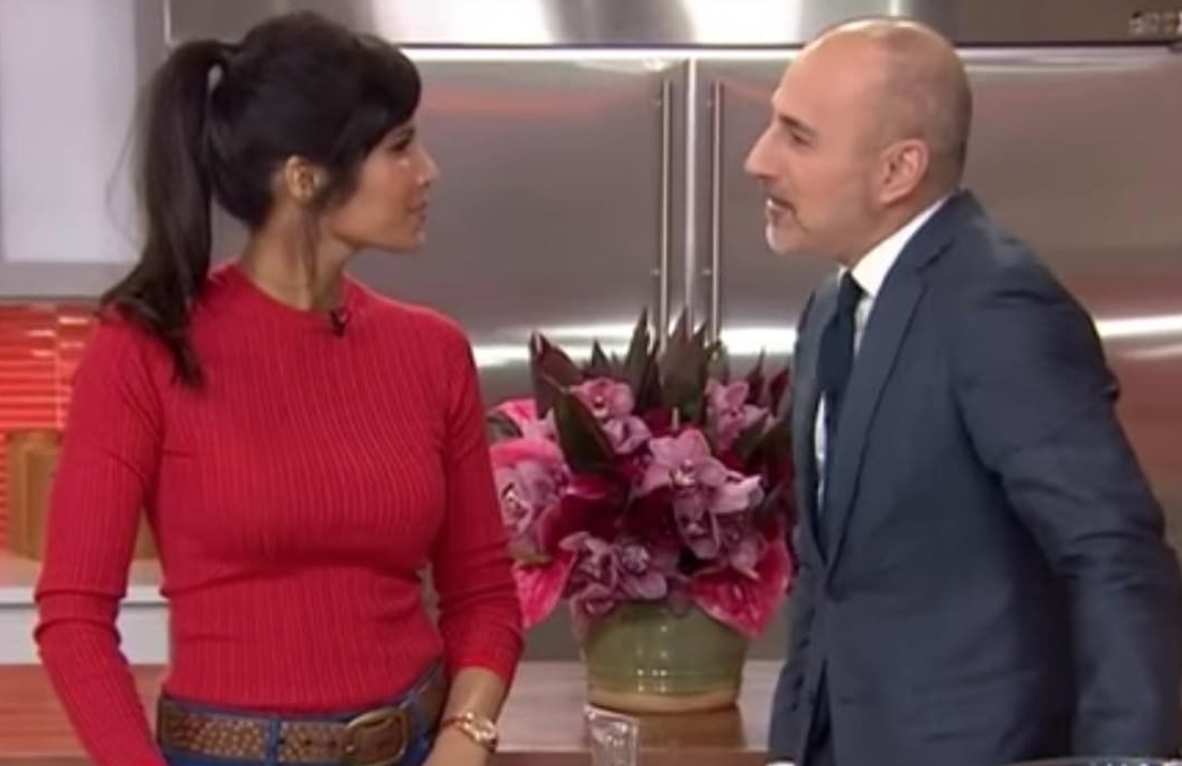 When television personality Padma Lakshmi woke up on Wednesday morning, she thought it was going to be a normal day at 30 Rockefeller Center. She was booked to do a cooking segment with Matt Lauer, as she had done many times before.
Instead, like much of America, Lakshmi listened to Savanah Guthrie say that Lauer had been fired for alleged "inappropriate sexual behavior" in the workplace. The Top Chef host still went in to show off her Chicken and Pepper Stew with Al Roker instead, but it wasn't exactly a fun day at work. "When I walked into 30 Rock it felt like someone had died," Lakshmi wrote in a post on Instagram. "The mood was somber to say the least, shell-shocked would be more accurate."
Lakshmi went on to say in her post that she had personally never felt disrespected by Lauer in any way. However, she made clear that her own experience with Lauer did not mean she doubted those who accuse him of harassment, and in some cases, assault. Lakshmi shared that she herself had experience both sexual assault and harassment. She concluded that she was "deeply saddened" by Lauer and Charlie Rose, echoing the tearful reaction of Guthrie when she read NBC's official statement. In line with Lakshmi's account of the atmosphere, the hosts were visibly shaken by the news.
"We are grappling with a dilemma that so many people have faced these past few weeks: How do you reconcile your love for someone with the revelation that they have behaved badly? And I don't know the answer to that," Guthrie said on Wednesday, voice shaking. "But I do know that this reckoning that so many organizations have been going through is important, it's long overdue, and it must result in workplaces where all women—all people—feel safe and respected."
Lakshmi was born in India and moved to the United States with her mother at a young age. She has long been a champion for women's rights, especially for women living in India.
"You never feel safe," she told CNN in 2013, describing the fear she felt walking around New Delhi, where she said she was constantly harassed. "Even the notion of sexual harassment is called 'eve teasing' in India, and that's a very euphemistic way to refer to a very serious problem."
"While this is a painful period in our cultural history," Lakshmi concluded on her Instagram post, "it is a good and necessary purging of one of the most harmful aspects of the 'old boys club.'"