Carter Page Says Russia Trip Was Approved by Trump Campaign Manager Lewandowski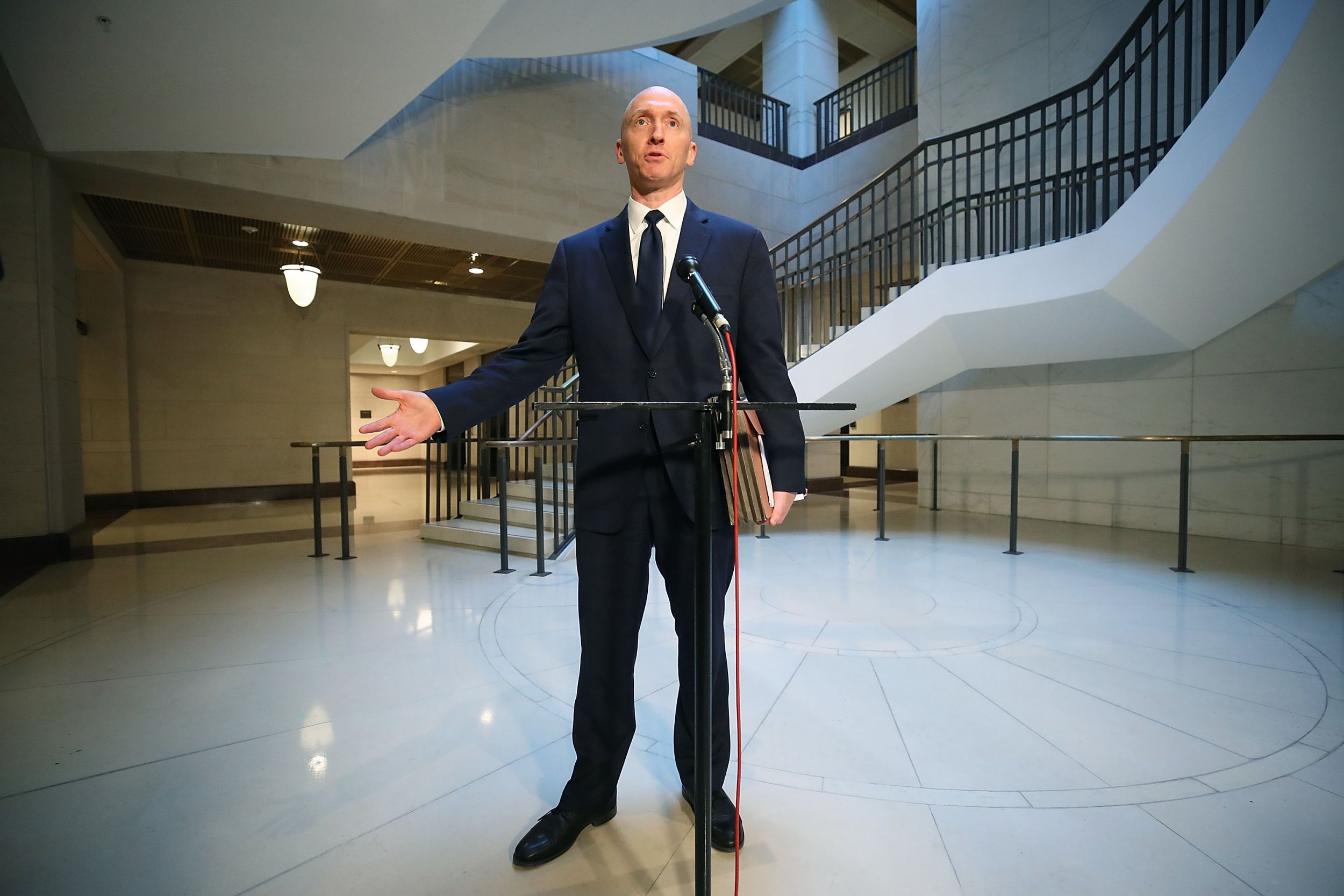 A former foreign policy adviser to Donald Trump's presidential campaign told the House Intelligence Committee that his trip to Russia last year was approved by a former Trump campaign manager and that he also informed other campaign officials—including one who holds a powerful position in the White House—about the potential visit.
Carter Page, who had long stated his July 2016 trip to Moscow was personal, told the committee Thursday that he informed Corey Lewandowski, then Trump's campaign manager, about an invitation to visit with Russian officials and that Lewandowski approved as long as it was "not affiliated with the campaign," according to Page's testimony released Monday night.
Page also said he informed Trump campaign official Hope Hicks, who was elevated to White House communications director earlier this year, as well as J.D. Gordon, a campaign adviser, about the trip.
During the seven-hour session with the committee, Page also said he had an email that documents Lewandowski's approval and would provide it to the panel.
In March, Gordon told Politico he advised Page not to head to Moscow, where Page's scheduled activities included giving a speech. The same report cited an unidentified former campaign adviser who corroborated what Page laid out before the committee last week regarding the trip being approved. In this case, Lewandowski did not directly deny it.
"Is it possible that he emailed me asking if he could go to Russia as a private citizen?" Lewandowski told Politico. "I don't remember that, but I probably got 1,000 emails a day at that time, and I can't remember every single one that I was sent. And I wouldn't necessarily remember if I had a one-word response to him saying he could do something as a private citizen."
Lewandowski reportedly faced questions from the Senate Intelligence Committee last month, while Hicks was scheduled to meet with special counsel Robert Mueller's team this month.
Other campaign officials, including the current U.S. attorney general, Jeff Sessions, and a former co-chairman of the Trump campaign, Sam Clovis, were also told of the trip, according to Page.
"I mentioned it briefly to Senator Sessions as I was walking out the door [of a Republican club on Capitol Hill]," Carter testified, according to USA Today. "I forget the exact date, but it was the Thursday night before I flew to Moscow to give my speech. So I mentioned it to him in passing...as we were walking out the door."
During his confirmation hearing earlier this year, Sessions, a former Republican senator from Alabama, denied ever having contact with Russians during the campaign. He also said he did not know of anyone affiliated with the campaign making contact with Russians.
The attorney general, whom Trump has eviscerated in public and private over his decision to recuse himself from the Justice Department's Trump-Russia investigation, later told the Senate Intelligence Committee that the suggestion he colluded with Russia to help Trump win the election was "appalling."