A fight over paid family leave has delayed negotiations on Democratic President Joe Biden's Build Back Better proposal.
Congressional Democratic leaders had said they had hoped to pass the "human infrastructure" bill before Biden attends a United Nations climate change summit this weekend. However, Democratic progressives have signaled that the deletion of paid family leave could signal a "red line" for them to withdraw their support, endangering the package's likelihood of ever becoming law.
The paid leave proposal has seemingly been axed, Politico reported, citing three people familiar with the matter. The proposal was cut as ongoing negotiations cut down the original $3.5 trillion package into a $1.5 trillion package that will win the votes of moderate Democratic Senators Joe Manchin of West Virginia and Kyrsten Sinema of Arizona.
When asked about the possible exclusion of the paid family leave proposal on Wednesday, Independent Vermont Senator Bernie Sanders called it "extremely disappointing." He said he doubted that Congress would pass the package this week.
"Again, we're the only major country on earth [that doesn't offer paid family leave]. If a low-income woman has a baby, she's forced back to work after a week. Moms have to make the choice between staying home with their sick kids or losing their jobs? It's not acceptable," Sanders said.
Manchin didn't directly confirm its deletion. Democratic New York Senator Kirsten Gillibrand, said Manchin told her "it's not out" and that he was "looking into the details and he said he would remain open minded." However, he did tell reporters he doesn't think such "a major policy change" should be in a reconciliation bill such as the Build Back Better package, political reporter Lindsey McPherson wrote in a Wednesday tweet.
Democratic New York Representative Jamaal Bowman told reporters, "I'm really really, really, really, really, really, really upset about what I'm hearing in terms of paid leave." Bowman added that the proposal's deletion might be a "red line" for him.
Democratic Washington Senator Patty Murray responded by saying, "We are not going to let one or two men tell millions of women in this country that they can't have paid leave."
Democratic House Speaker Nancy Pelosi of California has scheduled a Rules Committee hearing on Thursday to set up a debate on the package, Politico reported.
In a tweet published Wednesday afternoon, Gillibrand wrote, "Until the bill is printed, I will continue working to include #PaidLeave in the #BuildBackBetter Agenda."
Gillibrand and a dozen Senate Democrats have signaled that they might not vote for the package at all if paid family leave isn't part of it. To have any hopes of becoming law, the package will require the support of all 50 members of the Senate Democratic caucus.
Progressives initially sought at least 12 weeks of paid leave for low- and middle-income workers. However, in an October 19 meeting with progressive House Democrats, Democratic President Joe Biden said the proposal had dwindled down to just four weeks of paid family leave.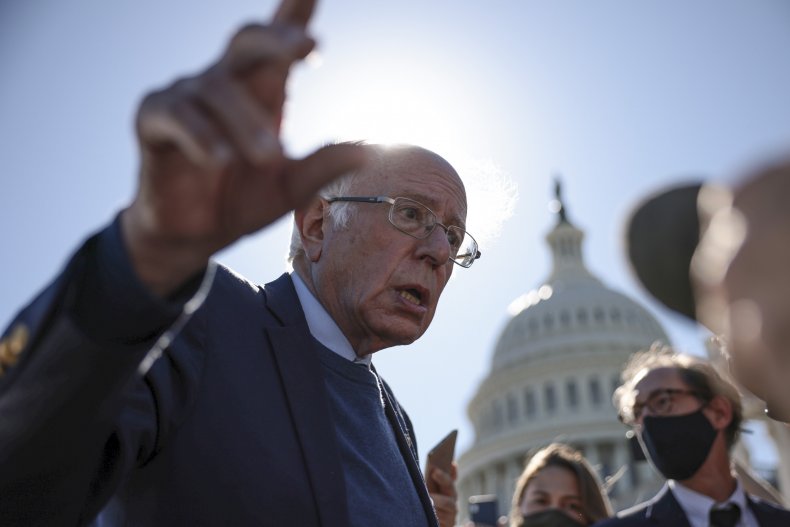 On Monday, Democratic Washington Representative Pramila Jayapal, chair of the Congressional Progressive Caucus (CPC), said that progressives would fight to retain paid family leave and other provisions meant to expand healthcare benefits and fight climate change.
CPC member Democratic Representative Ro Khanna of California echoed that sentiment.
"Four weeks [paid family leave] is absurd," he said. "We're saying do the 12 weeks. Do what every other wealthy democracy and wealthy nation does."
On Monday, Independent Senator Bernie Sanders called the United States an "international embarrassment" for not guaranteeing any paid family leave to new parents and caretakers.
In a tweet, Sanders listed 12 international countries whose governments pay for anywhere from 84 to 182 days of paid family leave (roughly three to nine months worth). The countries included Mexico, Canada, France, and Spain, among others.
"It's time we end that international embarrassment and finally guarantee paid family and medical leave in this country," Sanders' tweet said.
Earlier in the month, Democratic New York Representative Alexandria Ocasio-Cortez slammed Manchin amid reports that he sought to trim down the package's proposed policies for working families.
"Ah yes, the Conservative Dem position: 'You can either feed your kid, recover from your c-section, or have childcare so you can go to work - but not all three. All 3 makes you entitled and lazy,'" Ocasio-Cortez wrote in an October 5 tweet.