WWE's Paige is 'The Next Dwayne Johnson,' Wrestling Superstar Talks 'Fighting With My Family' Biopic, Future and More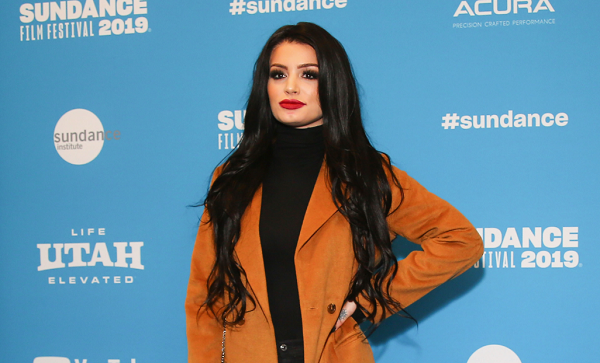 What do you do when you've achieved indomitable success in your chosen career field to the extent of landing a biopic detailing your climb to the top, all at the mere age of 26? Well, if you're WWE superstar Paige, you keep working.
The Norwich, England native, who is the focal point of director Stephen Merchant's newest film, Fighting With My Family, already reached WWE superstardom when she first debuted in her first match—the 2014 Divas Championship at that—and won. She's since become a household name for wrestling fans across the globe, and now, following her WWE retirement in 2018, has her eyes on expanding her grip in Hollywood, similar to the path of the WWE legend who helped pave her lane in the organization, Dwayne "The Rock" Johnson.
In a recent interview with Newsweek, Paige, born Saraya-Jade Bevis, shared hopes for her future endeavors, which notably included becoming "the next Dwayne" and dabbling in the film industry. With a mentor like Johnson, who executive produced Paige's biopic alongside Merchant, even the sky isn't a limit.
However, the wrestler's killer work ethic alone is likely enough to secure her future. She's been working the ring since she was 13 years old, and it's her dedication to the craft that essentially put her in Johnson's circle in the first place. Not to mention the unfaltering support of her family, who, as Fighting With My Family viewers will see, were the first to spark Paige's determination, drive and resulting success.
Read Newsweek's full interview with Paige below. Fighting With My Family premieres in theaters across the nation on Friday.
What was your reaction after seeing the movie?
I loved it. I watched it four times already. The first time I was crying my eyes out. Crying uncontrollably. The other times I got to sit back and watch it, but I still cried. It's just so beautifully done.
You're this young, you've done so much and now you have a biopic. That has to be a crazy feeling.
Yea, it's very bizarre to say the least, very surreal. I never expected to have this, no one does. So when Dwayne approached me about it, it just blew my mind. I was like, "Me? Why me? I don't understand." I've thanked him for everything he's done for me every couple of days for the last four years. And Stephen, wow, he's so talented. When I was told he was going to be the writer and director for all of this, my mind was blown. I'm such a big fan of his work, The Office and all of that.
I guess this happened if it wasn't for all the work that you've done, though.
Yea, the movie wouldn't be here if it wasn't for me, but also it wouldn't have happened if it wasn't for Dwayne. There are so many factors. If my family didn't love the camera so much when we were growing up and did all these documentaries, then Dwayne wouldn't have stumbled across it. There are all these factors to it.
Did you spend time with the film's lead actor Florence Pugh while they were filming?
I didn't fly over [to the U.K.], because I had just had surgery. Doctors' orders I couldn't go over there, so I didn't get to meet her until after the movie. They were shooting for two months. But she got my number pretty much straight away, and she would call and text like every other day. We became such good friends and we hadn't even met each other yet. So when we finally met, we just embraced each other like, "I love you." It felt like we had been through so much already.
Just from watching the movie, the training you had to do for WWE seemed intense, I can only imagine what Florence was going through just to prep to play you.
Oh yea, especially if you're not used to wrestling. My body toughened up. My body is like one big callous, so I got completely used to it. But I understand what she went through because I hadn't had a day off wrestling wise in like 12 years, and then my 13th year, that's when I had a break. When I got back into the ring again and I took my first bump, I was like, "This is what I did for so long? This is crazy! What was I thinking!" I remember hitting ropes and taking bumps on the ground and being so sore. You know how you do leg day in the gym and then two days later the pain comes? [Training when you're not used to it] is pretty much straight away pain on your full body.
What did your family say about the movie?
They loved it!
The movie really dives into your family relationships back when you were just training to be here, and now you are here. Is that close-knit bond still there even though you're a WWE star and you spend so much time in the U.S.?
Even more so. We're so close it's crazy. I love my brother [Zak Bevis]. He calls me every single day. Now he has a family. He has two kids, and he's taken over my dad's company and he's still teaching disabled kids how to wrestle. I'm so proud of him, and we're still so close. He's really my best friend.
Maybe one of the funniest moments in the movie was the dinner scene when your family met Zak's girlfriend's parents. It was pure chaos. Did that really happen?
[Her parents] weren't as snobby as they showed in the movie, but they really didn't understand the concept of wrestling and they really didn't curse that much. Now they're terrible. They're just like my family. They've been with us for so many years now. They moved to Norwich from where they were. They live pretty much next door. The dad gets along with Zak, everyone gets along perfectly. But that dinner scene, it was pretty much just like how the film display. They didn't understand wrestling, and now they come to shows all the time.
Are Zak's kids into wrestling?
They all are. My two nephews are wrestling. They're both 18. My niece is wrestling training and boxing, and she's 12. Gosh, we have so many people. One thing about my family is we breed. I'm the only one without any kids. They breed. But yes, even the babies, the kids that are like 5 and 6, they all go to Zak's kids class. Everyone takes part in it.
Would you like to have kids in the future?
Yes, if I'm able to. Not a lot of people know, but [doctors] are not sure I can even have children. So that's a thing I have to worry about, but I'm open to it. If it happens, perfect. If not, I'm definitely open to adopting one day.
Is getting in the ring still as much fun for you as when you first started with the WWE in 2011?
I love it. They say if you don't have butterflies, then you should quit. I still get butterflies.
When you do get a night off from WWE appearances, what you do? How do you relax?
Now I really don't do much. When I was younger I would just go drinking with my friends. That was the thing, but now I don't do that anymore. I just like laying at home with my dog and my boyfriend. Sometimes we'll just run around Target for a second. I love Target. I love the candles section, that's my jam. That's what I like to do. I just like to be at home because I'm traveling all the time [for work]. I don't like going on vacations. Vacation is my house because I'm never at home anymore. I turn into a hermit when I'm off.
Is there something other than wrestling you'd like to get into?
Yes, definitely. I'd like to transition into something else, movies, be kind of the next Dwayne. I would love to do that. I want to stay a part of WWE—on the screen and behind the scenes—but to also do more show business, entertainment stuff would be great. I also have my makeup line Saraya Jade that I want to keep building too.
Having The Rock as your mentor must be such an inspiring thing.
That relationship means the world to me. I wouldn't be at this point without him. He's just such a nice person. He's always willing to help anybody, anyone. He's helped so many people. He knows he's successful in what he does and he knows he has the tools to help other people reach that too. There's a quote that reminds me of him and it goes: "Don't listen to people that try to belittle your ambitions, small people always do that. But the real greats make you feel that you too can become great." That's so Dwayne. He makes you feel like you can be so successful at what you want to do and that you can reach the goal you want to reach. He just helps you elevate. He's really a wonderful person.
If there's anything a viewer can take away from this movie and learn about your WWE start, what should it be?
I loved wrestling with all my heart, but before I didn't want to get in the ring because it scared me. When I finally got in, it was the adrenaline rush from walking out the curtain and into the ring that changed everything. Even if it's in front of five people, you're putting five smiles on people's faces and it's this beautiful euphoric thing, and I loved it. Like Mom [played by Lena Heady]says in the movie, 'It's like crack, heroin and whatever combined.' That's the feeling that you get. I've never done any of that before, but I'm sure it's a pretty accurate description. I don't know what a viewer can take from that, because it's something they'd have to experience for themselves, but I hope they can watch the movie and walk away inspired to reach their goals despite whatever fears they may have.
What's your advice for young women who have watched you and want to achieve similar success?
Just always remain truly yourself, in your authenticity. All of it, just be yourself. That's your superpower. Also, be patient—no matter what you're trying to do—because it takes time. It doesn't always come overnight and that's something I had to be told constantly. And the first piece of advice Dwayne gave me: Stay humble and hungry. Humble because you want to work with everybody, and hungry because you always want to set goals. You don't want to get complacent.
Why should people go see this movie?
This movie isn't just about wrestling. It's a wrestling movie, but it's about more than wrestling. You can say the same thing about Rocky. Rocky is a boxing movie, but people just love the story that comes with it. You don't have to be a fan of boxing to like a beautiful underdog story. I feel like people will watch Fighting With My Family and be inspired, and they'll have such a happy feeling. This is a happy movie. There's tear-jerking moments, but even those are good moments not bad moments. People are going to walk in the theater and they're gonna walk out feeling inspired, that's why they should go see it.