Painting of the Fictional President Frank Underwood Goes on Display at Smithsonian's National Portrait Gallery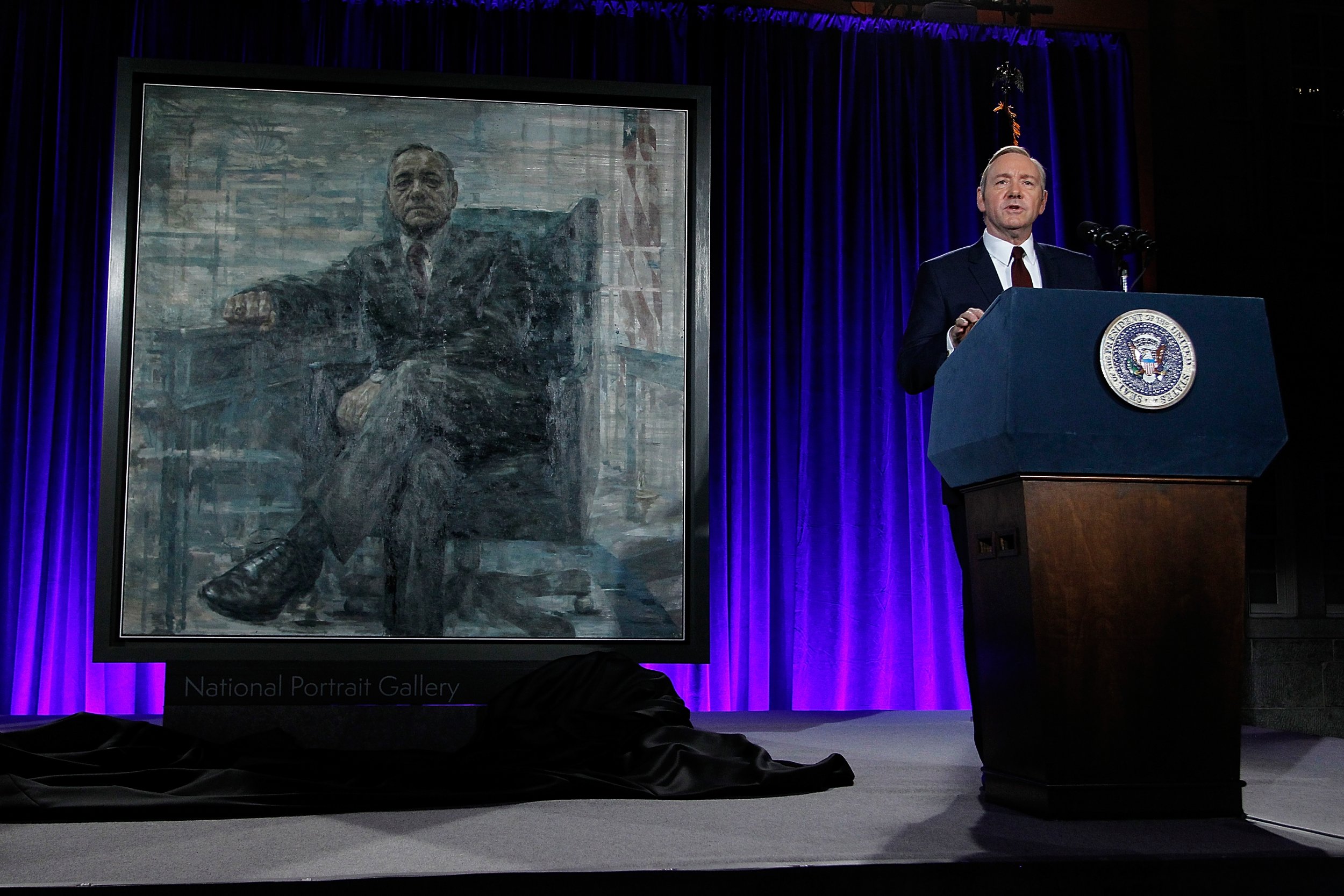 It begins like a clip from the hit series House of Cards, perhaps another trailer or preview ahead of Season 4. The camera focuses on the back of Frank Underwood's head as he stares out a window, deep in thought, and slowly zooms out while the familiar ominous score fills the scene. His chief of staff approaches and says gravely, "Sir, it's time."
The video, posted by Netflix, follows Kevin Spacey in character as President Frank Underwood, who is heading to the Smithsonian's National Portrait Gallery for the unveiling of his portrait Monday evening. A collaboration between Spacey, British artist Jonathan Yeo and the museum, the painting depicts the actor in his masterful portrayal of the scheming, coldhearted politician.
"I suppose I should be pleased I am finally going to be hung in our nation's attic," Underwood says in one of his characteristic asides to the camera, breaking the fourth wall as he rides in his motorcade to the event. "Of course, if they knew what was in my basement, they wouldn't hang me so close to Lincoln; I'd end up next to Booth instead."
He adds, "Booth wasn't a bad actor, by the way. But unlike most actors, he could actually hit his mark. Oh, what? Too soon?"
Despite what Underwood may have his fans believe, the portrait unveiled Monday will not hang with those of real-life presidents (or next to photos of John Wilkes Booth, which the Portrait Gallery does have in its collection). The 6-by-6-foot painting of Underwood sitting at the Oval Office desk will be on display starting Wednesday and through October on the Portrait Gallery's first floor, independent of any other exhibit.
"As a portrait gallery, we are looking to tell the story of America through people who have influenced American history and culture," Bethany Bentley, head of communications at the museum, tells Newsweek.
The gallery has long had Spacey on its radar as an influential actor whose portrait it would like to add to its collection. But in this instance, Bentley says, the significance of the painting is manifold. It represents not only an "influential character who has permeated American culture" or the "great job Kevin Spacey does as an actor" but also the "sea change" in how culture is consumed, a process House of Cards helped spur when Netflix released the entire first season at once in 2013. The fourth season hits the site March 4, and a preview of its first episode was screened at the portrait unveiling on Monday.
Spacey joins a long list of actors, including Elizabeth Taylor, Michael J. Fox and John Leguizamo, whose portraits are part of the museum's collection. In particular, he is now part of the National Portrait Gallery's long tradition of including actors in famous roles. For example, it has in its collection portraits of Ethel Merman as Annie Oakley from Annie Get Your Gun and Ira Aldridge as Othello, as well as a photograph of Robin Williams as Mork from Mork and Mindy, though it is not currently on display.
"I'm pleased that the Smithsonian continues to prove itself as a worthwhile institution," Spacey-as-Underwood says about the unveiling in Netflix's press release, which continued blurring the boundary between fiction and reality. "I'm one step closer to convincing the rest of the country that I am the president."