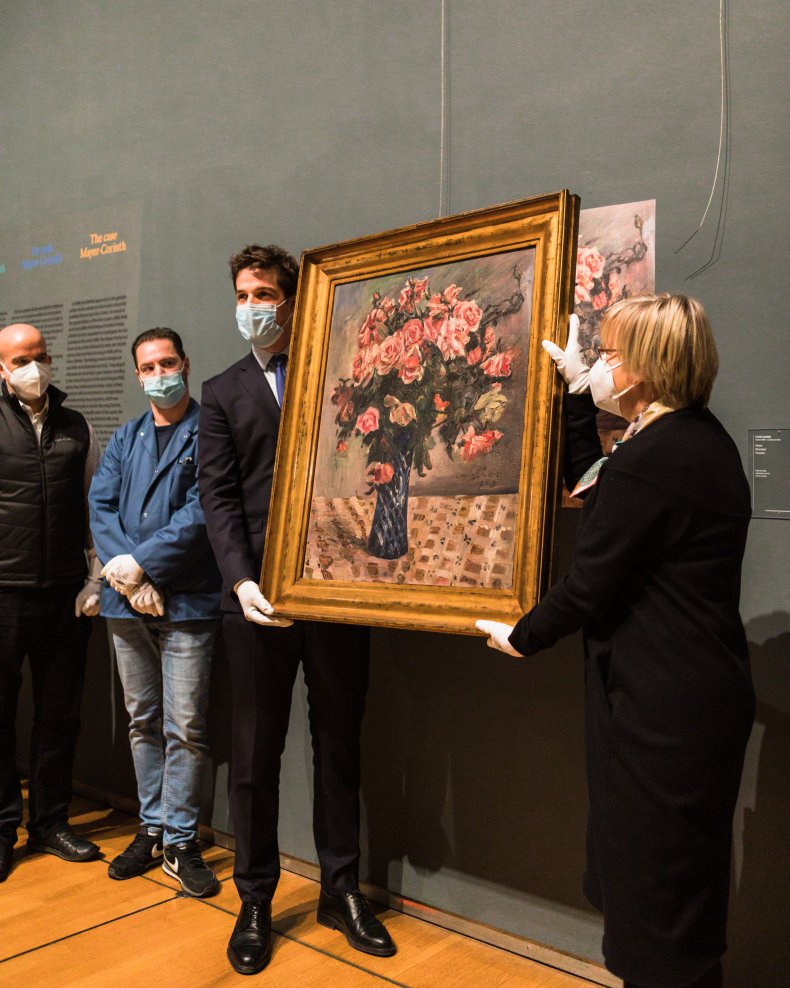 Eight decades after Gustav and Emma Mayer lost most of their belongings as they escaped Germany on the eve of World War II, one of their paintings has been returned to their nine great-grandchildren.
The Royal Museums of Fine Arts in Belgium handed Lovis Corinth's Flowers, a 1913 still life of pink flowers in a blue vase, back to the family in a ceremony on February 10, according to a press release.
Although the descendants could not attend the ceremony due to COVID-19, their lawyer, Imke Gielen, told Newsweek, "I understand it was a very emotional experience for them seeing the painting wrapped just as it was done more than 80 years ago when Gustav and Emma Mayer fled from their home in Frankfurt to Brussels."
The work was one of 27 that the museums listed on an online database of pieces with uncertain ownership history. Lawyers for the Mayer descendants first inquired about Flowers in 2016. It is the only work in the museum's collection that has been restituted.
The Nazis were known for plundering and destroying art that they deemed un-German, Jewish or "degenerate." Simultaneously, many pieces of art were abandoned by Jews fleeing for their lives. In the following decades, it was difficult to determine the provenance—or place of origin—of the cultural property that survived, and to prove what had been stolen or who had owned it before.
The Mayers had a well-to-do life in Frankfurt, where they ran a business and owned 30 paintings. They fled through Italy and Switzerland before arriving in Belgium in 1938. During a 14-month stay in Brussels, the couple left their collection of paintings in storage, and they got to Britain days before the war began. Flowers is the only painting to be recovered.
The Mayers did not live to see the end of the war. Gustav was already elderly and died of ill health in 1940; Emma followed him four years later. By 1943, all of the Mayers' art in Brussels had been stolen by the Nazis. Flowers was entrusted to the Royal Museums of Fine Arts in 1951 after investigators failed to establish its ownership records.
Museum director Michel Draguet had no regret about losing Flowers, saying in a press release: "Of course, it is moving to see an art work leaving the museum's collections, but we are also extremely happy and touched to see this painting finally in the hands of its rightful owners."
Gustav and Emma's great-grandchildren, who now live in the U.K., South Africa and the U.S., will continue to search for the remaining 29 paintings in the Mayer collection. It's a daunting task since they have no images of the missing works and must rely on passed-down descriptions of memory.