Painting Selfie Avatars Takes Internet by Storm, Here's How To Get Yours
A new app that uses artificial intelligence (AI) to create a unique profile picture is taking the internet by storm.
The NewProfilePic (also called New Profile Picture Maker) app allows you to upload your photo and choose from a variety of AI-driven cartoon styles to create a profile picture to fit your mood.
What is NewProfilePic?
The free mobile application is available on the Apple App Store and Google Play. The app creates a cartoon sketch version of your favorite selfie. Perfect for using on your social media accounts to impress your friends. Already boasting thousands of reviews with a 4.8 star rating, users can't get enough.
"I downloaded this like 10 minutes ago and I'm already obsessed," said one reviewer on the Apple App Store.
How Does NewProfilePic Work?
A British Virgin Islands (BVI) company, Linerock Investments Ltd. holds all the intellectual property, but several other companies work together to create the app, including Informe Laboratories and Photo Lab.
The team are also responsible for the recent ToonMe app which achieved worldwide attention for turning photos into a Pixar-style character.
Launched on April 7, the app is now available in over 100 countries, the company says the app uses the latest AI technologies to create a stylized portrait based on real photos.
The team behind the app told Newsweek: "The thing about profile pictures is that people usually find one favorite photo of themselves, place it as a profile picture and keep it there before they somehow feel like getting a better photo. People change, but their online avatar stays the same. And recently we've realised that we are in a great position to change it, to break the rules.
"With the help of NewProfilePic, users can change their profile picture each week to mirror their state of mind and also draw more attention from their followers. We hope to make the ever-changing profile pics a trend."
As with all apps, it is important to understand the privacy policies and data usage you are giving over when downloading and using the software.
The company's privacy policy applies to information—including your personal information—collected during your use of the app. Personal information means any information that identifies you personally, either alone or in combination with other information, it says.
The privacy policy does admit: "Personal information (and non-personal information) collected through the Services may be shared with companies and organizations that perform services on our behalf." It also notes: "We may share your personal information (and non-personal information) with third parties to serve you relevant advertising and market our products, but we won't sell your personal information."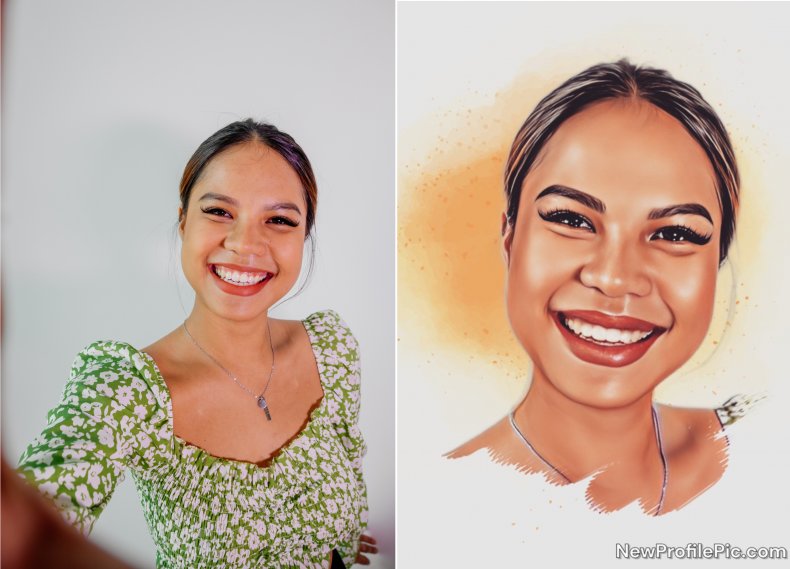 How Do I Use NewProfilePic?
Looking to refresh your profile picture and wondering what all the hype is about? Create your own AI-driven portrait by following a few simple steps:
Download the NewProfilePic app from the Apple App Store or Google Play Store for Android.
Open the app and follow the instructions to "Choose photo"
The app will then ask you for permission to access the images in your personal gallery.
From here, choose an existing image from your camera roll to create your own cartoon-style image. Here, you can also choose a celebrity photo to test out the features or create custom pictures of your favorite stars.
Once you have selected an image, the app will work its magic and create a custom sketch. Play around with the styles and features until you find your favorite. These features update frequently so you can check back and try out new styles all the time.
UPDATE 05/12/2022 03:34 a.m.: This article was updated with new information and comment from the app creators.