Paisley Park Is in Your Heart: A Visit to Prince's Magical Minneapolis Kingdom
With Prince's memoir just out and a remastered "1999" on the way, it's the perfect time to do a purple-colored tour of Minneapolis.
The girl on the seesaw is laughing
For love is the color
This place imparts (Paisley Park)
Admission is easy, just say you
Believe and come to this
Place in your heart
Paisley Park is in your heart
"Paisley Park," from Prince's 1985 album Around the World in a Day
I was standing at the pearly gates. OK, it was just a chain-link fence—more "purpley" than pearly—but to me they were majestic. In front of me was a bone-white, two-floor building akin to one you would find in a suburban office park.
But this was no ordinary, dull-looking office building. This was Paisley Park, Prince Rogers Nelson's two-story, all-in-one, 65,000 square-foot complex just outside of Minneapolis that has housed recording studios, a cavernous soundstage, a club, a studio for his fashion designers, a basketball court (shirts vs. blouses, anyone?) and his home. I was about to take a tour of the complex, which many people consider a sanctuary, as did Prince himself.
It is, in fact, a great time to visit Paisley Park and do a Prince-themed Minneapolis tour, as I did. Prince's unfinished memoir, The Beautiful Ones, was just released in October, and at the end of November, Warner Bros. is releasing a remastered and extended version of his seminal album 1999 (originally released in 1982).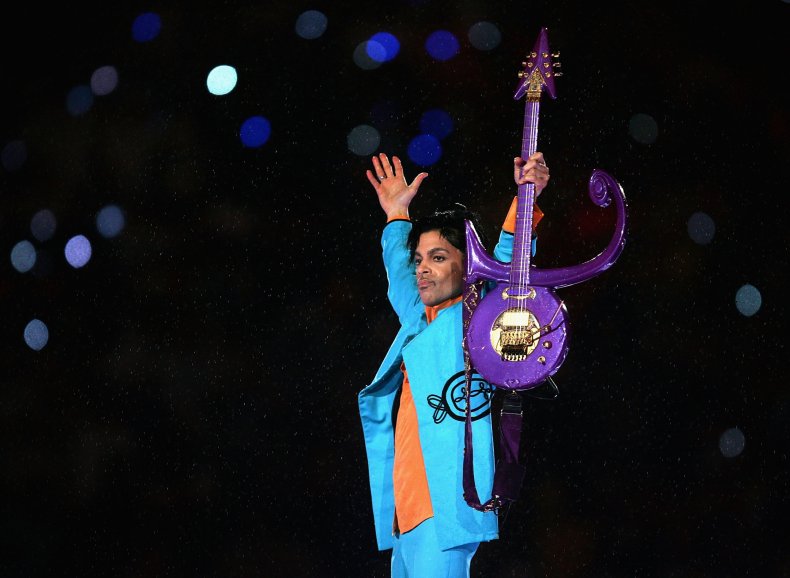 Five years ago, I happened to be in Minneapolis when word started to spread on Twitter that the Purple One was swinging open Paisley Park's doors that night for a party. I was actually in town to write a story about Prince, my musical idol, an artist I've literally listened to every single day for the past 30 years, and it was an auspicious coincidence I was in town for this rare event: the public allowed into Prince's palace.
Prince didn't make an appearance that night, though people I talked to were convinced he was there, probably watching us from some secret window or spot in the high-ceilinged soundstage where about 200 of us danced to DJed Prince tunes till 3 a.m. We noshed on one of the few food items on the menu at Paisley Park: pancakes, made famous in the Chappelle's Show skit about Charlie and Eddie Murphy's visit here in the 1980s.
I never got a chance to go back to Paisley Park. And then on April 21, 2016, I was early for a dinner reservation at a restaurant in Berlin when my ex-wife (still a good friend) texted me: "I have some really bad news. I hope you're sitting down." Another text came 10 seconds later: "Prince is dead."
I have long wondered why I had such a gravitational pull to this artist and his work. It wasn't just the genius—the infectious ear candy, the mastery of several instruments (playing Hendrix-level guitar, working the piano keys like Stevie Wonder), almost out-dancing Michael Jackson and leading a band like James Brown. Prince took the best of '60s and '70s soul and funk (and some aspects of rock, folk and even punk); absorbed it; married it to his own bold, distinct style; and out came a genre-bending, decade-defining style that was undeniably Prince.
He had an impeachable, natural, Mozart-ian talent. He was a perfectionist and made it look easy. He had a deep vision for things that no one else could see. He was in touch with his feminine side and therefore way ahead of his time in that regard. He had an almost otherworldly-like persona that made you wonder if he was of this earth. He apparently never slept. I once asked funk legend George Clinton if Prince was a human or an alien. His response: Both.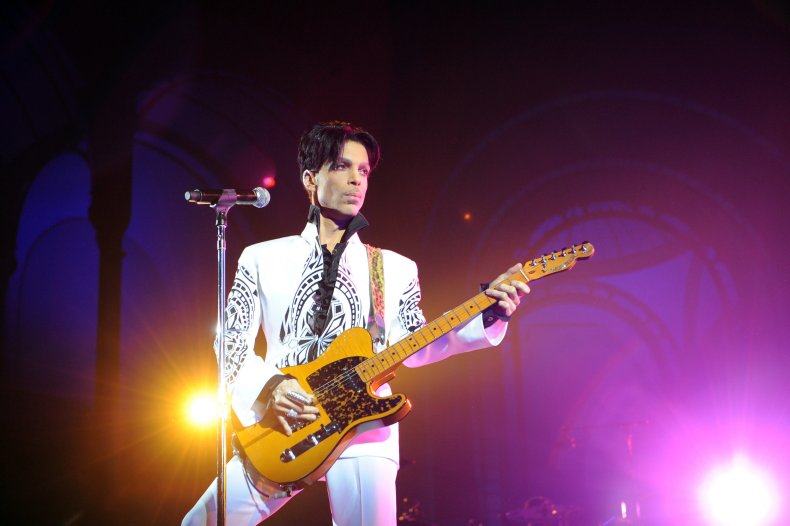 Prince once sang, "And so what is the answer, to the question of U?" And so here I was, once again, at Paisley Park, about to take a tour and wondering if I might find out the answer to the question of Prince and my lifelong connection to him. By visiting his home, now a museum, would I even learn anything about this elusive genius, the self-proclaimed "Purple Yoda"? As I walked through the door, I felt I was trembling to the core.
A day before, I had gone on a self-guided Prince tour, going to the club First Avenue, where much of the 1984 film Purple Rain was shot, stopping by the house where his character, the Kid, lived (3420 Snelling Avenue, Minneapolis). I went to Electric Fetus, the best-named shop ever and Prince's favorite record store. I even paid a visit to Fairview Park in Minneapolis to have a look at artist Esther Osayande's 15-foot metal Purple Raindrop installation. It was all pretty easy to find because the Minneapolis tourist board put together a tour on its website. And if you'd rather have someone else do the guiding, there are guided Prince-themed tours in Minneapolis too.
But now, as I stood in Paisley Park, it was apparent Prince had been slowly preparing to turn Paisley Park into a shrine to himself. Around the turn of the millennium, he began bedecking the halls with his cache of awards and gold and platinum records, filling rooms with props from various tours and film sets. The tour guides promised our group of about 20 people that, with the exception of a few rooms that were decorated for the tour, most of what we'd see that day was exactly as Prince had left it.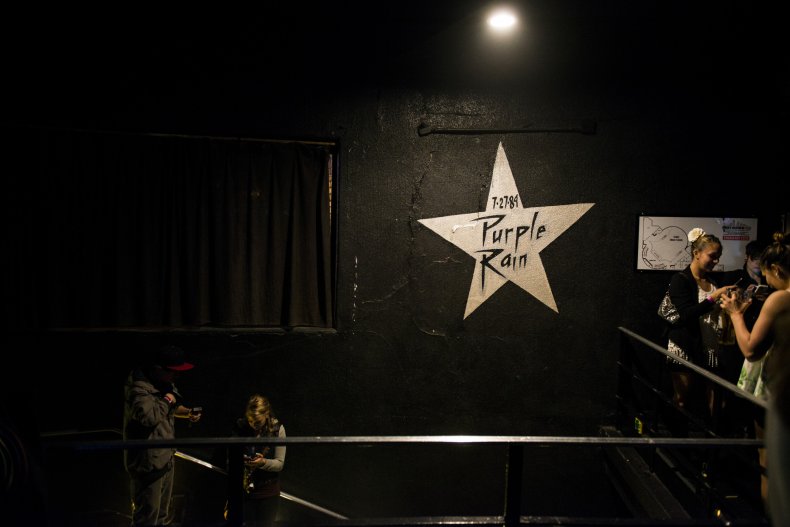 The two guides—a man and a woman, both wearing purple tunics, as if they were part of a cult—led us into a sunny atrium, apparently Prince's favorite place in the complex. Blue, partly cloudy walls (with a massive painting of Prince's eyes, looking not unlike the hieroglyphic eyes of the Egyptian god Horus) gave way to a glass pyramid roof that beamed in a natural glowing light from the heavens.
"This is the room that Prince felt most comfortable in," said the 20-something male guide, who spoke in monotone most of the time. "He was completely at peace in this atrium." And then he looked up toward the sky. "So that is why we put his ashes here."
About 10 feet up, just before the blue wall turns to glass, in a frosted, slightly transparent box, sat a small replica of the building we were standing in, with the remains of Prince. His ashes. "Let us take a moment to pay our respects to the man who affected so many of our lives," the guide said.
Emotions whirled through my heart and head at that moment, but the surprise shock of being introduced to the remains of Prince kept me from really settling on one feeling. We stood there quietly, the silence broken only by the cooing of two doves that sat contently in their cage on the balustrade. The ashes have since been removed, by the way.
A few moments later I was exploring the adjacent rooms, each one themed to a seminal Prince album: Dirty Mind, Controversy, Sign o' the Times, and Lovesexy. Period-defining outfits, instruments and other mementos were on display, as concert footage from each album's tour played on the back wall of each room. One of the rooms was his office, and it looked as if he had just been sitting at the desk a day earlier. A stack of books included tomes on ancient Egypt and a Bible. There was also the kitchen. A few diner-style booths and a couch facing a large TV where he'd eat pancakes, watch NBA games and, in preparation for what would be his final tour, titled Piano and a Microphone, study videos of old performances by Ray Charles and Stevie Wonder.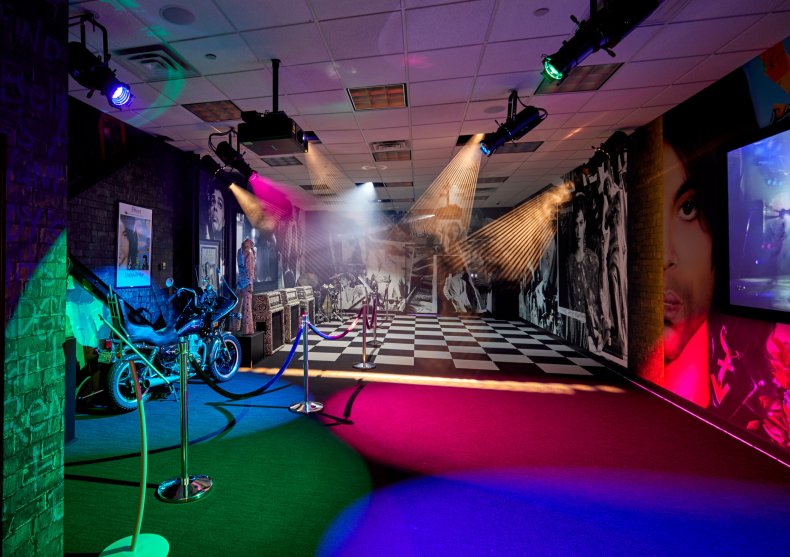 We were led into a couple of his recording studios. He recorded his greatest work, the double album Sign o' the Times, in this one, and the double-platinum Diamonds and Pearls album in that one. The guides played us a funky instrumental jazz number, one of the last songs he recorded. We were then led down brightly hued hallways flanked by framed gold and platinum records and Prince's seven Grammy Awards. His Academy Award for Purple Rain was on display (along with his iconic motorcycle) in the room dedicated to the album and film. We got to linger in the soundstage, the same room where I had spent an evening five years earlier, as large screens broadcast concert footage from various tours.
It was a whirlwind of a tour. The guides left us in a room that played on loop a video of Prince's astonishing 2007 Super Bowl halftime show before we spilled out into the gift shop, where merchandise adorning his famed male/female symbol was for sale. We didn't get to see the elevator where he was found dead on April 21, 2016. We didn't even get to go up to the second floor, where his home was. Nor did we get to go to the basement where his near-mythical vault existed, holding thousands of unreleased recordings.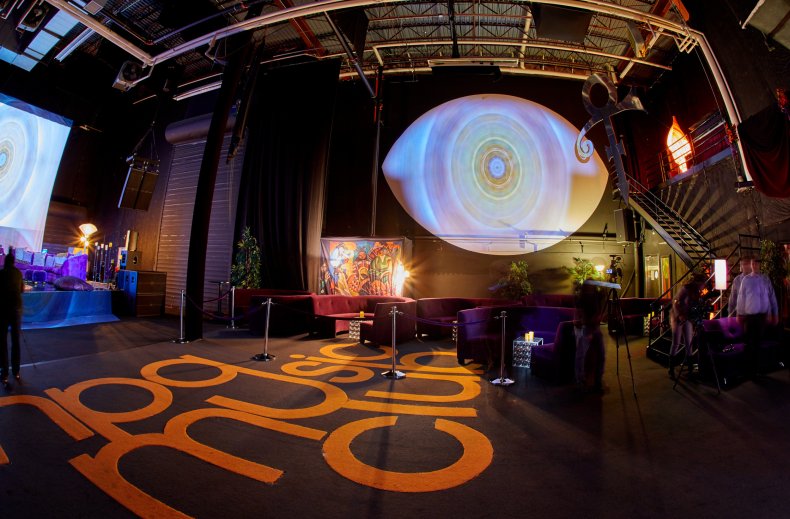 As I left Paisley Park's gift shop, without a physical souvenir, one thing was clear to me: No one can ever imitate or be like—or even come close to being like—Prince. The only thing we can do to emulate his greatness is be ourselves—and do it in a confident way, not caring what anyone thinks. Be you. And be you so well that people cannot ignore you. Or, as Prince sang in the song "Cream," in which he is actually singing about himself: "Make the rules and then break them all, 'cause you are the best."
As I walked to the car, I found myself humming—appropriately enough—Prince's 1985 song "Paisley Park," from which this complex takes its name. And then, sotto voce, I sang part of the chorus: "Admission is easy/Just say you believe, and come to this place in your heart."
David Farley is an award-winning food and travel writer. He has written for The New York Times, The Wall Street Journal and National Geographic Traveler, among other publications. He's the author of Underground Worlds: A Guide to Spectacular Subterranean Places and An Irreverent Curiosity: In Search of the Church's Strangest Relic in Italy's Oddest Town, which was made into a documentary by the National Geographic Channel. He lives in New York City.