Pakistan to Avoid Yemen Intervention for Fear of Sectarian Reprisals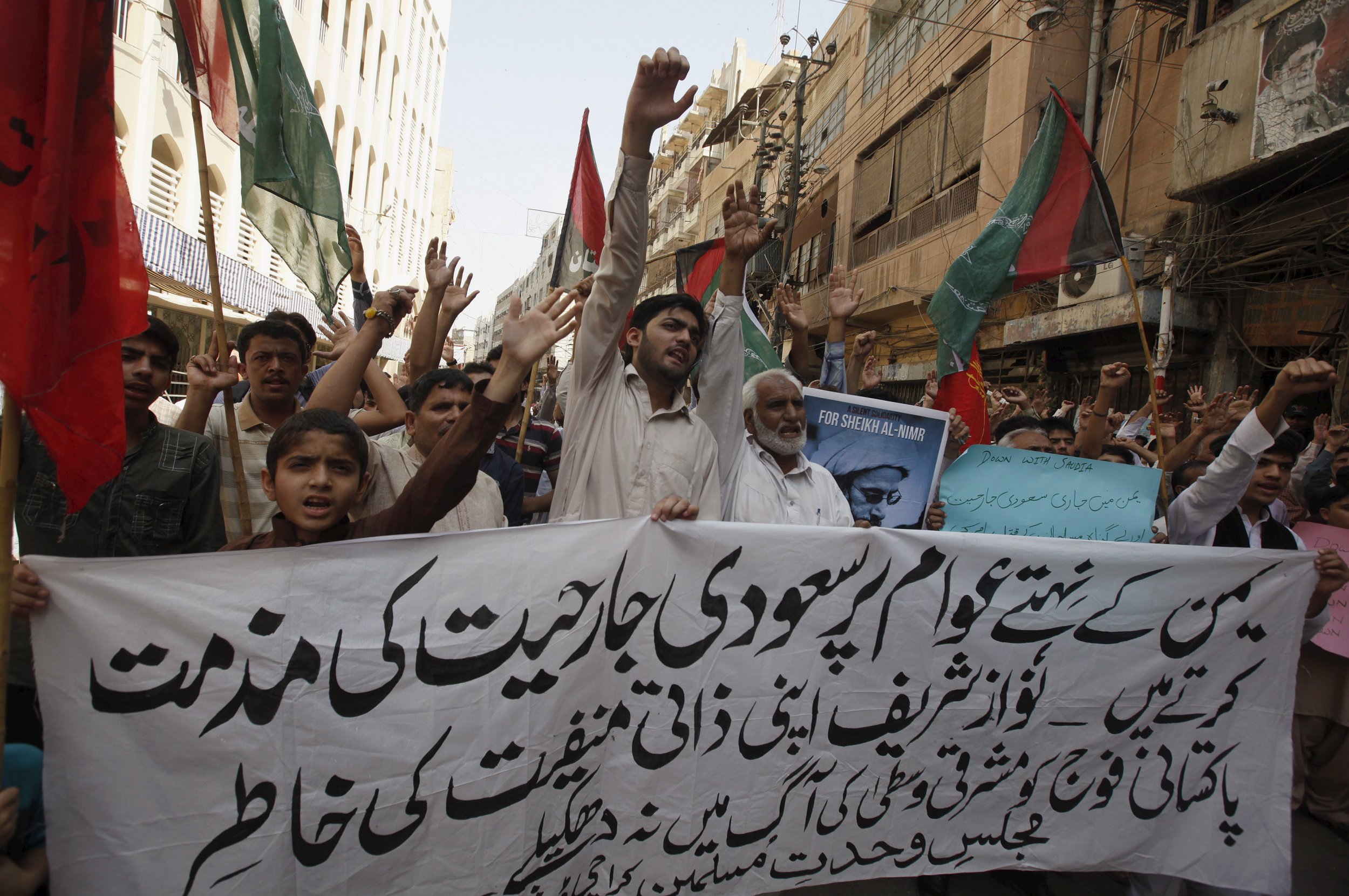 Pakistan will resist Saudi Arabian pressure to intervene in Yemen in a bid to stop domestic sectarian tensions bubbling over, say analysts, as the Iranian foreign minister arrives in Islamabad for talks.
The Pakistani parliament is currently holding a special debate which started on Monday on whether to send planes to Saudi airstrikes targeting Iranian-backed Shia Houthi rebels attempting to overthrow president Abd-Rabbu Mansour Hadi in Yemen.
Defence minister Khawaja Asif said on Monday that Riyadh had requested Islamabad to contribute aircraft, ships and troops to support Saudi airstrikes which have been ongoing since March 26.
However, Pakistan has so far been reluctant to support its long-term ally in practice. Analysts say that this is for fear of stoking sectarian conflict within the country, where violence against Shia Muslims is widespread. Shias number as many as 26 million in Sunni-majority Pakistan, making up between 10-15% of the population.
Addressing parliament yesterday, prime minister Nawaz Sharif called for Iran to contribute to the security debate on Yemen in a move likely to irk Saudi Arabia. So far, no Pakistani parliamentarians have spoken in favour of military intervention. Iranian foreign minister Mohammad Javad Zarif is beginning a two-day visit to Islamabad today to discuss the situation in Yemen.
Earlier this year, Sunni militants linked to the Taliban carried out a series of attacks on Shia mosques in Peshawar and Shikarpur, killing more than 80 people. Human Rights Watch recorded the killings of at least 400 Shias in 2013 and at least 450 in 2012 in Pakistan. Shias in Pakistan are often targeted by militant Sunni groups such as Lashkar-e-Jhangvi, who were banned by the government in 2001 and are designated as a terrorist group by the U.S.
Oliver Coleman, principal Asia analyst at geopolitical risk company Verisk Maplecroft, believes Pakistan will reach a compromise solution which keeps Riyadh happy whilst not exacerbating Shia fears.
"Pakistan is definitely in a bit of a bind. Saudi Arabia is one of their main benefactors, they've been intimately involved in terms of economics and intelligence for a number of decades," says Oliver. "However, Sharif has to take into account that intervention is pretty unpopular amongst the population and opposition parties, so it's a bit of a hard sell."
The conflict in Yemen has been characterised as a proxy war between Saudi Arabia and Iran, the region's main Shia power. Recent anti-Shia violence in Pakistan shows that "any excuse to inflame sectarian tensions will be taken", according to Coleman.
He believes that, if Islamabad does sanction troops or aircraft to back the Saudis, this would come with conditions - for example, deploying troops in non-combat roles such as defending Saudi borders from Houthi incursions.
Professor Stephen Cohen of Washington-based thinktank the Brookings Institution agrees that fighting a proxy war thousands of kilometres away in Yemen is a problem which Pakistan doesn't need.
"I think Pakistan's support for Saudi Arabia is going to be more in word than deed. To get involved directly would divide Pakistan domestically," says Cohen.
Pakistani government officials originally pledged to support the Saudi airstrikes with troops if necessary. The two nations have close ties - Riyadh sheltered Sharif when his second term was ended by a military coup in 1999 and the Gulf state lent $1.5 billion to Pakistan last year to boost foreign exchange reserves.
However, Pakistan shares a long and unstable border with Iran. Militants who reportedly crossed from Pakistan killed eight Iranian border guards in the southeastern town of Negur in the Sistan Baluchistan province yesterday. In the talks with Zarif today, Coleman believes Pakistan will be keen to mediate between its territorial neighbour Iran and its ideological neighbour Saudi Arabia.
"Sharif wants Iran to play a constructive role in reaching a settlement in Yemen," he says.
Sectarian tensions in Pakistan can be traced back to the 1980s, when Sunni cleric Haq Nawaz Jhangvi founded the political party Sipah-e-Sahaba with the aim of neutralising Shia influence in Pakistan following the 1979 Iranian revolution. Violence has escalated in recent years. In January and February 2013, bombs in the city of Quetta killed at least 180 Hazara Shias, the highest death toll in sectarian violence since Pakistan's independence was declared in 1947.