Regulators in Pakistan have reminded the country's media outlets that they are banned from covering Valentine's Day.
In a notification to publishers and broadcasters, the Pakistan Electronic Media Regulatory Authority (PEMRA) writes that "respondents are directed to ensure that nothing about the celebration of Valentine Day and its promotion is spread on the Electronic and Print Media."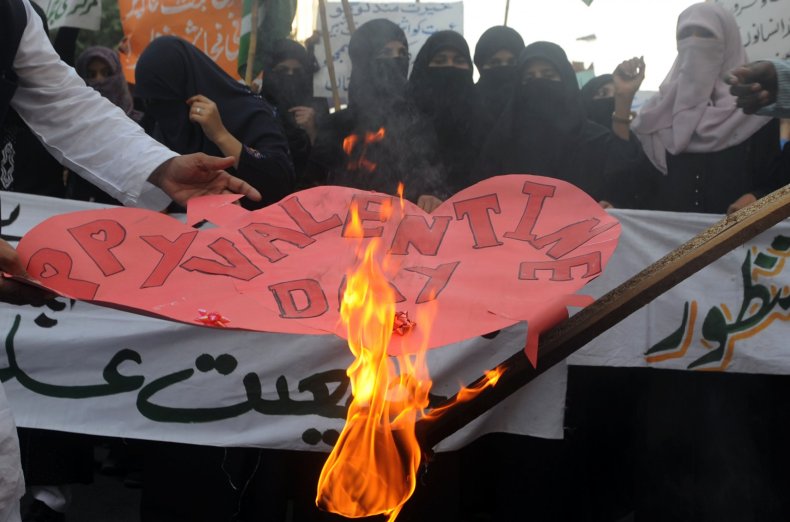 Pakistani newspaper Daily Pakistan reported that the letter follows a February 2017 ruling by an Islamabad judge, who forbade the date being celebrated in public.
The order also banned media from promoting or covering Valentine's Day events as well as the sale of associated merchandise—and called for PEMRA to monitor media platforms for violation of the ban.
The ban followed a petition by a private citizen, Abdul Waheed, who argued that promotions of Valentine's Day were "against the teachings of Islam and should be banned immediately."
According to the Dawn newspaper, the petition argued that the festival promoted immorality, nudity and indecency under the cover of spreading love.
The ban followed Pakistan's President Mamnoon Hussain's 2016 declaration that Valentine's Day should be avoided, calling it a Western tradition that was not part of Pakistan's culture.
For some in the Islamic republic, Valentine's Day is an immoral western import—with hard-line Islamist group Jamaat-e-Islami holding demonstrations against the celebration on February 14.
The celebration has grown popular in some areas in Pakistan, and businesses have used the celebration to promote products.