An earthquake rattled India and Pakistan on Tuesday, according to news reports.
The shallow earthquake, which registered 5.8 on the Richter scale, hit 22.3 kilometers (13.9 miles) north of the Pakistani city of Jhelum.
Regional news outlets provided different figures for the number of injuries and fatalities from the earthquake. Divisional Commissioner Chaudhry Muhammad Tayyab told Pakistani newspaper Dawn that at least eight people were reported dead and 100 injured. Tayyab said that at least three of those reported dead were young children.
"The quake was 10 kilometres deep and was felt in most of Punjab province, some parts of Khyber Pakhtunkhwa. The worst hit was Mirpur, Azad Kashmir," Pakistan's chief meteorologist Muhammad Riaz told news outlet Agence France-Presse.
The outlet also said that tremors reached New Delhi, the capital city of India, which is about 500 miles away.
Pictures from BBC's Pakistan & Afghanistan Correspondent Secunder Kermani showed large chasms and vehicles teetering off the side of the wrecked infrastructure.
In 2005, a much stronger 7.6 magnitude earthquake struck Kashmir, wreaking havoc. The BBC said that the 2005 earthquake "is remembered as one of the worst natural disasters in South Asia." The earthquake 2005 killed 73,000 people and left about 3.5 million homeless, according to Al Jazeera.
Tuesday's earthquake comes as recent moves by India have already made life more difficult for those living in the predominantly Muslim region of Kashmir and stoked tensions.
At the beginning of August, India's Hindu nationalist government revoked Article 370 of the Constitution, a 70-year-old provision which had allowed relative autonomy for the contested region. The move was viewed as part of Prime Minister Narendra Modi's Hindu nationalist policies, which critics say have involved failing to adequately address violence perpetrated against non-Hindus. Many Muslims say they fear for their safety amid a surge in hate crimes.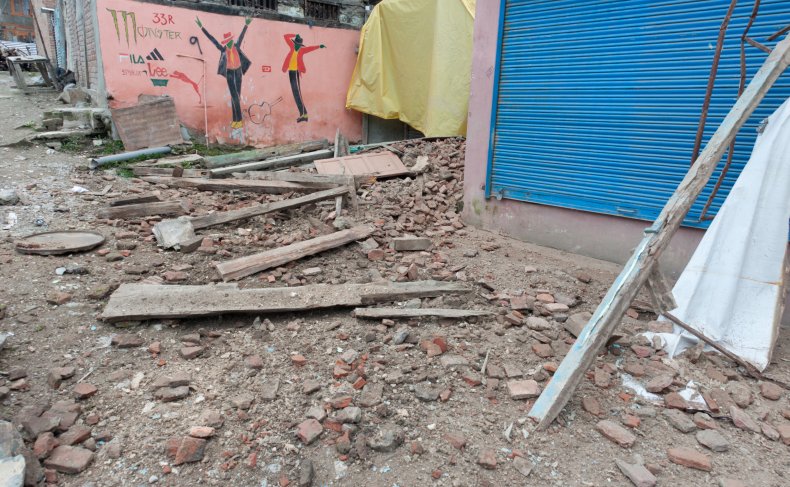 India sent 35,000 extra troops to the region and India conducted widespread arrests, detaining thousands of politicians, activists and others in the region.
The moves by India, which have restricted freedom in Kashmir, provoked outrage from Pakistan. "Pakistan strongly condemns and rejects the announcements made today by the Indian Government regarding the Indian Occupied Jammu and Kashmir," the Pakistani Ministry of Foreign Affairs said in a statement after India said it would revoke Article 370.
Mehbooba Mufti, a former Chief Minister of Jammu and Kashmir, wrote that "The people of Jammu & Kashmir who reposed their faith in institutions of India like parliament & Supreme Court feel defeated & betrayed. By dismembering the state & fraudulently taking away what is rightfully & legally ours, they have further complicated the Kashmir dispute."
India has also imposed a communications blackout on Kashmir, a point which activist Arjun Sethi noted would make it difficult for people reach their loved ones who could be affected by Tuesday's earthquake.