Suicide Attack Kills at Least 31 People on Pakistan's Election Day, Reports Say
A suicide attack outside a Pakistan polling station killed at least 31 people on Wednesday, increasing the death toll of a bloody election campaign.
The Quetta attack, which occurred during election day, killed five police officers and two children, Sky News reported. The Islamic State militant group claimed responsibility for the attack, which wounded an additional 40 people.
"(The bomber) was trying to enter the polling station. When police tried to stop him, he blew himself up," Quetta administration official Hashim Ghilzai said.
The violence occurred despite a widespread military and police presence intended to ensure the election's security, with more than 370,000 military personnel and an additional 450,000 police officers being deployed across the country. An attack in Balochistan's Mastung region earlier this month killed at least 149 people, according to local sources.
The heavy military presence fueled concerns that the troops were attempting to sway the election, which the Human Rights Commission of Pakistan has called "the dirtiest election in the country's history." The commission has alleged that fraud, violence and efforts to illegally manipulate the polls have occurred.
News outlet Agence France-Presse reported that "election authorities have granted military officers broad powers inside polling centers that have further stirred fears of manipulation."
Major General Asif Ghafoor, who runs the army's media wing, presented the election as a success after polls closed.
"Thank you fellow Pakistanis. World [sic] has seen your love & respect for Pak Armed Forces & LEAs today. [You have] rejected all kinds of malicious propaganda. We are strong because we have your unflinching support. Our lives are dedicated to Pakistan and its People. Pakistan wins again!" Ghafoor tweeted.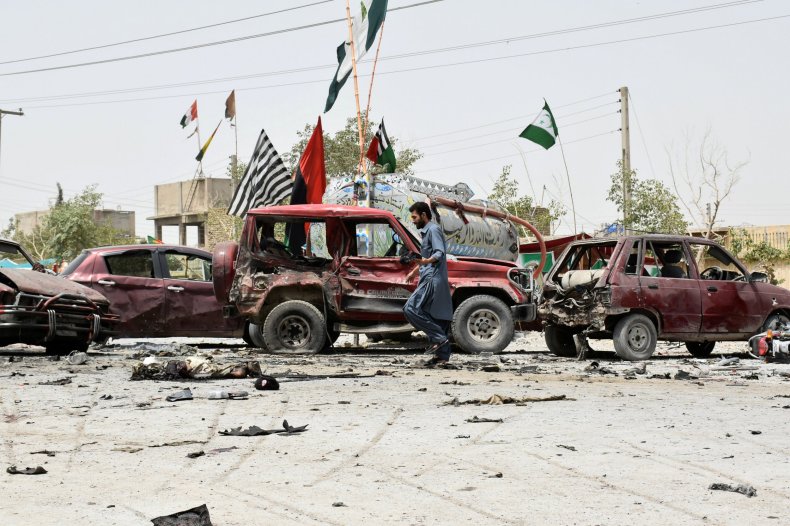 The election featured three major contenders running for prime minister. Imran Khan leads the Pakistan Movement for Justice (PTI) party; Shehbaz Sharif heads the center-right conservative Pakistan Muslim League (PML-N); and Bilawal Bhutto, the son of the country's former prime minister, leads the socialist progressive Pakistan People's Party (PPP). The latest results reported by The Guardian showed a significant lead for Khan and the PTI, but the election's official outcome is not expected until Thursday morning.
Over 12,500 candidates also vied for 849 seats in the country's national and provincial assemblies.