Pakistan Embraces the Sexual Fringe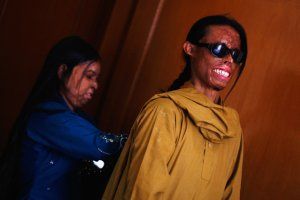 For a state created by the marginalized to protect their rights and freedoms, Pakistan's treatment of its own minorities has often been dismal. Its scant, outlier population of eunuchs and transgendered (defined as those with gender-identity disorder) and eunuchs is routinely attacked, maimed, and brutalized with impunity. To make ends meet, they resort to dancing outside weddings for charity, begging at traffic lights for alms, or prostitution. Local laws reflect the social bias. Voluntary "carnal intercourse against the order of nature" is punishable with imprisonment of anywhere between two years to life. But the sexually marginalized of Pakistan appear now to have found some unlikely allies.
For only the second time in the Muslim country's history, a court last month sanctioned a sex-change operation as treatment for gender-identity disorder. Two years earlier, the courts had upheld the right of a 28-year-old woman to undergo a similar operation. The courts also came to the rescue, again last month, of 43 people, including 11 transvestites, who had been arrested by police in Peshawar on May 24 at an alleged same-sex marriage. The reported couple, Malik Iqbal and a transvestite known as Rani, was the last to be freed on bail.
The courts have not always stood up for the rights of Pakistan's transgendered and eunuchs. In 2007 the Lahore High Court jailed a "same-sex couple" for three years on a charge of perjury after court-decreed tests showed that Shumail Raj, then 31, was still a woman. The court said the punishment was "lenient."
The change of judicial heart follows several important hearings last year in the Supreme Court on a petition filed by the Islamic jurist Mohammad Aslam Khaki, who was concerned about wanton police brutality against the sexually marginalized. "For God's sake," said Chief Justice Iftikhar Chaudhry, "They are members of society . . . they should be treated as citizens." He directed the government to give eunuchs—estimated to number 80,000, according to Khaki—and transgender citizens jobs as loan collectors along with voting and property rights, legal assistance, and respect.
Greater dignity is afforded to these groups in other Muslim countries. In Saudi Arabia, a "sacred" society of castrated men guarded the tomb of the Prophet Muhammad for six centuries and is still entrusted with rituals at some of Islam's holiest sites. In Iran, Ayatollah Khomeini condoned sex-change operations in a 1964 treatise that is still honored by the country's spiritual leaders. The courts may finally help Pakistani society catch up.