Pakistan Home to More New Refugees Than Africa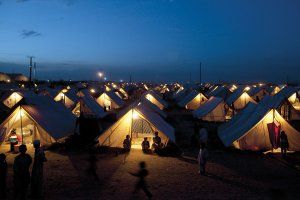 Pakistan surpassed war-torn African nations such as Sudan in the number of newly displaced people last year, according to a recent United Nations study. The statistic highlights the massive impact that the conflict between the Pakistani military and the Taliban is having on the local populace. Islamic insurgents who seized large swaths of territory along the Afghanistan-Pakistan border—and the military offensive to weaken them—drove some 3 million Pakistanis from their homes in 2009.
Although two thirds of the displaced have since returned home, they face grim futures. Their houses have been destroyed, their livelihoods lost, their families shattered. Thousands of hospitals and schools lie in ruins. Many still fear a Taliban resurgence and doubt that the government can protect them. In the Jalozai displacement camp, Yousaf Khan—who fled with his family from Bajaur last year—is replacing his tent with a more permanent brick hut. He says, "The Taliban can come back and kill us at any time. How can I go back?" With such worries among the uprooted, it's likely to be a long time before normal life resumes.