Pakistan Prime Minister Imran Khan doubled down in an interview aired Sunday on his recent statements blaming sexual assault on the way women dress.
Khan told Jonathan Swan on Axios on HBO that it was "common sense" that provocative clothing would provoke sexual violence.
"If a woman is wearing very few clothes it will have an impact on the man unless they are robots," Khan said. He also talked about removing "temptation" from society to quell the rising numbers of rape and sexual assault in Pakistan.
"We don't have discotheques, we don't have night clubs, so it's a different way of life here. If you raise temptation in the society to a point and all these young guys have nowhere to go, it has consequences in the society," he said in the edited interview.
Khan's comments were addressing a statement he made in a live television interview broadcast in April. In that interview, he talked about "purdah," which is, in part, the practice when women dress in clothes that completely cover their bodies in order to not be seen by strangers.
"What is the concept of purdah? It is to stop temptation. Not every man has willpower. If you keep on increasing vulgarity, it will have consequences," Khan said at the time.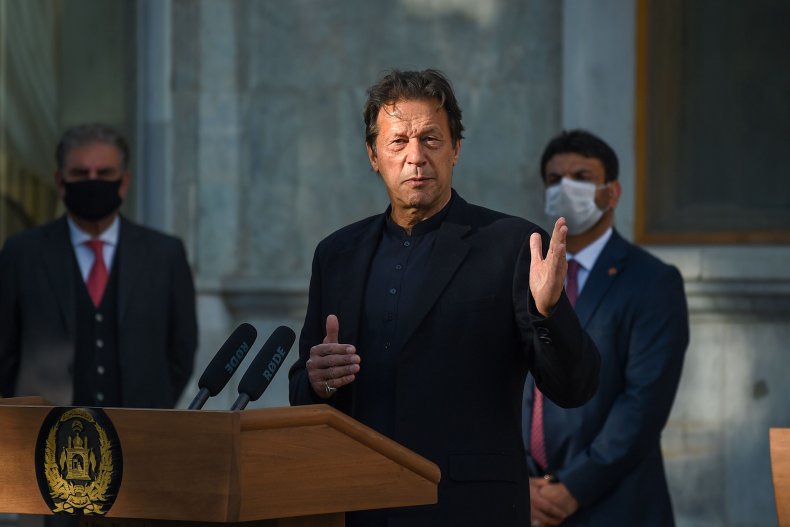 Khan faced criticism over his comments in the interview, including from M. Zahaib Nabeel, the former president of Pakistan.
"Statement by @ImranKhanPTI on women clothing as one of the causes of rape is absurd and illogical. It's shameful for a nation that such a person is the prime minister of Pakistan even though selected," Nabeel tweeted.
Khan's supporters, however, point to a 10-minute unedited video of the segment shared by the Office of the Prime Minister, saying Khan was taken out of context.
In the unedited clip, Khan explains that when he first came to power, he asked the police about the type of crime that was rising the fastest, which was sex crimes. However, Khan explained, sex crime also included child abuse—and that the police statistics estimated that only 1 percent of these crimes were reported due to embarrassment from the victims.
"I never said 'veils.' This was never said. I said, the concept of purdah is 'avoid temptation of the society.' So I went further, we don't have discotheques, we don't have night clubs. You don't have any, like in Western societies, you don't have any places where boy meets girl. So, it is a completely different society way of life," Khan said.
"So if you raise temptation with the society to that point and all these young guys have nowhere to go, it has consequences in the society, which were reflected in the crime chart. So, one, you fight sex crime through law enforcement. But the majority, and I mean 99 percent, of sex crimes are not reported, and this is according to the police officers. So therefore, the society, public schools, awareness, teachers, media, everyone must join and because that's how we will serve raise awareness against sex crimes," he added.
Khan became prime minister in 2018 as the leader of the center-right Pakistan Movement for Justice (PTI) party. Prior to being a politician, Khan was a World Cup-winning cricketer, and a national hero in Pakistan for delivering the country its only Cricket World Cup. He formed the PTI in 1996, which became the third-largest party in Pakistan's parliament in 2013.
In December 2020, Pakistan passed a law allowing judges to sentence rapists to chemical castration. The law also made it so rape survivors could register complaints without the government revealing their identities. The measure was supported by Khan, who said at the time, "We need to ensure a safe environment for our citizens."
Newsweek reached out to War Against Rape, a Pakistani organization fighting gender-based violence and harassment, for comment.