Pakistani Prime Minister Imran Khan said "we stand with Palestine" on Wednesday, as violence has escalated in the Gaza Strip between Palestinian militants and Israeli security forces.
"I am PM of Pakistan and #WeStandWithGaza #WeStandWithPalestine," Khan wrote in a tweet.
Khan's post also featured a screenshot of a quote from the famous American linguist Noam Chomsky that read: "You take my water, burn my olive trees, destroy my house, take my job, steal my land, imprison my father, kill my mother, bombard my country, starve us all, humiliate us all, but I am to blame: I shot a rocket back."
Prior to his tweet, Khan denounced the attack against Palestinians by Israel at the Al-Aqsa Mosque.
"Strongly condemn Israeli Forces' attack esp during Ramazan on Palestinians in Qibla-e-Awaal, Al-Aqsa Mosque, violating all norms of humanity & int law. We reiterate support for Palestinian ppl. Int community must take immed action to protect Palestinians & their legitimate rights," Khan wrote in a tweet on Sunday.
In addition to the tweets from Khan, the Pakistan Ministry of Foreign Affairs also issued a statement condemning the "air strikes by Israel in Gaza that resulted in deaths and injuries to so many innocent Palestinians including children."
"This is yet another reprehensible action during the holy month of Ramadan, following the increased restrictions on the fundamental freedoms of Palestinians, and the attacks in and outside Al-Aqsa Mosque," read the statement. "The indiscriminate use of force by Israeli forces against defenceless Palestinians, causing death and injuries, defies all humanitarian norms and human rights laws. Pakistan calls upon the international community to put an end to the blatant use of force and flagrant violation of human rights of the Palestinian people."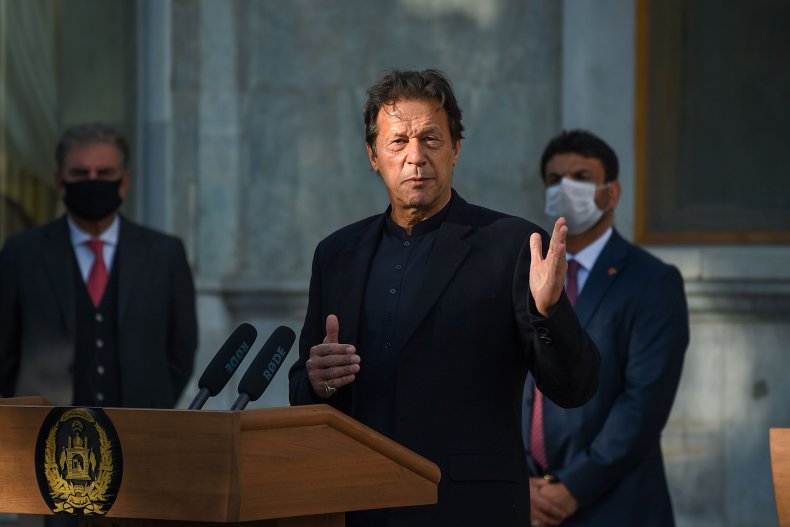 Newsweek reached out to Khan and the Pakistan Ministry of Foreign Affairs, but did not receive a response in time for publication.
The tweets from Khan and statement from the Pakistan Ministry of Foreign Affairs come amid increased violence in Jerusalem between Israel and Hamas, the Palestinian extremist group.
On Wednesday, Gaza's Health Ministry reported that 43 Palestinians, including 13 children, had been killed by Israeli airstrikes, while Israel's Foreign Ministry said that over the past 36 hours Palestinian militants had fired 1,000 rockets at Israeli towns, killing five people and injuring dozens more.
The recent violent attacks between the two factions were sparked by the potential eviction of Palestinian families from the Sheikh Jarrah neighborhood in east Jerusalem.
As tensions have continued to escalate, many have called for peace and a ceasefire in the Gaza Strip.
"Stop the fire immediately. We're escalating towards a full scale war. Leaders on all sides have to take the responsibility of deescalation," Tor Wennesland, a United Nations special coordinator for the Middle East peace process wrote on Twitter. "The cost of war in Gaza is devastating & is being paid by ordinary people. UN is working w/ all sides to restore calm. Stop the violence now."
U.S. Secretary of State Antony Blinken also recently spoke with Israeli Foreign Minister Gabi Ashkenazi. According to a readout of the call: "The Secretary reiterated his call on all parties to deescalate tensions and bring a halt to the violence, which has claimed the lives of Israeli and Palestinian civilians, including children."