Pakistani Christian Woman Asia Bibi Freed After Being Jailed for Blasphemy
A Pakistani Christian woman imprisoned nine years ago on blasphemy charges has been freed from prison, the country's supreme court announced.
Asia Bibi, a mother of five who worked as a field laborer in Punjab Province, was arrested in June 2009 after an argument with fellow farmhands who were Muslim and accused her of insulting the Islamic Prophet Muhammad. She was sentenced to death in November 2010 but continued to appeal her case, which received international attention.
After the Lahore High Court dismissed her appeal, the Pakistani Supreme Court agreed in October 2014 to hear the case. Three years later, she was officially acquitted in a ruling issued last week.
"She has been freed," Bibi's lawyer Saif-ul-Mulook told the Agence France-Presse on Wednesday. "I have been told that she is on a plane but nobody knows where she will land."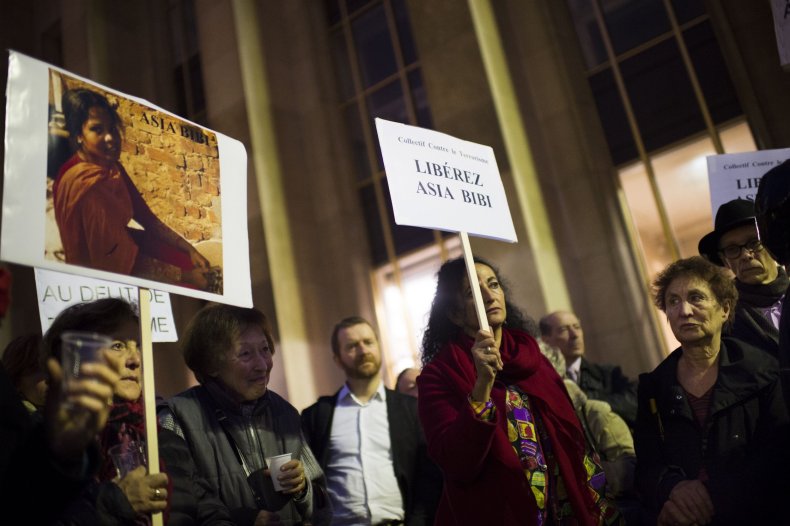 Bibi has always denied her charges, arguing that they stemmed from a dispute with Muslim workers who refused to share a bucket of water with her. A mob allegedly gathered and assaulted her before authorities intervened and arrested her. She was held for nearly a year and a half before being formally given the death penalty.
Her case stirred controversy abroad and at home, where 95 percent of the population is Muslim. Conservatives called for her execution and threatened the same fate for anyone who supported her. Liberal Punjab governor Salman Taseer was shot dead by his own bodyguard in January 2011 after calling for Bibi's pardon, and Minorities Minister Shahbaz Bhatti, a Christian, was assassinated months later in March for backing the same cause.
The Pakistani Taliban claimed responsibility for the slaying and other Islamist groups have threatened repercussions should Bibi be freed. After the court decision was announced last Wednesday, Pakistani Prime Minister Imran Khan appealed to citizens on live television, urging them not to respond violently.
"Which government can function like this, blackmailed by protests?" Khan asked, according to BBC News. "And who suffers due to this? Our Pakistanis. The common people, the poor. You block the roads, you rob people's livelihood...
"This is not the service of Islam, this is enmity with the country. Only anti-state elements talk like this, that kill the judges, start a revolt in army," he added, echoing militant threats. "They are only trying to beef up their vote bank."
On Saturday, Mulook himself fled to the Netherlands, fearing for his own safety. Bibi remained in protective custody after her acquittal and, though her location has not been made known, European Parliament President Antonia Tajani tweeted that Bibi "has left the prison and has been transferred to a safe place!"
A day prior, Tajani—an Italian diplomat—said on Twitter that he "invited Asia Bibi's husband and family to the European Parliament" and called "on the Pakistani authorities to issue the necessary travel documents," adding: "European rules provide protection for those who are threatened because of their faith."
Right-wing, anti-immigration Italian Prime Minister Matteo Salvini said also on Tuesday that he would "do everything humanly possible to guarantee" that Bibi had a secure future, according to Reuters.