Pakistani Girl Killed in Santa Fe Shooting Wanted to Experience American Culture
A Pakistani exchange student who was killed in the Texas shooting last week decided to study in the U.S. because she wanted to "experience a new culture" and aspired to be a diplomat.
Sabika Sheikh, 17, was shot and killed when a teenage gunman opened fire in Santa Fe High School on Friday. She was one of the 10 people—two teachers and eight students—killed in the incident that occurred only weeks before she was due to return to her home in Karachi, Pakistan.
Joleen Cogburn, Sheikh's host mother in Texas, said the student chose to do an exchange program because she "wanted to experience American culture" and to share Pakistan's culture with her peers in the U.S., reported Indian Express.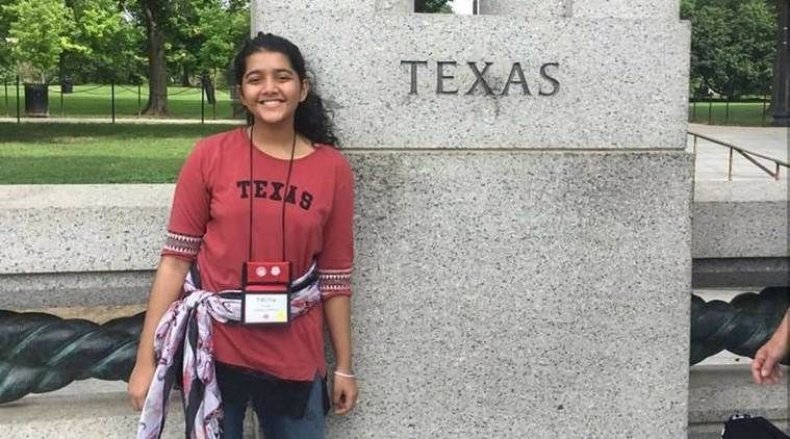 According to The New York Times, Houston Mayor Sylvester Turner noted that Sheikh's dream of diplomacy was ongoing, "because even in her death, she is pulling the relationships between Pakistan and the United States, specifically the Houston area, even closer."
"Ambassador Aizaz Ahmad Chaudhry has expressed heartfelt condolences for the victims of the tragic incident at the Santa Fe High School in Texas this morning," the Pakistan Embassy in Washington wrote on Twitter. "Among the victims was Sabika Sheikh, a Pakistani exchange student. Our thoughts and prayers are with Sabika's family and friends."
According to Indian Express, Pakistan's Prime Minister Shahid Khaqan Abbasi met with Sheikh's family to offer his condolences. "Sabika was an intelligent student, and the whole nation is sad on her death. I pray to God to give the family courage to bear the loss," he said.
Despite the tragic incident, Sheikh's father, Abdul Aziz Sheikh, urged foreigners to continue to send their children to America for overseas schooling.
"We are still in a state of denial. We can't believe it. It's like a nightmare," he told Associated Press. "One should not stop going for education to the U.S. or U.K. or China, or anywhere. One must go for education undeterred."
Sheikh's body is due to arrive in her hometown of Karachi on Monday night. A funeral service will be held for her at the town's mosque tomorrow.
The shooting last Friday at Santa Fe High School was described by Texas Governor Greg Abbott as "one of the most heinous attacks that we've ever seen in the history of Texas schools."