Pakistan's Youngest Top Diplomat Says He's Ready to Redefine U.S. Relations
Pakistan's new top diplomat has expressed his government's will to redefine and expand the nation's relationship with the United States after an abrupt change of power last month, in which the previous prime minister accused Washington of orchestrating his ousting.
Speaking at a press conference Thursday at the United Nations Headquarters in New York, Pakistani Foreign Minister Bilawal Bhutto Zardari compared former Pakistani Prime Minister Imran Khan's accusations against the U.S. to former President Donald Trump's election fraud claims.
But now, Zardari asserted, the priority was to move past the latest row to mend ties marred by far more deep-rooted trends, including growing U.S. engagement with Pakistan's top rival, India.
In response to Newsweek's question, Zardari said that "Pakistan is not insecure about our relationship with the United States, and we believe that the world is big enough for Pakistan and India to exist."
"So we see that the United States has absolutely got its own relationship with the government of India, with the people of India," he said. "But the United States also has its own relationship with Pakistan and the people of Pakistan."
"And regardless of the trajectory of U.S.-India relations, I believe that there is a lot of potential for Pakistan-U.S. relations." he added. "And it is to the benefit of the people of Pakistan and the people of America that both our governments engage, and we look to provide opportunities to both our people to benefit from our relationship."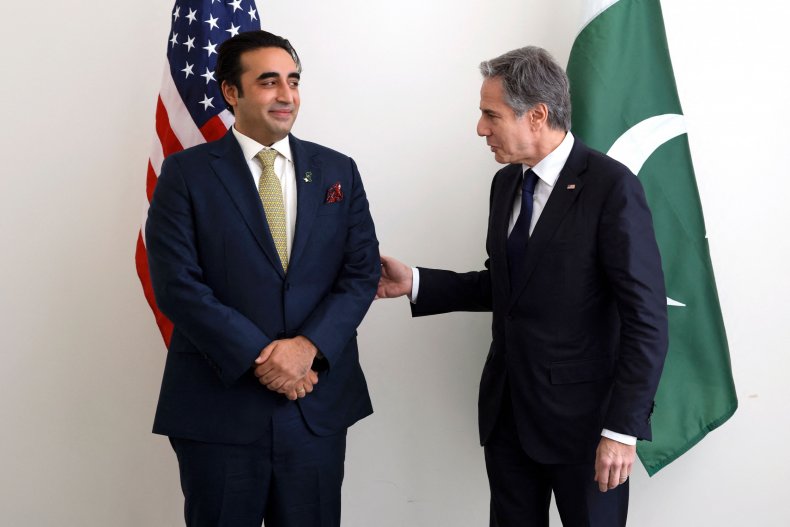 At 33, Zardari is Pakistan's youngest foreign minister, but he is no stranger to politics. He is the son of former Prime Minister Benazir Bhutto, who was assassinated by Islamist militants in 2007, leaving Zardari to co-chair the progressive Pakistan People's Party at the age of 19 alongside his father, Asif Ali Zardari.
Since then, the relationship between Washington and Islamabad has faced a number of challenges.
Pakistan has long held a key position in U.S. foreign policy, from Cold War-era partnership at a time when India forged close ties with the Soviet Union to close coordination during the "War on Terror" after 9/11. The U.S. has grown increasingly critical of Pakistan over the years, however, for its alleged ties to Islamist militants, especially after Al-Qaeda leader Osama bin Laden was discovered to be hiding in Pakistani territory 11 years ago.
India has also amplified these claims, as the two nuclear-armed nations remain entrenched in a decades-long conflict along their disputed border in Kashmir.
Successive Pakistani administrations have long rejected any association with designated terrorist organizations, and officials have often pointed out the toll incurred by their country in blood and treasure in fighting insurgencies.
In recent years, a new dynamic has emerged in which the U.S. has found a strategic partner in India to counter growing Chinese influence in Asia. The two countries have worked in unity alongside U.S. allies Australia and Japan as part of the Quadrilateral Security Dialogue to secure a "free and open Indo-Pacific," an initiative widely viewed as a counter to China's regional ambitions.
Islamabad, for its part, has grown exceeding close to Beijing, together establishing the China-Pakistan Economic Corridor.
But the U.S. has continued to engage closely with Pakistan on regional issues, especially on Afghanistan, where Islamabad's close ties with the Taliban proved to be a critical channel as President Joe Biden carried out a chaotic withdrawal process last August.
But Zardari seemed intent on moving beyond a conflict-based relationship.
"Our relationship with the United States has been colored too much by the geopolitical conflicts in our region," he said Thursday, "and particularly by the events and circumstances in Afghanistan."
"We seek to have a more have a more broad-based relationship that encompasses all the dynamics of our friendship," Zardari said, "which would have, obviously, a political component, a people-to-people component and the defense component, but most importantly, the economic component as far as the Biden administration is concerned."
Zardari said he hoped to pursue a range of bilateral initiatives with his U.S. counterparts aimed at exploring "untapped opportunity" for students, entrepreneurs and other sectors of both societies to interact with one another.
And he touted his recent interactions with Secretary of State Antony Blinken as indicating a good start for launching such projects.
A State Department readout following their meeting Wednesday at the sidelines of the "Global Food Security Call for Action" ministerial at the U.N. said Blinken met with Zardari "to affirm the shared desire for a strong and prosperous bilateral relationship."
The two men were said to have "discussed expanding partnership in climate, investment, trade, and health as well as people-to-people ties," and "underscored the importance of U.S.-Pakistan cooperation on regional peace, counterterrorism, Afghan stability, support for Ukraine, and democratic principles."
Speaking Monday, Zardari said his country was prepared to make good on new commitments.
"I'm very happy to note that the United States is ready to engage with Pakistan," Zardari said. "And my message to the United States would be that Pakistan is ready to engage with the United States."