'The Pale Horse' on Amazon Prime Video Ending Explained: Who The Murderer Is and What the End Means
The Pale Horse is now streaming on Amazon Prime Video after airing on the BBC in the UK in February. Toward the end of the mini-series, based on the Agatha Christie novel of the same name, viewers think that they are finally getting a rational explanation for a spate of killing that people think are being committed by witches. However, at the end of the series, it is suggested that something supernatural may have gone on after all.
Who is the murderer in The Pale Horse?
Before things get supernatural, however, we get a rational explanation as to who has been killing all the people on Jesse Davis' (played by Madeleine Bowyer) list. Zachary Osbourne (Bertie Carvel), the seemingly mild-mannered pharmacist had been working on a scheme to become an assassin for hire, and had hoped to get away with it by making everyone believe people's were dying of witches' curses.
The scheme went like this: Osbourne researched a number of people who stood to gain from the death of their rich or interfering relatives, then contacted them with an offer to have them killed in a way that would not implicate them.
He instructed those who replied to visit the fortune tellers of Much Deeping in The Pale Horse pub, where they would discuss the relative they wanted to get rid of. Before she died, it was Jessie's job to listen to these conversations and get all the details Osbourne needed to commit the murders.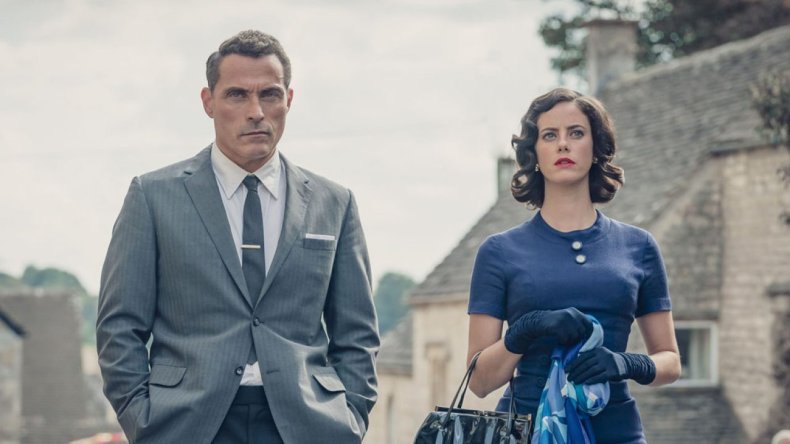 Then, he would disguise himself as a workman and go to the victims' houses, where he would slip the poising thallium into food, cosmetics or their water supply. The thallium is fairly untraceable, so it seems as if they have died of natural causes after a relative payed a visit to a group of women thought to be witches, making it seems as if they had died of a curse.
However, the working relationship between Osbourne and Jessie soured, leading to him murdering her, but not before she wrote a list of everyone mentioned to the fortune tellers--the list that gets Mark Easterbrook (Rufus Sewell) involved in the case after he appears on it.
In the ending, however, we learned that Mark had been put on this list by mistake. His late wife had been visiting the fortune tellers because she actually wanted her husband's fortune, hence why Mark appeared on the list with a question mark next to his name. This mistake, however, proved the undoing of Osbourne, as in The Pale Horse, Mark kills him. At least, that is what might have happened.
What happened at the end of The Pale Horse?
The final scenes of the Amazon Prime Video series, however, that ending gets put into question. After killing Osbourne, he returns home, only to read about his own death from the newspaper. His first wife Delphine (Georgina Campbell), meanwhile, he sees taking the radio into the bathtub, the radio that will soon electrocute her to death. It seems as if he has been trapped within his own personal hell, in which he has to relive the death of his first wife over and over again.
Exactly what is happening in this scene is unclear. Is Mark hallucinating as a result of thallium poisoning, or was he really killed by Osbourne? It is not clear, but it is implied that the fortune tellers may have had some supernatural powers after all and have put a curse on Mark as requested by his current wife Hermia (Kaya Scodelario), who they had previously warned that her husband wanted to kill her.
Speaking of her ending, writer Sarah Phelps told Den of Geek, "I've changed elements of the end but not the END end. Obviously lots has changed but there are certain themes of the story which are massively important to [Agatha Christie]. So I didn't change that. I just wound it up as far as it could go and saw what happened.
"There's probably more changes in The Pale Horse than there is to any of the others that I've done. But I think in pursuing what she was keen on writing about, I think it delivers on that."
The Pale Horse is streaming now on Amazon Prime Video.