Palestinians Won't Work With Jared Kushner on Middle East Peace Deal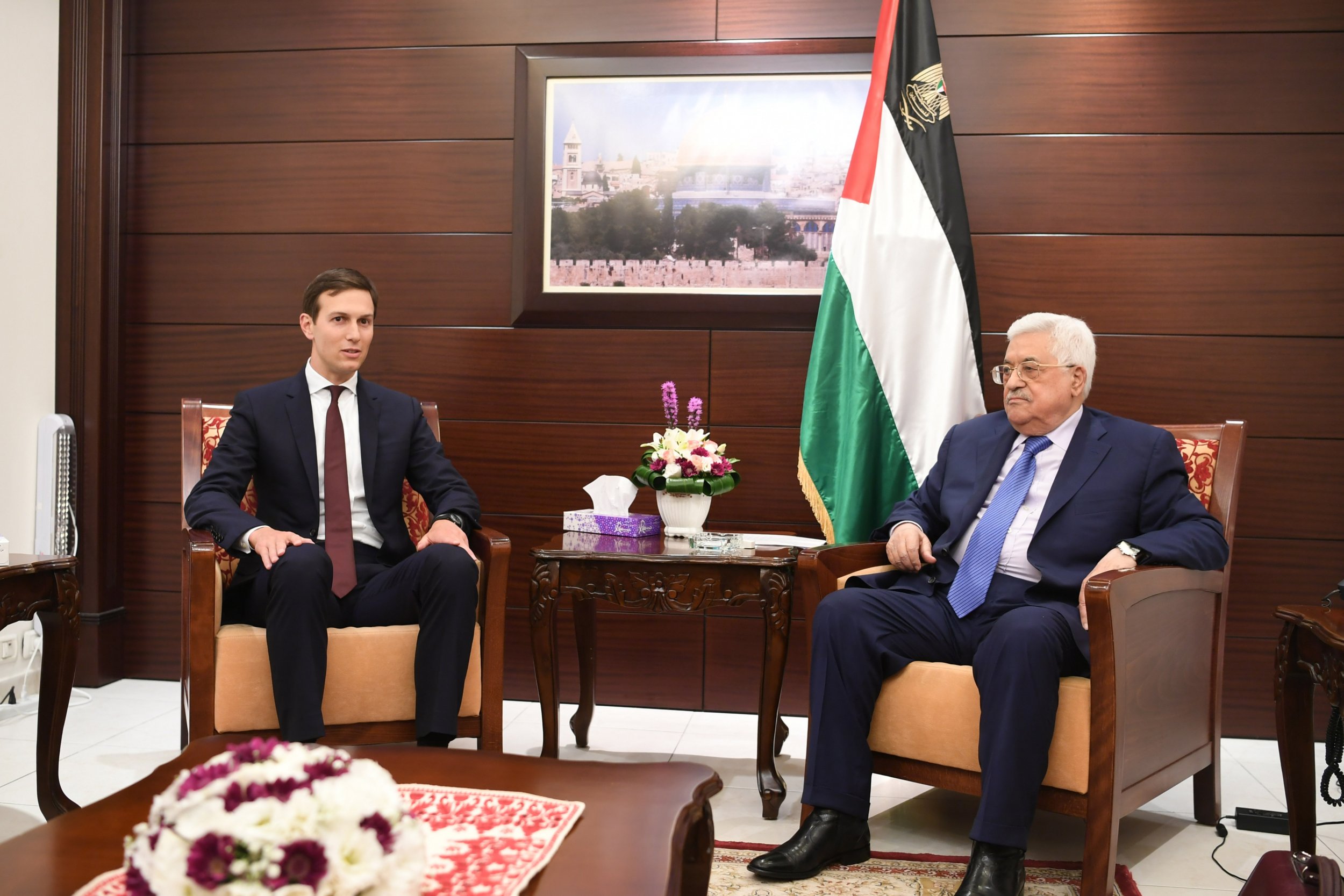 The president of Palestine, Mahmoud Abbas, refused a call from President Donald Trump's senior adviser, Jared Kushner, this week, after the U.S. threatened to close the Palestine Liberation Organization's office in Washington, D.C., according to Israeli media reports.
Kushner had been working to broker peace talks between Palestine and Israel. Abbas's move comes after he said he would ban talks with the U.S. as a result of the Trump administration's notice that it would shutter the PLO's doors.
Secretary of State Rex Tillerson argued that Palestine broke a law when Abbas demanded that the International Criminal Court go after Israel for its crimes against his people. In speaking to the United National General Assembly, Abbas said in September that the court should "open an investigation to prosecute Israeli officials for their involvement in settlement activities and aggressions against" the Palestinian people.
The State Department has since denied a permit renewal for the office, which serves as its diplomatic mission, because Palestine does not receive embassy status by the U.S.
"What is the use of holding any meetings with them when they close our office? Our meetings begin from our office, and the arrangements are there," Riyad al-Malki, Palestinian foreign minister, told the AFP news agency.
Abbas responded to the department's denial by banning Palestinian officials from having any contact with the U.S. According to Bloomberg, in a note he said, "any meeting with an American official is banned regardless of the reason until they back down and treat us fairly."
U.S. officials had hoped that by threatening to close the office's doors, Palestine officials would begin to take the peace talks with Israel more seriously. Since the PLO's office is reviewed every six months, Trump can still keep it open if he determines that Palestine was, in fact, working toward peace with Israel.
Presidents have long tried to ease tensions between Israel and Palestine, but Trump has said he could create the "ultimate deal." His administration has started working on a Middle East peace plan, which, reports say, would create a Palestinian state and allow Jewish settlements to remain on the West Bank.
Vice President Mike Pence is expected to meet with Israeli Prime Minister Benjamin Netanyahu and Palestinian President Mahmoud Abbas in December to help create a path to peace.