Palestinian Activist Ahed Tamimi Released, But Experts Say Israel Has Bigger Problem
Teenage Palestinian activist Ahed Tamimi and her mother have been released from prison eight months after being incarcerated for a now-famous act of protest against Israeli security forces.
After Israeli security forces shot her younger cousin at close range with a steel-coated rubber bullet during a raid at their family home, Tamimi was caught on video slapping an Israeli soldier. The clip went viral, and experts said the ensuing drama highlighted not only Palestinian frustration but a system that has increasingly drawn international criticism for its treatment of children. Tamimi, 17, was set to meet family, friends and supporters after her release.
"Ahed's detention, prosecution, plea agreement and sentence in Israel's military court system is not exceptional but provides a clear example of how Israeli military law and military courts are used to control an occupied Palestinian population," Brad Parker, an international advocacy officer and attorney at Defense for Children International – Palestine, told Newsweek.
"Ill treatment of Palestinian child detainees by Israeli forces is widespread, systematic and institutionalized throughout the Israeli military detention system," he added. "Three out of four Palestinian children experience some form of physical violence following arrest. Israeli military law provides no right to an attorney during interrogation, so Palestinian children like Ahed often typically arrive to interrogation rooms bound, blindfolded, frightened and sleep-deprived. Children often give confessions after verbal abuse, threats, physical and psychological violence that in some cases amounts to torture."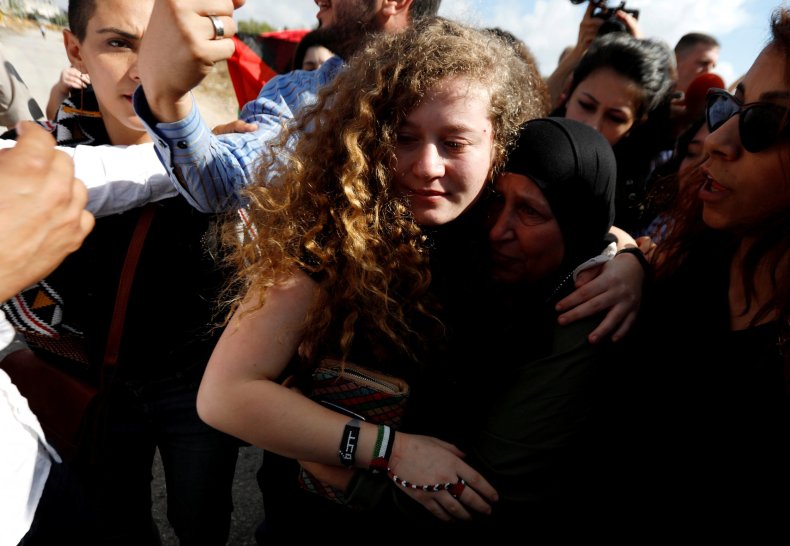 Tamimi was charged with assaulting a soldier, inciting unrest and throwing stones during protests that erupted in response to President Donald Trump's decision to recognize the disputed city of Jerusalem as the capital of Israel. She pleaded guilty in March to some of the charges as part of a plea deal, just as the situation began to deteriorate.
March brought a period of heightened tensions between Israeli security forces and Palestinian protesters demanding the right to be able return to lands that they had been displaced from. Scores have died from Israeli troops opening fire on Palestinian demonstrators in the coastal enclave of Gaza in the deadliest surge in violence since the two sides went to war in 2014. Israel has largely blamed the violence on the Palestinian militant group Hamas.
Israel's use of lethal force, however, has garnered criticism from international monitors, as well as the United Nations. Over 130 Palestinians have been killed, including a number of children.
"Since 2014, Israeli forces have increasingly used live ammunition to quash protests throughout the occupied West Bank, including East Jerusalem, and Gaza," Parker said. This increasing use of live ammunition, combined with complete lack of accountability for Israeli forces' unjustified use of lethal force, helped to foster a precarious situation where Israeli forces routinely unlawfully kill Palestinian civilians, including children, and enjoy complete impunity for apparent war crimes.
"Israeli forces killed 25 Palestinian children in the first half of 2018, nearly three times the number of children killed over the same period last year, with an additional nine children killed in July alone," he added.
Tamimi's father, Bassem, told reporters ahead of his daughter and wife's release that he was pleased to be reunited but expressed concern over the fate of his 22-year-old son, Wa'ed, who remains in prison after reportedly being charged in connection with his activism.
"My son is still in Israeli prison for the duration of military court proceedings against him, which is a reminder that Israel's occupation is always seeking to punish us because our existence contradicts the existence of the occupation. And so I call on members of international community to uphold their responsibility towards our people and take concrete steps to end this perpetual injustice," Bassam said, according to a statement from Amnesty International.
"This is a day of relief, which we hope will blossom into happiness once this brutal military occupation is out of our lives," he added.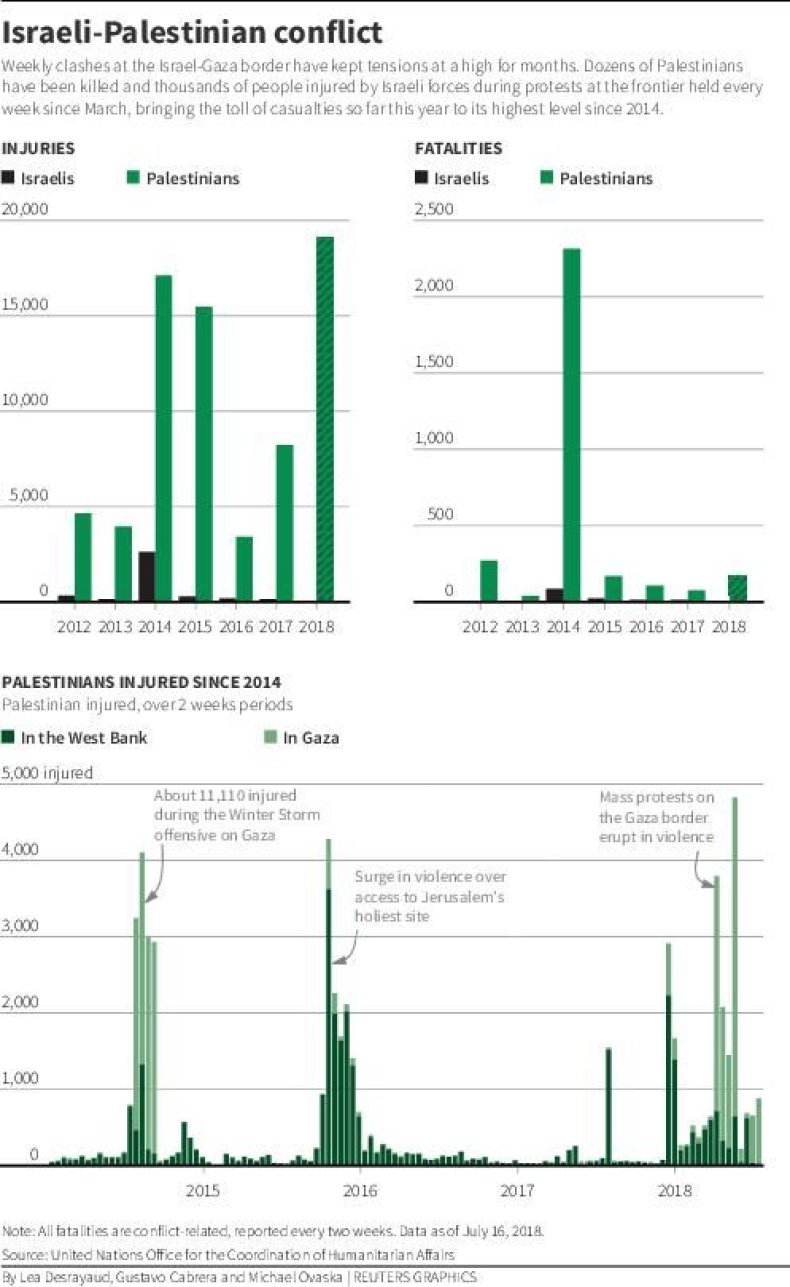 In a statement sent to Newsweek, Saleh Hegazi, head of office in Jerusalem for Amnesty International, said that Tamimi's release was "a huge relief for Ahed Tamimi's loved ones, but their joy will be tempered by the injustice of her imprisonment and the grim knowledge that many more Palestinian children still languish in Israeli jails, many despite not having committed any recognizable crime."
Hegazi noted that there were about 350 Palestinian children in Israeli jails and detention centers.
"Ahed Tamimi's release must not obscure the familiar and continuing story of the Israeli military using discriminatory policies to lock up Palestinian children. Her unjust imprisonment is a reminder of how the Israeli occupation uses the arbitrary military courts to punish those who challenge the occupation and illegal settlements expansion policies, without any regard to age," Hegazi said.
"Hundreds of Palestinian children continue to face the harsh conditions and abuse of the Israeli penitentiary system that flouts the principles of juvenile justice and standards for the treatment of prisoners," said Saleh. "While Ahed's freedom is welcome and long overdue, it must be followed by the release of the other children unlawfully imprisoned by Israeli military courts," he added.
Others, however, challenged what human rights groups had to say about Israel's treatment of Tamimi. With the Tamimi family's history of activism, its members have long been accused of deliberately prodding Israeli security forces into action. Israel-based lawyer and political analyst Arsen Ostrovsky referred to her as a "provocateur" on Twitter and shared his comments that were published by The Jewish Chronicle. Ostrovsky hailed the "utmost restraint" shown by Israeli troops during the slapping incident and argued that "all children belong in school, not paraded on the battlefield."
Just one day before Tamimi's release, two Italian graffiti artist were arrested for painting a mural of her on the security barrier that runs near the West Bank city of Bethlehem. After being set free Sunday, Tamimi received a hero's welcome in her West Bank village of Nabi Saleh and met with Palestinian Authority President Mahmoud Abbas. Tamimi said she would pursue a career in law to better protect the rights of Palestinians. At one point, she raised her fist and said the "occupation must leave," according to the Associated Press.
This article has been updated to include comments shared by Israel-based lawyer and political analyst Arsen Ostrovsky on social media.