The Palestinian Authority's Looming Succession Crisis | Opinion
Earlier this month, Americans did something that Palestinians haven't done in more than a decade: voted for a president. The Palestinian Authority (PA), which rules over the majority of Palestinians, hasn't held national elections since January 2005. The head of the PA, Mahmoud Abbas, turned 85 on Nov. 15 and is now in the 15th year of what was supposed to be a single elected four-year term. A crisis looms.
The PA was created in 1994 as a result of the Oslo Accords. In return for promising to renounce terrorism and pledging to resolve outstanding issues via bilateral negotiations, the Palestine Liberation Organization (PLO), then led by Yasser Arafat of the Fatah movement, would receive the opportunity for limited self-rule. The newly created PA would receive both Western and Israeli support and would represent Palestinians. Yet its leadership proved unable to keep its promises.
Before 1991, Israel, the United States and others had considered the PLO a terrorist group. Optimists hoped that it could be transformed into a responsible governing body. But old habits die hard. Once in charge of the PA, Arafat's Fatah movement eliminated rivals and crushed dissent. And, with a wink and a nod, Arafat continued to support—even directly finance and plan—terror attacks against Israelis.
At Camp David in 2000 and again at Taba in 2001, Arafat rejected U.S. and Israeli offers for a Palestinian state, choosing instead to launch the Second Intifada, a five-year-long terror campaign in which more than 1,000 Israelis were murdered. By the time of his Nov. 11, 2004 death, the hope embodied in the early days of Oslo was long dead. It was thought that Mahmoud Abbas, a longtime Fatah operative who played a key role in Oslo negotiations, might resuscitate it.
As Middle East analysts Grant Rumley and Amir Tibon noted in their 2017 biography of the current PA president, Abbas "was part of a small group of officials" in Fatah who opposed Arafat's decision to launch the Second Intifada. Tensions soon developed between the two men, with Arafat reportedly charging that Abbas had joined "my enemies in criticizing my leadership style." Ominously, however, several Fatah officials and U.S. diplomats admitted that Abbas "didn't have the influence" and "did nothing" to stop the Intifada.
Abbas's criticisms may have hurt his relationship with Arafat, but it helped him with countries who were increasingly fed up with the terror leader. As former George W. Bush administration officials Doug Feith and Scooter Libby documented, the U.S. president "greeted Abbas's accession as a new beginning and treated him as a potential reformer and peacemaker." But it was not to be.
Unlike Arafat, Abbas struggled to establish a political base. The new PA leader's methods, Tibon and Rumley pointed out, "were a closer fit with Soviet-style palace politics" than the politics of the Arab street. Abbas had risen through the Fatah movement as a fundraiser and emissary to other countries; he lacked Arafat's terrorist bona fides. He compensated by centralizing power.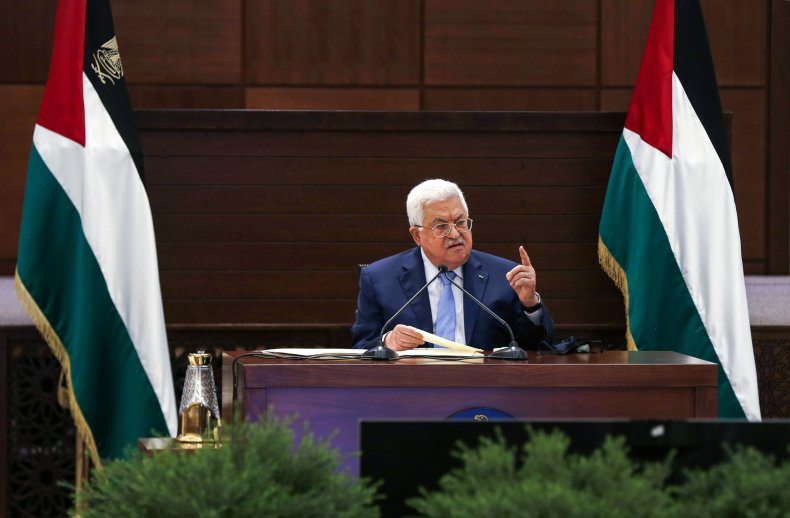 Shortly after winning the presidency of the PA in January 2005 elections, Abbas fired 17 of the Authority's 24 cabinet members, replacing Arafat loyalists with his own supporters. As Middle East analyst Jonathan Schanzer highlighted in his 2013 history of the PA, "Abbas moved aggressively to consolidate political and economic power" and "the nepotism and political patronage that characterized the Arafat era again became the norm." Worse still, the new PA president "undermined some of the PA's own laws" and "co-opted or weakened institutions that promoted transparency and accountability."
Abbas's autocratic tendencies became even more pronounced after Fatah's chief rival, Hamas, won elections in the Gaza Strip in 2006. Hamas seized power in Gaza after a brief but bloody civil war between the two Palestinian groups.
Elections for the Palestinian Legislative Council, created as a result of Oslo, have not been held since 2007. The doors to parliament are "shuttered," AFP reported in January 2020, and while the postman still delivers mail to the lawmakers' boxes, "many haven't been checked in years." Laws—edicts would be a more fitting term—are issued via presidential decree.
Nor has Abbas been the peacemaker that the West hoped for. He rejected a U.S. and Israeli offer for a Palestinian state in 2008 and refused proposals to restart negotiations in 2014 and 2016. More recently, the PA refused the Trump administration's efforts to involve them in the peace process—and reportedly harassed Palestinian businessmen who chose to participate.
Despite the PA being a top recipient of international aid, its financial situation is in tatters—the result of corruption, mismanagement and Abbas's refusal to quit paying salaries to terrorists and their families. As the Committee for Accuracy in Middle East Reporting and Analysis has noted, the PA passed laws in 2004 and 2013 stipulating that convicted terrorists and their families receive monthly payments. In response, the U.S. and Israel recently cut some aid to the PA, but Abbas remains unbowed.
A heavy smoker, Abbas is now 85 and has no clear successor and few, if any, limits on his power. Should he suddenly die, Palestinian Basic Law stipulates that the speaker of the PA's parliament is to be the interim head of government. But the PA no longer holds elections—and when it last did Hamas, a U.S.-designated terror group, won them. To try to circumvent this, in 2016 Abbas decreed a special court into existence—but like much else, its legitimacy is up for debate.
Aaron David Miller, a former U.S. diplomat, once observed that Abbas's successor will likely come down to "who's got the guns, who's got the money, who has the best capacity to retain and maintain them."
It probably won't be long before we find out.
Sean Durns is a Senior Research Analyst for the Committee for Accuracy in Middle East Reporting and Analysis.
The views expressed in this article are the writer's own.