Palestinian Candidate for Jerusalem Mayor Withdraws After Israeli and Palestinian Pressure
A Palestinian candidate in the Jerusalem mayoral race has stood down from the race following extreme pressure from both sides of the political divide in the Holy City.
Aziz Abu Sarah, a resident of the predominantly-Palestinian eastern portion of the disputed city, announced Tuesday he would no longer contest the vote to be held next month.
Abu Sarah, a 38-year-old journalist and entrepreneur, said he received severe pressure from both Israeli and Palestinian authorities to drop out of the election. Speaking to Newsweek, he joked that he had finally managed to bring the two sides together. "What the U.S. government has failed to do, I managed to do!"
For the Israeli government, his candidacy shone a light on the plight of disenfranchised Palestinians in East Jerusalem. But for some Palestinians, his run was offering tacit approval of 51 years of Israeli control of their half of the city, considered illegal under international law.
Like the vast majority of Palestinians in the east of the city, Abu Sarah is not an Israeli citizen. As such, he required special permission from Israel's High Court to even stand. But last week, as he was traveling to the Interior Ministry office to extend his laissez passer—required to leave Israel—he ran into a problem. As it turns out, the Israeli government was planning to revoke his residency rights.
When Israel annexed East Jerusalem in 1980, Palestinians living there were given residency rights. Abu Sarah explained this as being "treated like guests in our own city," regardless of how long they had lived there or their family history.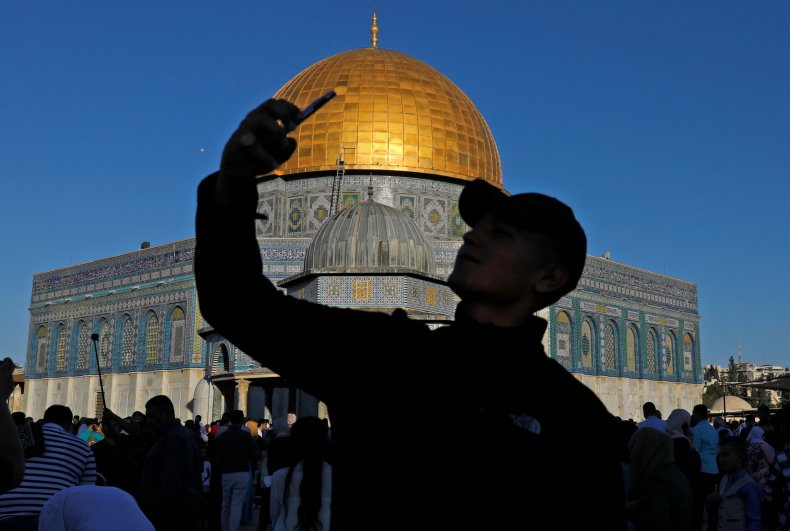 The reason for the revocation was that Jerusalem "is not the center of his life." This claim is based on the fact Abu Sarah travels extensively for work—often on a weekly basis. But Abu Sarah has no permanent address elsewhere and has been in the country throughout the year.
The Israeli governemnt has used similar arguments to revoke the residency of some 14,000 other Palestinians in Jerusalem, according to Haaretz.
"If I am not a resident, that basically makes me a tourist, which is absurd," Abu Sarah told Newsweek, explaining that without residency rights his mayoral challenge would be truly dead in the water. "The whole question of me running becomes irrelevant if they say there is a question mark about your residency," he added.
Even having withdrawn, Abu Sarah is uncertain as to what will happen to his residency rights, explaining he is not sure "how bad it is going to get." He has hired a lawyer and intends to follow the relevant legal process to challenge the revocation. "I'm going to fight it tooth and nail," Abu Sarah said. "This is not right."
Rumors and threats
While the Israeli opposition came in the form of bureaucracy, Abu Sarah's Palestinian critics were more direct. Abu Sarah and his Al-Quds Lana—"Our Jerusalem"—party received multiple threats from those opposing his participation in the municipal elections. Established parties boycott such votes, believing participation is akin to acknowledging Israel's hold on their part of the city.
"The pressure was serious," Abu Sarah said, admitting his frustration at being forced to withdraw.
At first, he and his party colleagues had to deal with being branded traitors to Palestine. When this did not work, critics became more threatening. Abu Sarah said they would go after, one by one, those running and working alongside him, "threatening them and threatening their families."
They even began spreading warnings in the wider community, threatening to punish anyone who turned out to support Al-Quds Lana. At the same time, Abu Sarah says, he and his team faced a Palestinian media blackout, with no local media willing or being allowed to interview them.
Nevertheless, he said, support his group received in the short few weeks it spent in the running also shows Palestinians want to vote in local elections, contrary to claims of the Israeli government and more established Palestinian parties. Abu Sarah takes comfort in the fact that "a lot of people defended us, a lot of people wanted to work with us, a lot of people saw this as an opportunity and still do."
Indeed, that opponents resorted to threats only goes to show their fear of a motivated and voting population, Abu Sarah added.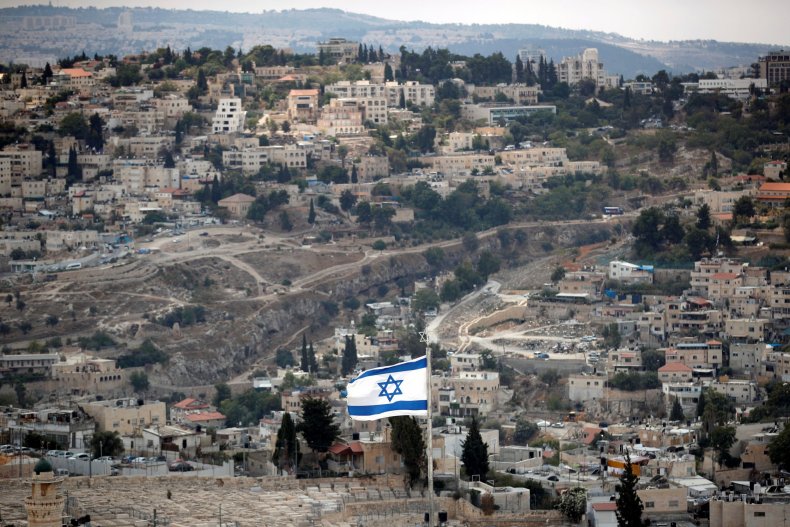 "We have started the conversation"
The would-be mayor noted that much of the momentum behind his campaign came from young people in their 20s and 30s, who were inspired "to realize that there are things they can do, they don't have to take the status quo and that they can challenge it."
He believes the campaign has made waves on the other side of the city too, challenging Israeli citizens on the true nature of their democracy. "What kind of a democracy does not allow its resident people who were born in its city to have the right to run in its elections?" Abu Sarah asked. "What kind of democracy creates laws that discriminate in every way against the residents of a city they control? That's absurd."
One more Palestinian candidate remains in the race. Ramadan Dabbash, formerly afiiliated with Israel's ruling Likud party, is not trying to upend the status quo as openly as Abu Sarah, and is focusing on demanding better services in East Jerusalem. He too is facing pressure to quit his candidacy, and has claimed radicals even recently tried to kidnap his son to force him out.
"There is disappointment," Abu Sarah reflected, adding he hopes East Jerusalem's Palestinians turn out to vote regardless. "If we were able to do it we would have gotten a few seats on the council, and I think we had a good shot at it. But even without doing that, I think we have achieved a lot."
As for the future, Abu Sarah is not yet ruling out running in more local elections. "Who knows, I might reconsider," he said. But for now, he added, "we have started the conversation. We have stirred the water enough to make a difference."
Newsweek has approached the Israeli Ministry of Interior for comment on Abu Sarah's case.