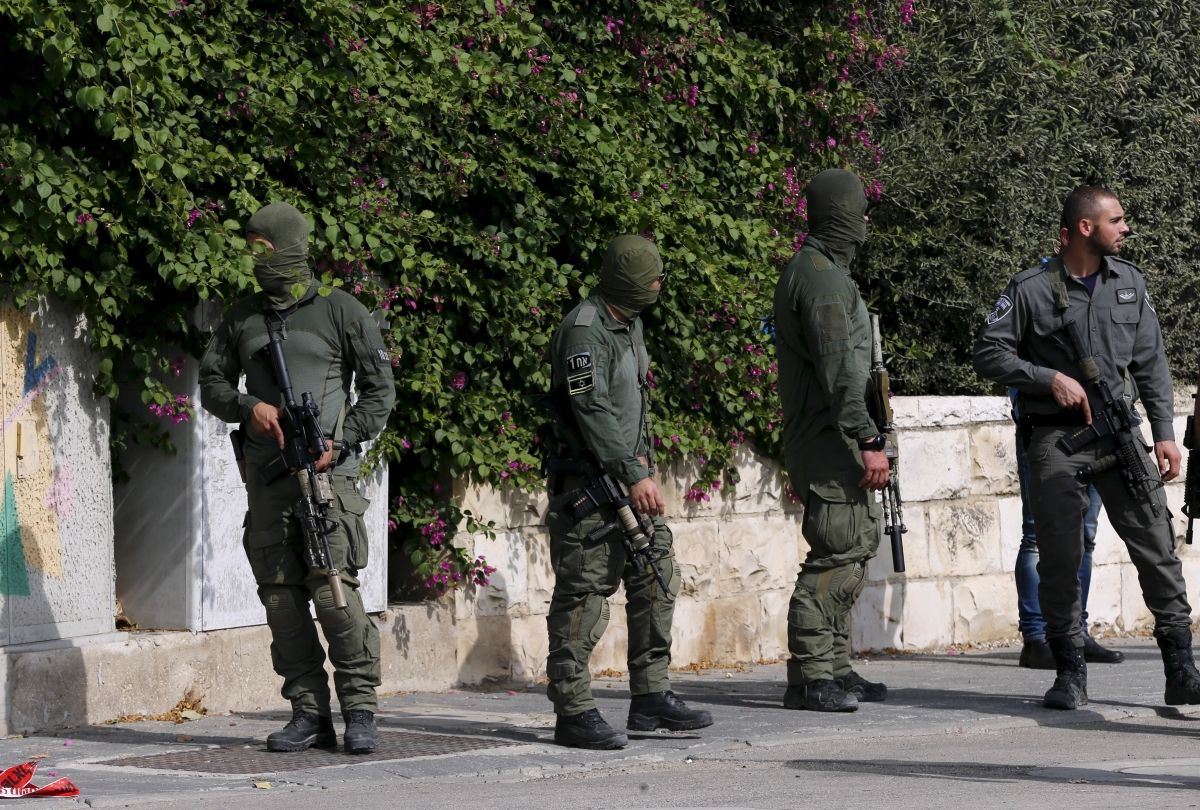 Israeli forces shot and killed a Palestinian man disguised as a journalist on Friday after he stabbed an Israeli soldier near the West Bank city of Hebron, according to the Israeli military.
The man moderately wounded the soldier who was stationed near the Jewish settlement of Kiryat Arba in the West Bank, the scene of another Palestinian stabbing attack that injured a different Israeli police officer last week.
In Friday's attack, the Palestinian man who attacked the soldier was carrying a camera and wearing a yellow high-visibility jacket and a black T-shirt with "Press" emblazoned on it, The Jerusalem Post reported. Unverified images, allegedly taken at the scene of the incident and circulated by pro-Israeli social media accounts also showed a man wearing a T-shirt with "Press" written on it.
"Moments ago a soldier was stabbed in Kiryat Arba. The Palestinian assailant disguised himself as a news photographer and attacked the soldier, wounding him moderately," the Israel Defense Forces said. "The soldier was evacuated for emergency medical care. Forces on site responded to the threat, shot the attacker, resulting in his death."
Shatha Yaish, a journalist for AFP news agency in Israel and the Palestinian Territories, tweeted that the Palestinian Journalists' Syndicate, the body that protects the rights of Palestinian journalists, confirmed that the attacker was not a known reporter. A spokesman for the group was not immediately available for comment.
The Foreign Press Association in Israel and the Palestinian Territories released a statement following the attack, saying that it "deplores the violation of press privileges by unauthorized persons and imposters" and demanded that Palestinian media organizations verify all media credentials to ensure violations do not occur.
The organization also called on Israeli and Palestinian security forces to identify any misconduct towards foreign journalists and to allow journalists to work freely despite the attack. "We also recommend that members exercise caution in unfamiliar areas and travel with a Palestinian fixer or colleague when entering Palestinian areas," the association said.
The attack occurred on the same day a Palestinian "Day of Rage" was scheduled to take place after calls by the Palestinian factions of Hamas, Fatah and Islamic Jihad. Hamas, which controls the Gaza Strip, called on Palestinians to protest at Israeli checkpoints on Friday following noon prayers, Israeli media reported.
On Thursday, Palestinians also set fire to Joseph's Tomb, a Jewish holy site on the outskirts of the West Bank city of Nablus, as tensions between Israelis and Palestinians continue to escalate. The site is revered by Jews as the resting place of the biblical figure of Joseph and his two sons, Ephraim and Manasseh.
Seven Israelis have been killed in Palestinian stabbing and shooting attacks across Israel in the last two weeks. At least 34 Palestinians, some of whom were attackers, have been killed in clashes with Israeli forces in Jerusalem and the West Bank.