Palestinian and Jordanian Leaders Reject Donald Trump's Confederation Plan for Middle East Peace
Palestinian and Jordanian leaders have rejected a reported Middle East peace plan proposed by the Trump administration that would create a confederation between Jordan, the West Bank, and the Gaza Strip.
Jordan's Minister of State for Media Affairs Jumana Ghunaimat—who also serves as a government spokeswoman—rejected the plan on Sunday and added that it's not up for discussion, according to Israeli newspaper Haaretz. She also reiterated her country's position that Palestinians should be able to establish an official state on their land.
Ziad Abu Zayyad, an international spokesman for the Fatah party, of which President Mahmoud Abbas of the Palestinian Authority is a member, said any discussion of a confederation is premature.
"A Palestinian state must be established with security, borders and a capital before talking about any kind of confederation since it is needed to be able to achieve such a thing," Zayyad told Saudi newspaper Arab News.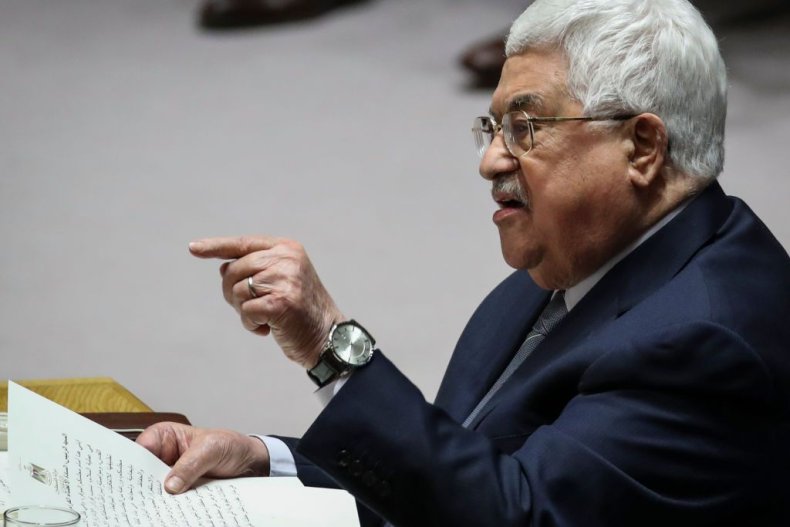 Hamadeh Faraneh, who has served as a member of Jordan's parliament and the Palestine National Council, referred to the confederation plan as a political trick, according to Arab News.
"Everyone knows that Jordanians reject confederation because it attempts to make Jordan become a replacement of the PLO [Palestinian Liberation Organization] and because it will be the beginning of a process that aims at kicking Palestinians from their home and country," he said.
Faraneh added that as long as Israeli "occupation" of the West Bank and Gaza Strip continues, any talk of such a plan is "unacceptable."
News of the confederation plan broke Sunday when Israeli media reported comments by Mahmoud Abbas. The Palestinian leader reportedly explained in a meeting that Trump's Middle East peace advisers Jared Kushner, who is also the president's son-in-law, and Jason Greenblatt asked him if he believed in a confederation with Jordan.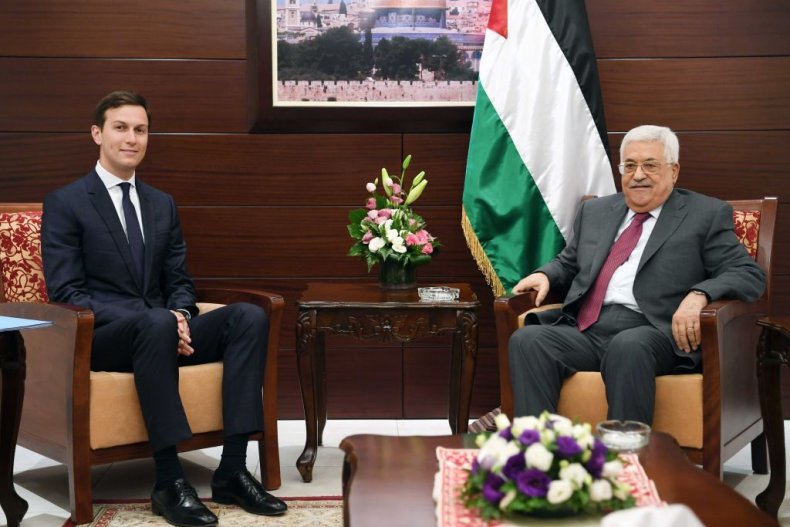 "I said, 'yes,' [but] I want a triangular confederation with Jordan and Israel," Abbas responded, according to The Jerusalem Post. "I asked [the envoys] if the Israelis would accept such a proposal."
A confederation plan was first put forward in the 1980s by Jordan's former King Hussein and former Palestinian leader Yasser Arafat. The idea was to create a confederation between the West Bank and Jordan if Israel would cede its land claims back to the 1967 borders, according to Haaretz. Although much of the plan was initially accepted, it was eventually abandoned due to disagreements between all sides.
Ghazi Musharbash, a former member of Jordan's parliament, said that the U.S. and Israel want the confederation without the inclusion of Gaza, which is controlled by Hamas.
"This is why the late King Hussein and King Abdullah II are consistently on the record as opposing the idea and have repeatedly said that they are only willing to discuss the idea once Palestinians are genuinely independent," he said, arguing that the idea pitched by the U.S. "is totally impossible."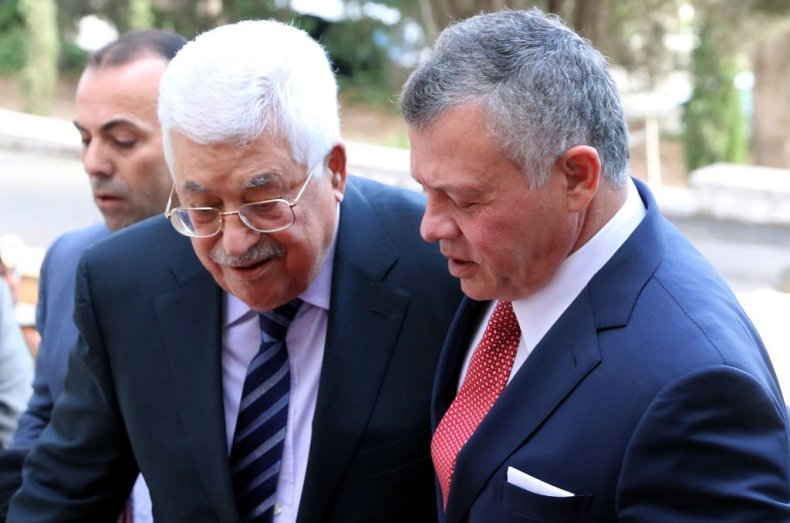 Palestinians seek to create an official state in the West Bank and Gaza, areas that Israel currently controls while allowing the Palestinian Authority government some degree of autonomy. However, the Israeli government controls the area's borders, water supply and other resources.
Activists often refer to the situation as "apartheid," arguing that Palestinians' human rights are disregarded. Violence between Israeli forces and Palestinians is a constant reality, with both sides claiming they are defending themselves against aggression from the other side.
Trump's decision to move the U.S. Embassy to Jerusalem and to recognize the historic city as Israel's capital has angered Palestinians, who also consider Jerusalem their traditional capital. Currently, the city is divided, with part of it under semiautonomous Palestinian control. Responding to Trump's decision in May, a spokesman for Abbas said that the U.S. had "canceled its role in the peace process and [had] insulted the world" through the embassy move.