Palestinian Journalist Declares Jerusalem Mayoral Run: 'We Will Stand for Our Right to Be Here'
Next month, the residents of the city of Jerusalem will go to the polls to choose their new mayor. Incumbent Nir Barkat has held the post since 2008 but will not seek a third term. Thus the path is open for new challengers.
The most unusual candidate is not an Israeli citizen and will have to be given special permission by Israel's High Court of Justice to run. He is, however, very much a Jerusalemite. Aziz Abu Sarah, a Palestinian journalist, enterpreneur and resident of East Jerusalem, is planning to run with an all-Palestinian list for his party Al-Quds Lana—meaning "Our Jerusalem"—if given the go-ahead by Israel's Supreme Court.
Abu Sarah, 38, is promising to improve living standards for the city's Palestinian residents but also does not shy away from the conflict that defines life in the city as much as all municipal issues combined.
The status of Jerusalem is one of the most intractable questions in Israeli-Palestinian relations. Both the Palestinians and Israelis consider the city their capital. In the case of the Palestinians, it would serve as the seat of a potential future state.
In the eyes of much of the international community, it is a divided city—the West belongs to Israel, the East to the Palestinians. But since Israel's victory in the 1967 Six-Day War, it has controlled the entire city.
The eastern part of the city was annexed in 1980, with Palestinians given the right to vote in the municipal elections but not to run for office. They have a unique status as "East Jerusalem residents," which does not amount to full citizenship, meaning that national elections remain out of bounds. Less than 2 percent vote in the municipal elections, believing that to do so would be tantamount to endorsing Israel's unilateral annexation of their areas.
Disenfranchised Palestinians must live with underinvestment, strict building restrictions and what they say amounts to daily harassment from Israeli security services. Most Israelis avoid spending time in the east of the city. Jerusalem has seen more than its share of bloodshed over the years, from suicide bombings and stabbing attacks by Palestinian militants to vigilante killings by Israeli radicals to the killing and maiming of protesters by Israeli military and policy.
To Abu Sarah, "It's time for us to say no, enough is enough." He told Newsweek the Palestinian population of the city "will stand for our rights, we will stand for our right to be here, to exist here in Jerusalem, and we're not going to allow anybody to continue to take advantage of us."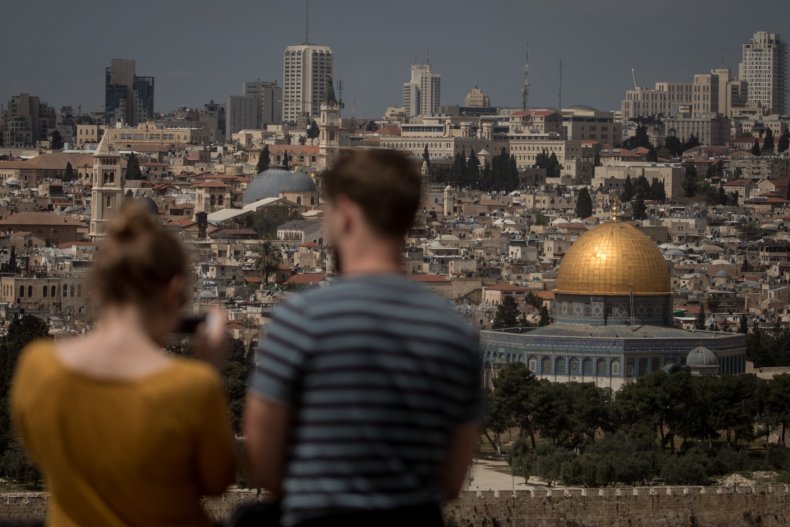 Palestinian residents pay taxes just like their Israeli neighbors in the west, but Abu Sarah says they receive little in return. "We get political persecution for being Palestinian, home demolitions and no-zoning rights in our neighborhoods," he explained, while homes that are built are given to Israeli settlers rather than Palestinians.
Abu Sarah is a cosmopolitan figure who divides his time between Washington, D.C., and Jerusalem. The journalist has traveled the world working for National Geographic, among other publications, and has been involved in many joint Israeli-Palestinian projects in his home city.
He faces formidable odds. Most Palestinian residents remain firmly opposed to participating in Israeli elections, wary of recognizing Israel's sovereignty over the disputed city. In July, Middle East Monitor reported the Grand Mufti of Jerusalem Sheikh Muhammad Hussein issued a religious edict forbidding Muslims from voting in the polls. But Abu Sarah does not think Palestinian residents alone are to blame.
"Israel does not want us to be part of the process," he said, citing the handful of polling stations provided in the east of the city compared to the west. "If they really wanted us to participate…they would have encouraged that participation. They do everything to stop it."
While he won't shy away from discussing the conflict, Abu Sarah plans to focus his campaign on the city and its residents, avoiding larger practical questions of peace deals—beginning with the question of whether or not Jerusalem should be partitioned into two national capitals. "My goal is not to take the Palestinian Authority's or the [Palestine Liberation Organization]'s jobs," he said. "I will not get involved in that aspect. I believe Jerusalem is important for us for Palestinians—we need to exist in it—but I will not call for any necessary solution."
Years of political exclusion at the national level makes it difficult to drum up support among Palestinian Jerusalemites. "My biggest struggle to convince people to vote for me isn't to tell them to vote for me, it is to convince them that they have the right to vote," Abu Sarah noted.
Alongside ideological opposition to the vote, many assume they are not allowed to vote, Abu Sarah said. He pointed out the lack of polling stations and failures to properly distribute voting cards does little to shift this misconception. In the 2013 mayoral vote, less than 2 percent of eligible voters in East Jerusalem cast their ballot, Haaretz said.
But it is not just the Palestinian population Abu Sarah wants to win over—he will need Israeli votes too. "I hope that Israelis will vote for us," he said, noting that the campaign will be city-wide. Abu Sarah believes that when both sides of the city prosper, everyone benefits.
"I think this city can be better for everyone—for Israelis and Palestinians," he said. "If you only look for your own immediate needs, then yes, it will be hard for people in West Jerusalem to vote for us. But if they look for the good of the whole city, I think it makes more sense that they vote for us."
The would-be mayor admitted that many of his core voters would still be skeptical toward a policy of engagement with a government many see as illegal occupiers. But Abu Sarah believes participation is the only way to improve life for the city's Palestinians.
"Our run here is not taking away from our Palestinian identity, it is not giving up," Abu Sarah stressed. "This is our strategy for struggle, for our rights, for us to be here. Our existence here is the most important thing."
"If we're not here, we lose Jerusalem," he added. "My brother was killed in the First Intifada, and to me, everything we can do to stop violence, to stop killings, to stop the occupation, we must do."