Palestinians Call for 'Day of Rage' During Trump's Israel Trip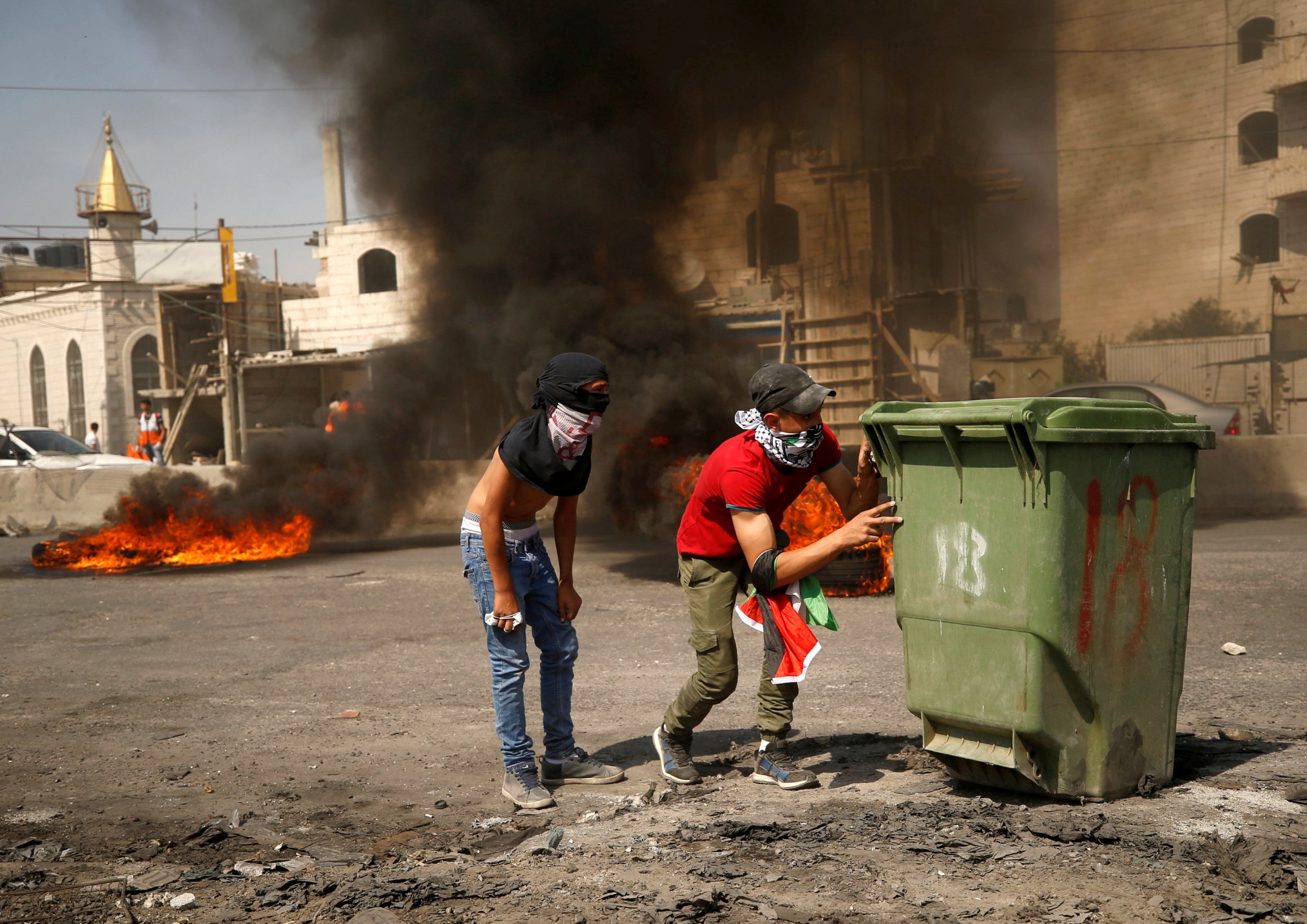 Palestinian activists in the West Bank have called for a "day of rage" to coincide with President Donald Trump's visit to the West Bank city of Bethlehem on Tuesday. Trump arrived for a two-day visit to Israel and the West Bank on Monday, taking in holy sites, and became the first-ever sitting U.S. president to visit the Western Wall in contested East Jerusalem.
Related: How peace can come to Israel. Beware the quick fix
At the same time, in the West Bank, Palestinians were holding a general strike in solidarity with the close to 1,000 hunger-striking prisoners in Israeli jails. As the hunger strike went into a 36th day, hundreds of protesters closed down roads and government offices in multiple West Bank cities and towns. The Palestinian Ma'an News Agency said 13 Palestinian protesters were shot and injured by Israeli forces.
The hunger strikers have been protesting their treatment by the prison service, including calling for longer and more regular family visits and for landlines to be installed. On Sunday, around 60 prisoners currently on hunger strike were evacuated to hospital after their medical conditions deteriorated. Talks between the parties have been ongoing, with officials believing that a resolution is near, reported Haaretz.
But the Palestinian prisoners' affairs committee has called for the "day of rage" when Trump visits Bethlehem, in order for "the voice of the prisoners to be heard by the president," according to the Associated Press.
Trump will meet with Palestinian leader Mahmoud Abbas while in Bethlehem as he continues to express confidence that he can be the man to succeed where all others have failed, by helping negotiate a Middle East peace settlement.
"We have before us a rare opportunity to bring security and stability and peace to this region and to its people," Trump said upon arrival in Tel Aviv on Monday.
But one Palestinian group said a message needs to be sent to Trump on what must form the basis of any negotiations.
"The Palestinian people insist on their right to self-determination and national independence with East Jerusalem as its sovereign capital," read a statement from Palestinian National and Islamic Forces.
Israel has occupied East Jerusalem since the Six-Day War in 1967 and claims the whole city as its united capital. However, no country recognizes its annexation.
It is not the first time Palestinians have called for a "day of rage." Just last month, a similar protest in support of hunger strikers resulted in injuries to at least 50 Palestinian protesters.
Trump is being accompanied by a massive security operation during his Israel visit, including a bomb-proof, poison-gas-proof hotel suite, according to a report from NBC News. All his food will also be tested for safety before he consumes it.