Palestinians Regroup, Tell Arab World Not to Deal with Israel Before Peace
Palestinian leadership is pushing to regroup from two apparent setbacks on the global stage: An agreement between the United Arab Emirates and Israel to normalize ties, followed by a surprising announcement from the Arab League that they would not condemn it.
Faced with these challenges, the top Palestinian negotiator told Newsweek on Thursday that other Arab powers should not follow in Abu Dhabi's footsteps until the longstanding Middle East conflict was resolved in accordance with international agreements.
"The Arab League not approving a condemnation of the UAE-Israel normalization deal doesn't mean or suggest a consent for member states to normalize relations with Israel," Saeb Erekat, head of the Palestine Liberation Organization - Negotiations Affairs Department, told Newsweek.
"Palestine remains committed to the Arab Peace Initiative that normalization with Israel can be advanced upon the end of Israel's occupation and the realization of an independent, sovereign, and contiguous State of Palestine with East Jerusalem as its capital and the resolving of the question of Palestine refugees per UNGA 194," Erekat said in reference of the United Nations General Assembly resolution adopted toward the end of the 1948 Arab-Israeli war.
Solidarity with Palestinians in their seven-decade struggle over territory with Israel has long dominated political discourse in the Arab World, but the UAE's landmark decision last month to become the third Arab country to recognize Israel has been met with substantially less controversy than past peace deals struck by Egypt in 1979 and Jordan in 1994.
While non-Arab regional powers Iran and Turkey have joined Palestinian leadership in expressing sharp criticism toward the move, the 22-member Arab League—with Syria's suspension—chose not to endorse the Palestinian complaint. The development, reviled in Ramallah, was met with cheers in the White House, where a pre-election effort to make good on Middle East peace promises was producing results.
"What we're seeing now in the Middle East is that the tide is really changing," Jared Kushner, President Donald Trump's special adviser and son-in-law, told a press call on Wednesday, "and countries are doing now what's in their best interest to support the Palestinians."
Kushner claimed the Trump administration was not abandoning the Palestinians but was trying to get regional players to move forward.
"America supports the Palestinians, but people want to see a resolution that's a fair and proper resolution," Kushner said. "They're not going to hold back their own progress now in order to allow this conflict to continue to be stuck in the mud."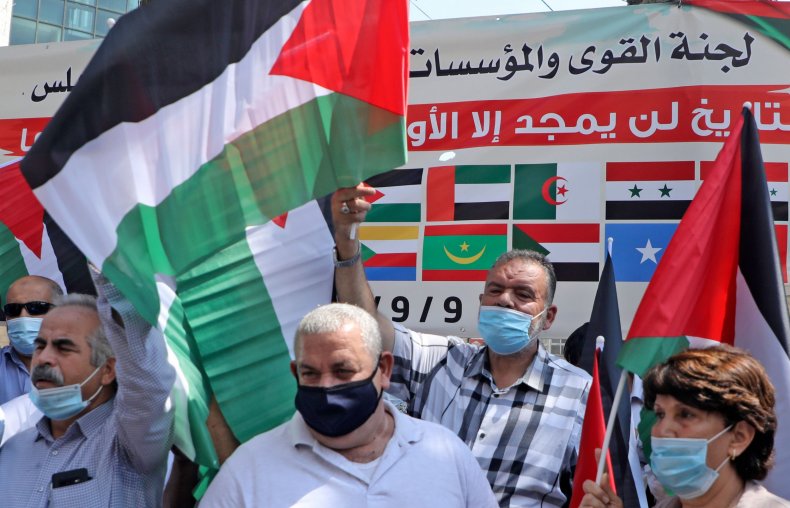 The latest developments, which also include Saudi Arabia opening its airspace to overhead Israeli flights, come months after the roll-out of the Trump administration's long-awaited peace plan in January was met with mixed reviews in the Middle East.
Palestinians had already rejected Washington's historic role in brokering Israeli-Palestinian negotiations after Trump defied against an international consensus to move the U.S. embassy in Israel from Tel Aviv to the disputed holy city of Jerusalem.
That decision was met with widespread condemnation at the United Nations, which the Trump administration has routinely criticized for being too harsh on Israel. Today, however, both U.S. and Israeli officials hinted that they were in talks with other Arab countries for agreements, without giving specifics.
"I have met with very, very many leaders in the Arab and Islamic worlds, many more than you think," Israeli Prime Minister Benjamin Netanyahu told a press conference last week.
Dismissing the Palestinian rejection of the recent developments, Israeli ambassador to the U.S. ambassador Ron Dermer told Newsweek that "the Israel-UAE breakthrough shows that Palestinian leaders do not have veto power over peace between Israel and Arab states."
"Rather than recognizing that reality and focusing on reaching a realistic compromise with Israel that will build a better future for Israelis and Palestinians alike, unfortunately, these leaders remain mired in their rejectionism and stuck in the past," Dermer said. "As the circle of peace expands to other countries in the Arab and Muslim world, hopefully, that will begin to change and more constructive forces within Palestinian society will emerge."
Israeli Foreign Ministry spokesperson Lior Haiat similarly praised the UAE-Israel deal and called for Palestinians to embrace it.
"Israel considers the Abrahamic Accords to be a historic opportunity, both for the people of Israel and the UAE, as well as for the entire region," Haiat told Newsweek. "The peace between Israel and the UAE will bring prosperity to the two countries and increase stability in the Middle East."
"We hope the Palestinian leadership will grasp this opportunity and will lead their people to a better future. A future of peace with Israel," he added, accusing Palestinian officials of having "never lost an opportunity to lose an opportunity" for peace and instead choosing violence.
Haiat praised the Trump administration's peace plan, which would further divide Palestinian territories in exchange for an opportunity to double the size of the embattled, besieged Palestinian economy and grant it a potential path for statehood. With the UAE paving the way, Haiat joined U.S. and Israeli officials in calling on other Arab states to follow suit.
"We hope that many other Arab countries will join the peace path that the UAE is creating," Haiat said. "Israel will extend its hand in peace to all. And we hope that the Palestinian leadership will understand the new reality of the Middle East and will choose peace over war for a better for their own people and ours."
Arab countries, especially those on the Arabian Peninsula, have long drifted away from hardline anti-Israel stances, especially as the rising influence of nearby revolutionary Shiite Muslim Iran became an increased concern of the Sunni Muslim monarchies of the region. But as this trend seemed to accelerate, Erekat appealed to fellow Arabs not to concede without making good on their commitments to the Palestinian cause for statehood.
"We hope that other Arab countries will not slide into normalization with Israel," Erekat told Newsweek. "Normalization has disastrous implications on the Palestinian cause's future, because it encourages Israel to consolidate and prolong its occupation of Palestine rather than ending it."
Arab commitments are enshrined in the Arab Peace Initiative, first introduced in 2002, which broadly proposes a normalization of Arab World relations with Israel in exchange for its withdrawal from occupied territories.
"Arab countries are aware that the only path towards normalization passes through the Arab Peace Initiative," Erekat said, "which is based on ending Israel's occupation and achieving Palestine's independence first."
He emphasized that the resolution of the issue of the occupied territories is a quid pro quo for any substantive discussions.
"Once this is achieved," he argued, "the Arab countries can continue their path of normalization with Israel."
Proceeding forward without resolving the issue of the occupied territories "only serves the current extremist and ideological administrations in the U.S. and Israel, who seek to consolidate a system of Apartheid in Palestine while relieving the occupying power, Israel, of the burden of paying the cost of its occupation and assuming its responsibilities," Erekat said.
He said the Israel-UAE deal was proof of this and that "normalization is not the answer for stopping Israeli settlement projects and annexation plans."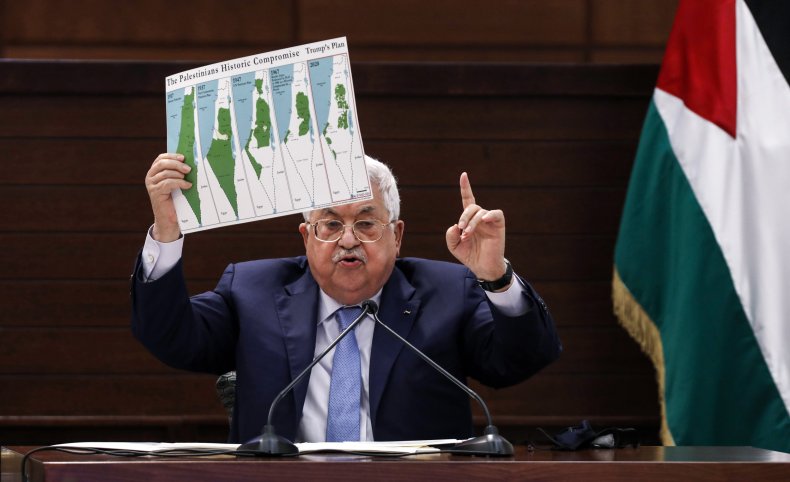 Facing a major rift in views with traditional allies abroad, Palestinians have moved to unify their own fractured array of factions in hopes of presenting a united front.
An in-person and virtual September 3 meeting overseen by Palestinian President Mahmoud Abbas brought together secretaries-general in both Ramallah and the Beirut. Among those participating from the Lebanese capital were the heads of Islamist movements Hamas and the Palestinian Islamic Jihad.
A joint communique produced after the meeting called for the establishment of "a committee of eminent national figures" entrusted by all sides to present "a new strategic vision" that would represent the latest chapter in a conflict that has frustrated generations of leaders, politicians and peoples involved.
Erekat says the Palestinian goals remain the same, but the recent rare show of intra-Palestinian unity demonstrated a newfound challenge to opposing views from Israel, the U.S. and even among the Arab League.
"Palestine's negotiations strategy and way forward will remain to be defined by international legitimacy and the vision of two-states on the 1967 borders," Erekat told Newsweek.
"The achievement of Palestinian unity by building upon the Palestinian factions' historic meeting last week is a step towards unifying the Palestinian position against Israel's annexation plans, Trump Plan, and every attempt at normalizing Israel's occupation of Palestine," Erekat said.
This article has been updated to include remarks by Israeli Foreign Ministry spokesperson Lior Haiat.