Palestinians Use Burning Kites As Weapons Against Israel on Gaza Border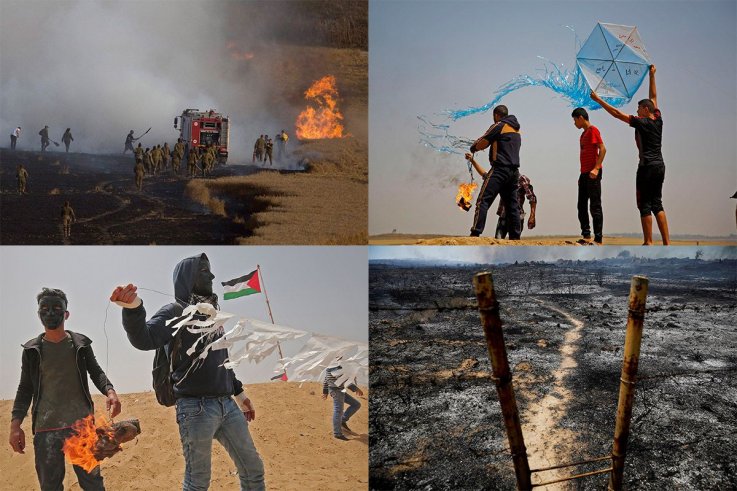 Palestinians are sending kites dangling coal embers or burning rags across the Gaza border to set fire to farmland and forests, in a new tactic the Israeli army has been tackling with drones for interception.
"It began spontaneously. As long as there is occupation in the Gaza Strip and in our occupied land these kites will be sent almost daily until the occupation goes down or fulfills our demands," said Shadi, one of five Palestinian teenagers preparing kites with fabric dipped in diesel and lubricant oil in a Gaza field.
At least 124 Palestinians have been killed by Israeli troops during mass demonstrations along the Gaza border since March 30, and the men sending the kites over the fence believe they have found an effective new weapon.
No one has been hurt by the fires, but some 2,250 acres of fields and nature reserves, already parched after a dry winter, have been burned by flames stoked by Mediterranean winds. This has caused $2.5 million in damage, Israel's government said.
The Israeli army has fitted larger surveillance drones with weighted fishing lines or blades that can snag or slash kite strings in mid-air.
The army has also drafted in civilian drone enthusiasts as army reservists, instructing them to fly their remote-controlled aircraft into the kites.
"If their drone ends up getting lost in the process, we compensate them," an Israeli general said, speaking on condition of anonymity.
But he acknowledged the limitations of such measures, saying: "We'll probably end up having to shoot kite-flyers too."
On June 8, Israeli troops killed four Palestinians and wounded hundreds of others with live fire or tear gas used against protesters at the Gaza border, medics said, while Israel said militants had attacked its forces with guns and grenades.
Israel, with U.S. support, has described the protests as a ploy by Hamas to breach its border, and says that its lethal tactics have been necessary to prevent that.
There have been no Israeli casualties from the more than two months of confrontations along the Gaza border.
Photos from the scene show the fragile kites contrasting with the hi-tech Israeli drones. Nevertheless, the kites have managed to wreak havoc on the Israeli side of the border, leaving charred fields and trees where they land.
—Reuters contributed to this report