Palin Endorses Tea Party Candidate O'Donnell in Delaware Senate Race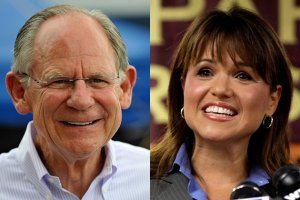 Forget Castle vs. O'Donnell. This race is now all about Palin vs. Colbert.
Just two days after Comedy Central host Stephen Colbert pledged to give Mike Castle the "Colbert Bump" in his fight for the Republican nomination for Senate in Delaware, Sarah Palin has weighed in to back Christine O'Donnell, his right-wing, Tea Party–backed challenger. They're both hoping to fill the Senate seat vacated by Vice President Joe Biden and currently held by Ted Kauffman, a temporary replacement.
The background: Castle is a moderate Republican (pro-choice, pro-gun), while O'Donnell is much further to the right, and espouses some ideas that are out of the mainstream (she has spoken out against masturbation and has claimed she's being followed). Castle's race has been up and down: it first appeared he faced a tough challenge from Beau Biden, the vice president's son and Delaware's attorney general. Biden bowed out, but O'Donnell is surging—at least according to one Tea Party Express poll.
Now, at nearly the last minute, Palin has given O'Donnell her support, speaking to Fox New host Sean Hannity on his radio show Thursday afternoon.
As Dave Weigel points out, the race is turning into another strange battle between the Republican establishment and the Tea Party upstarts (the Delaware GOP head called O'Donnell, a perennial candidate, a "delusional liar"). But the consequences are real: while Castle leads Democrat Chris Coons, O'Donnell—a lesser-known and far more conservative candidate—would likely lose, leaving the seat in Democratic hands.
It still seems like a long shot for O'Donnell to upset Castle on Tuesday. But then again, it seemed like a long shot for obscure, Palin-backed Joe Miller to beat a sitting U.S. senator in Alaska. Can lightning strike twice?