Palin vs. Pelosi and Other 2010 Midterm Themes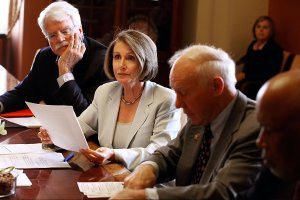 Election Day 2010 is five months away, so predicting the November bottom line is foolish. But as the primary season grinds on (Tuesday was the biggest day yet), you can get a sense of themes and trends likely to dominate the fall campaigns. Here are a few:
Republican energy.The GOP is, of course, likely to make big gains in Congress. That's almost always true for the "out" party in the first midterm after a presidential election, especially at a time when the economy is weak. But grassroots urgency and excitement on the Republican side is palpable; heated primaries have the feel of eager bidders trying to get in on the ground floor of the Next New Thing. Turnout has been relatively strong in places such as Nevada and Kentucky.
Palin vs. Pelosi. All elections are "national" now, and this one, to oversimplify slightly, is going to come down to a war over competing demons in a Year of the Woman. Who scares you more, Sarah Palin or Nancy Pelosi? Democrats will argue in national advertising that a vote for any Republican is a vote to empower Palin's "extremist" pals—Rand Paul in Kentucky and Sharron Angle in Nevada—if they get to the Senate. It's the Palin Midterm, which could presage the Palin Presidential. (Palin didn't endorse Angle, but she refused to back the GOP's establishment choice. Palin's supporters largely backed Angle.)
Big business vs. big government. In California, which still leads the way in things cultural, Republicans chose a pair of quintessential corporate CEOs to head the fall ticket. Meg Whitman and Carly Fiorina will square off against a pair of quintessential political lifers, Sen. Barbara Boxer and former everything Jerry Brown. In an election certain to be dominated by the Great Recession—who is most to blame for it and who can lead us out of it—the Golden State races are the centerpiece.
Bill Clinton is back. In a remarkable twist of fate, President Obama and the Democrats (who dumped and dissed the Clintons in 2008) are depending on Bubba to help stave off disaster in 2010. He's largely been a backroom emissary so far, but that is about to change. Sen. Blanche Lincoln's victory in Arkansas on Tuesday was due, in part, to Clinton's enduring popularity in his home state; he campaigned for her in the last days and worked his old contacts one by one. He has burnished his reputation with his charitable works, and he is the best campaigner of his generation. Clinton's theme: we know how to fix the economy. Remember the '90s? It didn't work for Hillary in 2008, but the Democrats will try it again.
Labor's lost love. The Obama White House was afraid to directly confront the labor unions' retributionist drive to oust Lincoln in favor of Lt. Gov. Bill Halter. The president made robocalls for the senator, but administration types weren't eager to talk about what they had done, which really wasn't much. But by 11 p.m. Tuesday, Democratic insiders were expressing their anger, not so much at the outcome as at the ham-handed—and highhanded—way the unions had gone about it. By trumpeting their campaign to oust Lincoln, one staffer told me, the unions "allowed her to run as the anti-Washington candidate. The whole thing was self-defeating." If nothing else, the Get Blanche drive siphoned off $10 million that labor could have used to help Democrats elsewhere. In 2008, the coordination between the Democrats and their labor base was smooth. Will it be that way this time?
Stop the press.Every candidate wants to keep the press at a distance, but the trend this year is clear: don't talk to them at all, if you can manage it. Social media, YouTube, paid TV ads, and direct snail mail, yes; interviews on the campaign trail or press conferences, no way. That will make debates even more important than ever. And if you're a junkie, you'll probably be able to watch every one of them on your computer.
FINEMAN is also the author of The Thirteen American Arguments: Enduring Debates That Define and Inspire Our Country.
Palin vs. Pelosi and Other 2010 Midterm Themes | U.S.