Palisades Fire Update: 1,000 Evacuated as Brushfire Grows, Two Arson Suspects Questioned
The Palisades fire, burning about 20 miles from downtown Los Angeles, has scorched more than 1,320 acres and at zero percent containment, firefighters are warning Californians they should be prepared to leave their homes at a moment's notice.
About 1,000 people in the Los Angeles area were ordered to evacuate on Friday and a broader evacuation warning cautioned people to load valuables and medications into their cars so they would be ready if the fire threatened their homes. The cause of the fire is unknown, but at least two people have been questioned about the possibility of arson.
The fire's activity is largely being driven by the weather conditions. Unfortunately, cool and moist conditions overnight on Saturday gave way to warmer weather on Sunday. The hot weather, combined with "very dry" vegetation that hasn't burned in more than 50 years, could make for an increased challenge for firefighters.
As of Sunday's update, no structures were damaged and no one had been reported injured, according to the Los Angeles Fire Department. Another update is scheduled to take place this morning.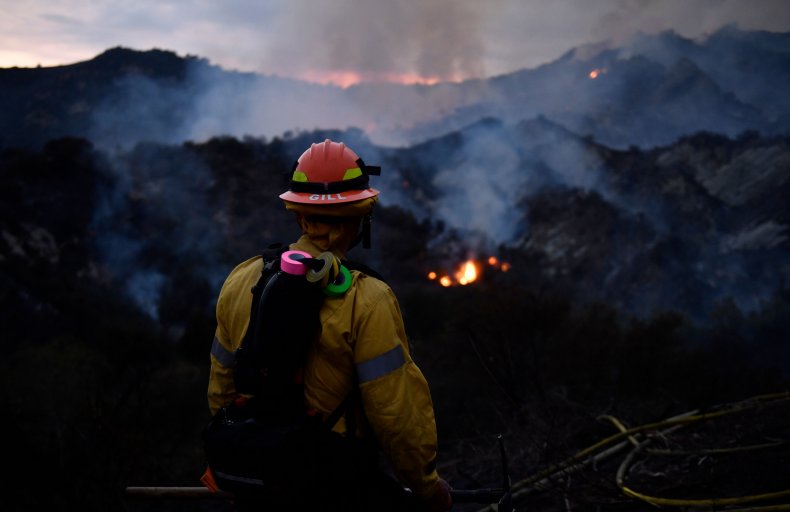 In an effort to contain the blaze, helicopters will continue to conduct water-dropping operations while firefighters work to get hand lines in place. One of the main methods of containing a fire, creating hand lines requires firefighters to clear an area of available fuel to help stop the fire's ability to spread.
"Dozers are working to improve access for firefighters on the ground, but much of the area remains inaccessible. This is primarily an air-based operation, with both fixed-wing and rotary working together," Los Angeles Fire Department spokeswoman Margaret Stewart told the Los Angeles Times.
Wildfire season in California is starting earlier and ending later with each passing year, according to the California Department of Forestry and Fire Protection (CAL Fire). Contributing to the creased intensity of the season are warmer spring and summer temperatures, reduced snowpack and earlier spring snowmelt that create longer and more significant dry seasons.
Along with evacuations, the California Highway Patrol closed Topanga Canyon from the Pacific Coast Highway to Mulholland Highway. All travel through the area was prohibited, including for residents.
LAFD arson investigators and the Los Angeles Police Department are working together on the investigation and have "aggressively tracked down any and all potential leads." One of the individuals who was questioned was temporarily detained before being released.
Erik Scott, a public information officer for the LAFD, told Newsweek the person who was released is no longer considered potentially responsible for starting the fire. However, he said the fire start is "suspicious" and a second person is currently detained and being questioned.