A new dog owner spent hours sat waiting outside a Palm Springs animal shelter before it opened in a bid to secure the rescue dog he fell in love with.
Dr. Brian Eberhart "camped out" at the Palm Springs Animal Shelter, in California, five hours before it opened, arriving at 8 a.m. prepared with a camping chair and a book.
Eberhart's heart was set on Elliot, now named Leo, who had been in the foster care of his neighbor.
"He was there from around 8 a.m. to 1 p.m. when we opened. We saw his lounge setup outside and just had to talk to him and found out he was there to ensure he had a chance to adopt Elliot," Anthony Mercurio from Palm Springs Animal Shelter told Newsweek.
Waiting for the perfect puppy was a joint effort between both Eberhart and his wife Lisa. "His wife later relieved him for a bathroom break just before noon. It was a team effort," joked Mercurio.
The Eberharts had gotten to know and love Elliot while he was the foster pet of their neighbors awaiting being available for adoption, making him all the more dedicated to make him a permanent part of their home.
"His neighbors were the foster family that took care of Elliot until he was ready for adoption so he had the opportunity to get to know Elliot before he was available and fell in love," said Mercurio.
People fell in love with the way Brian Eberhart loved Elliot, with a video of the day going viral online. The shelter shared footage of Eberhart camped outside with the chair and book, basking in the sun by the closed door. The video can be seen here.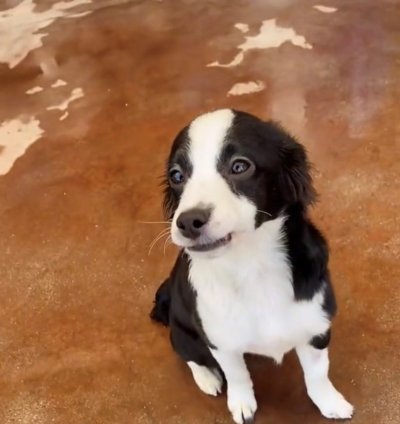 The next clip showed the initial meeting, with the pup excitedly jumping up at the camera before Eberhart bent down to greet him. In a week, the video gained over 500,000 likes on TikTok.
Eberhart wasn't the only one who fell in love with Elliot, nor were the 3 million viewers online, as other hopeful adopters came to the shelter before they opened.
"He had even said there were others interested in Elliot that came by at 11 a.m. but once they found out we didn't open until 1 p.m. that day, they just gave up and left," said Mercurio.
When Elliot first arrived at the shelter as a stray, he was shy and scared with "those sad puppy dog eyes" but now he's at home with the Eberharts, he spends all his days playing.
"His new family have re-name him Leo which is an acronym for 'Love Each Other.' He is a smart, playful and happy boy who must always have eyes on his humans (that's part of his Border Collie working-dog genes). He spends his days playing around and is already showing that he's going to excel at his training, he's already pretty much housebroken," said Mercurio.
It's the same "working genes" viewers hilariously noted in both owner and dog, making Eberhart, in the eyes of TikTok, the perfect fit.
"Perfect owner for this dog—a collie would also camp outside somewhere for five hours if you gave it that job," wrote one viewer.
TikTok has truly fallen in love with the dedication shown by Eberhart to welcome their new pup into their home.
"Funny how one small gesture can give you more information than an entire application," added another.