'Palm Springs' Streaming: How to Watch the Andy Samberg Movie Online
Every day for those in lockdown or working from home might feel like a time loop, so now might be the perfect time for Palm Springs, the new romantic comedy starring Brooklyn Nine-Nine's Andy Samberg and Cristin Milioti where they find themselves endlessly reliving the same wedding.
In January, the movie broke a Sundance Film Festival record when it was bought from the festival at the record price of $17.5 million and 69 cents–69 cents over what was paid for the previous record holder, Nate Parker's The Birth of a Nation. Including bonuses, Hulu and film distributor Neon paid $22 million for the film, suggesting they were expected a major cinematic release for the comedy.
However, with the coronavirus shutting down theaters all over the world, Palm Springs is taking the Hamilton or The Lovebirds route and mostly skipping cinemas to come straight to a streaming service. Per Samberg's band The Lonely Island's Twitter, though, the movie will show in some drive-in cinemas.
How to watch Palm Springs online
The Andy Samberg comedy will be streaming on Hulu from the early hours of Friday, July 10. The movie is expected to be released just after midnight.
To watch Palm Springs online for free, new Hulu subscribers can sign up for a 30-day free trial. After that, the service costs $5.99 a month with ads, or $11.99 without them.
Of course, Hulu is only available in the U.S., so Samberg fans who want to stream Palm Springs online in other countries may have a wait on their hands. The comedy does not have a release date anywhere outside of the U.S., suggesting that Hulu and Neon might be planning an international cinema release sometime in the future to recoup the money they paid to purchase the movie at Sundance. When the movie is coming to cinemas, however, has not been revealed.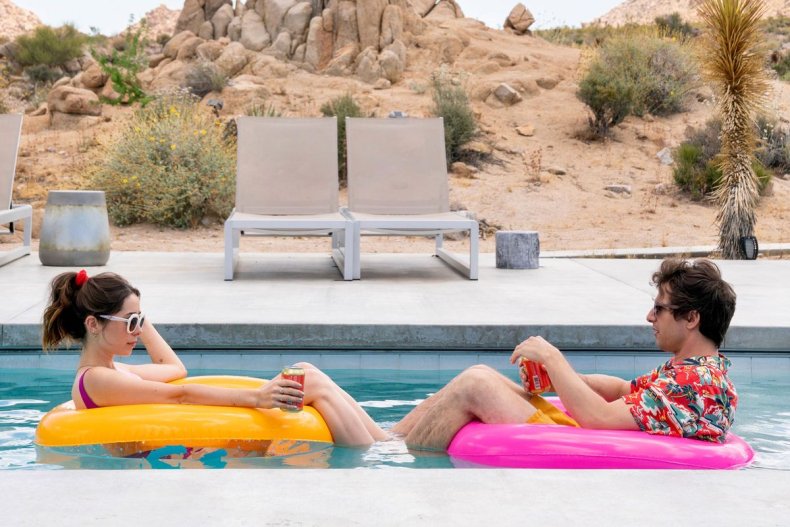 For fans who want a taste of what to expect, the official synopsis reads: "While stuck at a wedding in Palm Springs, Nyles (Andy Samberg) meets Sarah (Cristin Milioti), the maid of honor and family black sheep. After he rescues her from a disastrous toast, Sarah becomes drawn to Nyles and his offbeat nihilism. But when their impromptu tryst is thwarted by a surreal interruption, Sarah must join Nyles in embracing the idea that nothing really matters, and they begin wreaking spirited havoc on the wedding celebration."
Another logline reveals what that "surreal interruption" is: "Stuck in a time loop, two wedding guests develop a budding romance while living the same day over and over again."
So far, the movie has a 98% Fresh ratings on Rotten Tomatoes, with the critical consensus for the movie calling it a "romcom that's easy to fall in love with."