Where Was 'Pam and Tommy' Filmed? All The Hulu Series Locations
Across eight episodes, Hulu's Pam & Tommy brings to life the story of Baywatch star Pamela Anderson and Mötley Crüe drummer Tommy Lee's whirlwind romance and the infamous leak of their private home video that ultimately became their viral sex tape, thanks to the growth of the internet.
Set in the late 1990s, the series explores the impact it had on their marriage and as individuals, particularly on Anderson who was not only victimized by the press, but her career suffered greatly, as seen in Pam & Tommy.
The project had been in the making for at least four years, with pre-production finally starting in late 2020. So, where was Pam & Tommy filmed? Newsweek has everything you need to know.
Where Is Pam and Tommy Filmed?
Pam & Tommy spans the years 1995 to 1997, with the majority of the drama taking place in and around Tommy Lee's six-bedroom mansion in Malibu, California.
Filming took place on location in Los Angeles between April 2021 and July 2021. As a result, many of the locations spotted in the series were actually places the real Anderson and Lee visited in real life.
For example, eagle-eyed fans may recognize the Griffith Observatory, Venice Beach, the Sheats-Goldstein Residence, and Point Dume.
Audiences may have also recognized Hollywood Boulevard in Los Angeles.
In episode 3, Lily James recreates Anderson's famous Baywatch run, wearing the iconic red swimsuit.
While Baywatch was filmed on Deerfield beach in South Florida, James's scenes were filmed at Oxnard State Beach Park in California, reports hitc.com.
Anderson and Lee married after just 4 days of knowing one another on a beach in Cancun. For Pam & Tommy, the wedding ceremony was filmed at Oxnard State Beach Park in California. In July 2021, Stan and James were spotted filming the scene, Stan complete head to toe in Lee's tattoos and James in a white bikini.
A host of other TV shows have been filmed in and around Los Angeles including:
The Book of Boba Fett
Cobra Kai
Euphoria
How I Met Your Father
This Is Us
Yellowjackets
The Woman in the House Across the Street From The Woman In The Widow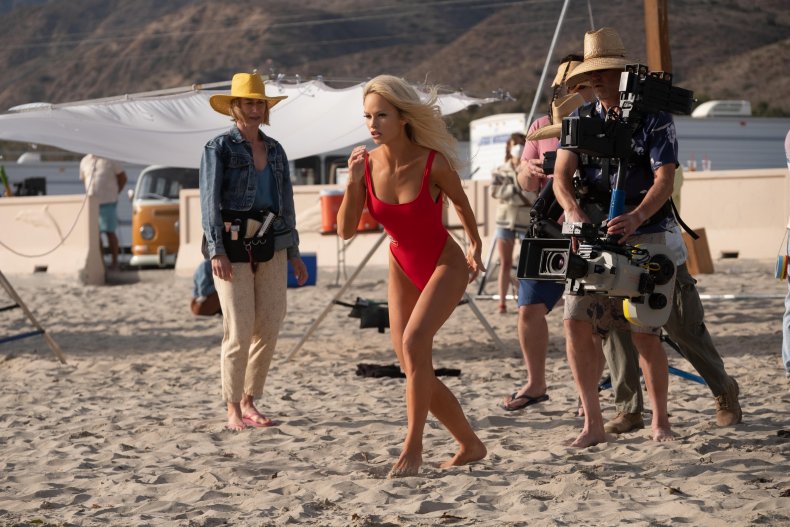 Unfortunately, the real Malibu mansion where Lee and Anderson lived is no longer standing.
Lee's former home, which famously featured in a 2001 episode of MTV Cribs, was burned down in the California fires in 2019.
In November 2019, he shared an image of himself revisiting the grounds on Instagram.
In the three images, Lee can be seen standing in front of the rumble and crumbling structure. He also took his followers on a short video tour.
He captioned the post: "Don't know who seen my old Malibu home on @mtv @mtv_cribs here's what's left of it after the fires."[sic]
Lee did not live at the house during the time the fires broke out. Lee had sold the home to Boys Don't Cry frontman Nick Richards in 2007, who sold the property for $2.2 million in 2015 according to the LA Times.
In February 2019, the home was for sale again at $3.475 million but sadly was demolished in the fires before it was purchased.
Pam & Tommy airs Wednesdays on Hulu and Disney+.
Correction 04/02/22, 10:33 a.m. ET: This article was updated to correct a sentence about Nick Richards's property value.