'Pam and Tommy' Cast on Lily James' 'Unbelievable' Transformation Into Pamela Anderson
Lily James and Sebastian Stan look unrecognizable as Baywatch star Pamela Anderson and Mötley Crüe drummer Tommy Lee in Hulu's highly anticipated series, Pam & Tommy. The eight-part drama brings to life Anderson and Lee's romance, the leak of their very private sex tape, and the consequences that followed. Everybody is talking about the series, particularly James' transformation into former Playboy model Pamela Anderson.
For the role, James, who is best known for her roles in Downton Abbey, Baby Driver and Mamma Mia 2 spent hours in hair and makeup, sporting a fake tan, false nails, a prosthetic chest piece. She also mastered Anderson's Canadian accent. Even her castmates, Nick Offerman, Taylor Schilling, and Sebastian Stan could not believe their eyes. Here's what they had to say.
'Pam & Tommy' Cast on Lily James' Transformation Into Pamela Anderson
Nick Offerman
Nick Offerman portrays porn actor, director, and producer Uncle Miltie in Pam & Tommy, the man responsible for helping distribute Anderson and Lee's sex tape online.
He teamed up with former adult film actor Rand Gauthier (played by Seth Rogen) who had stolen the tape from Lee and Anderson's home. After failing to find a studio that would distribute the tape, Uncle Miltie set up the website pamlee.com where they sold the tape at $55 each.
Despite not having any scenes with James, Offerman told Newsweek he could not "wrap his head around" her transformation into Anderson in terms of looks and performance.
He said: "You get what you pay for when it comes to especially wigs. We had the most amazing wigs and hair and makeup department and so my own transformation was so fun and when those departments are as good as ours were that kind of does so much of the work for me, where all I have to do is show up looking that oily and gross and if I don't fall on my face, there's a good chance I'll succeed.
"But then far beyond that exponentially, to see what Sebastian [Stan] went through, but then even leaps and bounds beyond him the work they did on Lily and then and the work she did within her transformation, I just can't wrap my head around it. It's unfathomable.
"I mean, to spend a minimum three hours in the makeup chair before work every day, and then successfully perform, these scenes as a bouncy, vivacious young woman. It's because it's one thing to just be able to be comprehensible with all of that, for all the prosthetics and stuff on, but then to also be like, to have energy and have charisma is award-worthy. Indeed, I take my hat off to them. Really, everything is unbelievable."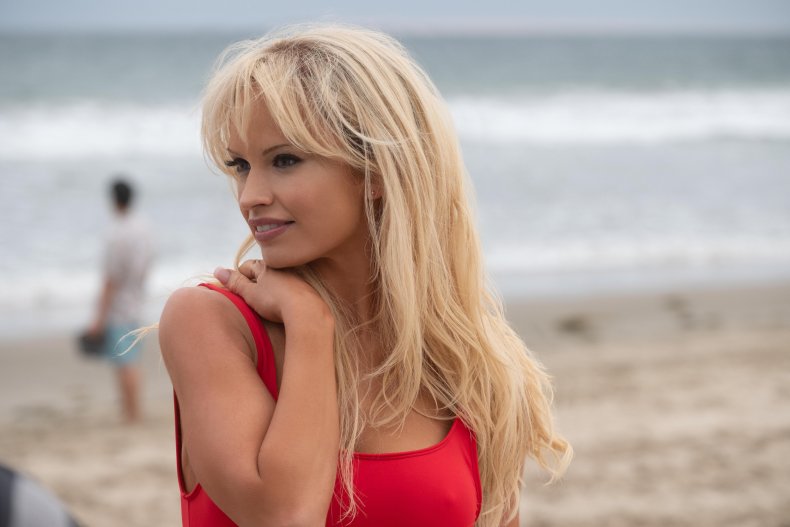 Taylor Schilling
Orange Is The New Black's Taylor Schilling portrays Erica Gauthier, the wife of Rand Gauthier, in Pam & Tommy on Hulu.
Speaking to Newsweek, Schilling described James' transformation into Pamela Anderson as "insane" and "shocking."
She reflected: "It's insane. It was shocking. The first time I saw Lily, I saw a photo on the hair person's at the hair person station while I was having my wig put on and I thought that it was an inspiration photo of Pam Anderson, for him and it turns out it was a continuity photo of Lily and I was like, 'oh my god, this is really...We're going this is deep? This is big.'"
As for her Anderson accent, Schilling praised her co-star for putting an "absolutely spectacular" performance.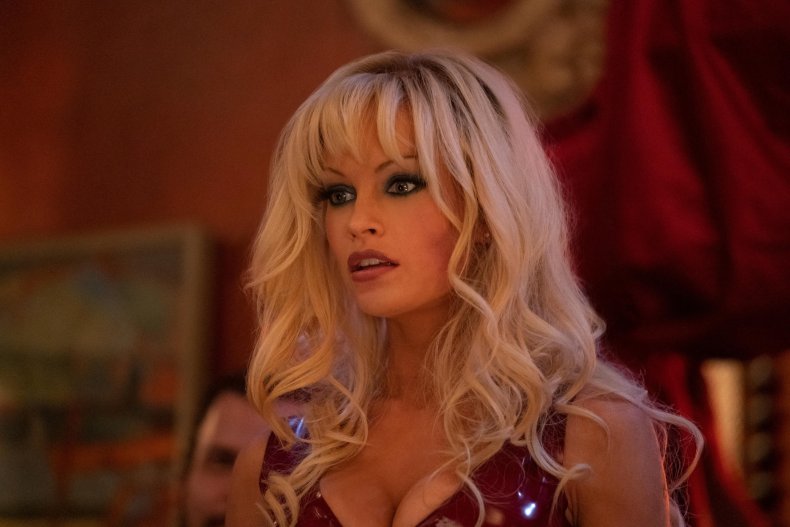 Sebastian Stan
Sebastian Stan, who plays the role of Tommy Lee, also went under a pretty big transformation himself. He too spent hours in hair and makeup, lost a significant amount of weight for the role, and had to wear temporary tattoos (including Lee's Mayhem stomach tattoo) for months.
He also looked unrecognizable with his long jet black hair and dark eyeliner.
In conversation with Entertainment Tonight, Stan confessed he did not recognize James when he first saw her after Pam & Tommy finished filming.
For the entire shoot, James and Stan stayed in character, so Stan got quite the shock when he met the real Lily James, complete with her British accent and dark brown hair.
He said: "It's really wild, with Lily, because the first time I saw her as herself was actually at the end of the shoot five months later. I was like, 'Who are you?' That's when we actually formally met."
Pam & Tommy airs every Wednesday on Hulu.