'Pam and Tommy's' Nick Offerman on Playing Porn Star and Director Uncle Miltie
Pam & Tommy on Hulu brings to life the love story between former Baywatch star Pamela Anderson and Mötley Crüe's drummer Tommy Lee, including their infamous sex tape which was released without their consent in 1995. Lily James and Sebastian Stan portray Anderson and Lee respectively and they are joined by a star-studded cast to bring the shocking tale to the small screen.
Seth Rogen stars as Rand Gauthier, alongside Orange Is the New Black's Taylor Schilling and his estranged wife, Erica Gauthier. Parks and Recreation fans would have been ecstatic to see Nick Offerman pop up in the series as former porn star-turned-porn director and producer Uncle Miltie.
Speaking to Newsweek, Offerman shared what it was like to take on the role of Uncle Miltie, who played a huge role in ensuring the sex tape went viral.
Who Is Uncle Miltie?
Milton Owen Ingley, also known as Michael Morrison and "Uncle Miltie" was a Texas-born Vietnam veteran who entered the world of porn in 1977.
Not only did Miltie appear in over 140 adult films, but he also became a porn director and producer in the 1980s. He even went on to set up his own production company, Chandler Studios.
Through his work in the porn industry, Miltie befriended handyman Rand Gauthier, the husband of one of his actresses, Erica Gauthier. Rand himself also dabbled in porn, before turning to the trade industry.
It was via his friendship with Rand Gauthier that he became involved in the Pamela Anderson and Tommy Lee sex tape scandal. As seen in Pam & Tommy, Rand Gauthier took the tape that had been stolen from Lee's home to Miltie, with hopes he would be able to help him distribute it.
With big contacts in the porn world, Miltie took Rand Gauthier to various production companies to see if they could find the right distributor. But no company would take the tape as they did not have consent from Anderson and Lee.
As a result, Rand Gauthier and Miltie took matters into their own hands and found a way to make money on their own — by uploading the tape to the internet and sending copies to paying customers. It was Miltie who set up the website www. pamlee.com, which sold tapes for $55 each.
However, Miltie was not the best business partner Rand Gauthier could have chosen, with the former attempting to take a back seat by running away to Amsterdam as things appeared to get way out of hand in 1997. However, he still continued to run the website pamlee.com, from overseas.
Speaking to Newsweek about taking on the role of Uncle Miltie, Offerman said: "He's a hard-working guy. He seems to be okay at what he does, but it ends up he's a little bit morally bankrupt. Seems like he is game to help Seth's character Rand in his caper but ends up kind of leaving him high and dry."
Explaining what attracted him to the role, Offerman shared: "I was fascinated when they offered me this. I read the scripts. And I was fascinated by the story and I couldn't believe that the world at large doesn't know remotely the details of this story. And I think part of the reason for that is because intrinsic to the story is the fact that the internet was just beginning, which actually plays into the story quite heavily.
"I was just flabbergasted to discover that this was an actual crime that Pam and Tommy were completely the victims. The world cynically sort of assumed when it happened, that they must be involved, it must be some sort of exploitative publicity stunt or something. But to discover that it was actually this sort of bumbling theft caper and a guy trying to like recoup his wages that had been withheld just fascinated me, I thought it was beautifully written and I also really love how it ends up taking Pam Anderson's point of view and becomes a bit of a feminist statement. So I was just glad to be a part of it."
In Pam & Tommy, Offerman looks unrecognizable as Miltie as he sports a long, messy mullet and sweats profusely.
Speaking about the transformation to Newsweek, Offerman joked: "You know, you really, you get what you pay for when it comes to especially wigs. We had the most amazing wigs and hair and makeup department and so my own transformation was so fun and when those departments are as good as ours [it] does so much of the work for me, where all I have to do is show up looking that oily and gross and if I don't fall on my face, there's a good chance I'll succeed."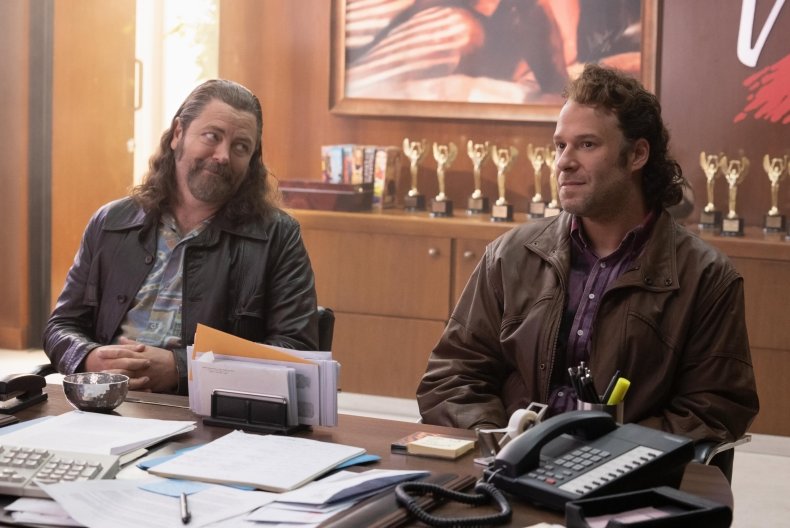 Where Is Uncle Miltie Today?
After leaving for Amsterdam in 1997, Uncle Miltie remained there for seven years before returning to the U.S.
Upon his return, Miltie, who was born in Texas, settled in Arizona.
Miltie was a member of the Adult Video News Hall of Fame and the X-Rated Critics Organization Hall of Fame as a "Film Pioneer."
Miltie died in December 2006 at the age of 54.
Sexologist and former porn actress Sharon Mitchell said at the time of his death, as reported by Classic Rock: "Milton always had a joke, a laugh and a story to tell - long, tall stories like every Texan does. Some say Milton grew tired of life; diabetes had left him blind. He ate too much, lived hard, f***** a lot, loved a lot, and laughed more. For a man like that to be inactive is like a death sentence, I think."
The first three episodes of Pam & Tommy are streaming on Hulu now. The remaining five episodes will drop every Wednesday on Hulu.